Home – Resources – News & Events
"ABHYUDAY": 2 DAYS WORKSHOP ON PRODUCTIZATION AND TEAM BUILDING (8th & 9th November, 2022)--ORGANISED BY SIMPLYBIZ
Team SimplyBiz came together on 8th & 9th November, 2022 for a two-day workshop. The participants were not only the team members from Hyderabad but also team members based out of Chennai, Bengaluru and New Delhi attended the session.  We currently are a team of 30+ professionals from multi-disciplinary backgrounds like Chartered Accountants, Company Secretaries, Lawyers and Management graduates having deep knowledge and competency and the team is based out of various locations like Hyderabad, Delhi, Bangalore, Chennai & Mumbai.
About SimplyBiz
SimplyBiz is a multidisciplinary professional services firm having competency in the areas of Finance, Legal, Accounting, Tax & Compliance. SimplyBiz has in its endeavor to offer quality and consistent services to its clients is treading the path of democratization of expertise and productization of services which it believes will bring significant value to its clients.
SimplyBiz provides managed services in the field of Advisory, Transactions, Business Setup, Compliance, Accounting and Taxation.
OUR PRODUCTS & SERVICES
The objective of the workshop was to familiarize every team member on the evolved business strategy of the company and about the services that are productized by SimplyBiz.
Our main products are discussed below:
Simply Corp- It provides Corporate Secretarial Services [Corporate Secretarial As A Service (CSAAS). It offers a complete solution with end to end management of Corporate Governance & Secretarial Compliances broadly covering Board Management, Shareholder Management, Regulatory Reporting, Cap table management & dilution on a subscription model.
Simply Transact- It is a transaction advisory on fund raising. It is our Transaction Advisory product catering to the Investors and Investee Companies (seed to growth stage Companies). The broad coverage includes structuring, negotiating and drafting of definitive agreements, undertaking due diligence and closing.
SimplyBuyBack- It is a one stop solution for Buy Back. It can assist Companies which intend to undertake buy-back of shares for consolidation of ownership, or return excess capital to the shareholders or discover the real value of its shares, or for boosting its key financial ratios.
"Simply Set-up"- Your quintessential partner to set up and scale your business. It provides solution for Overseas businesses and Foreign Investors for setting up their business in India. The services cover complete Advisory, Assistance and Execution relating to set up so as to ensure the business owners can start hiring people and commence business activities.
"SimplyFact"- It deals in Accounting, Payroll, Taxation, Compliance. It is a one stop shop solution for early stage and growth stage companies (Primarily in Technology, Tech enabled and Service sector) to manage their Finance, Accounting, Compliance, Tax and Payroll functions including reporting's to Management and the Investors on a subscription model.
Day 1-ICE BREAKING SESSION – KNOW YOUR PARTNER:
The major focus of the workshop was on product awareness and team building. Our leader Mr. Gunturu Raghu Babu is not only a visionary but an amazing team leader who motivates his team to explore new possibilities, excel in their own field and make the Organization reach new heights.
Our Chief HR Advisor Mr. Palabatla Venkatesh started the workshop with an activity – "Know your Partner" where all the participants were coupled up in pairs, each pair was given 60 seconds to interact with each other and identify one unique quality about their partner. The activity was not only fun but also gave the team the opportunity to get an insight of their partner.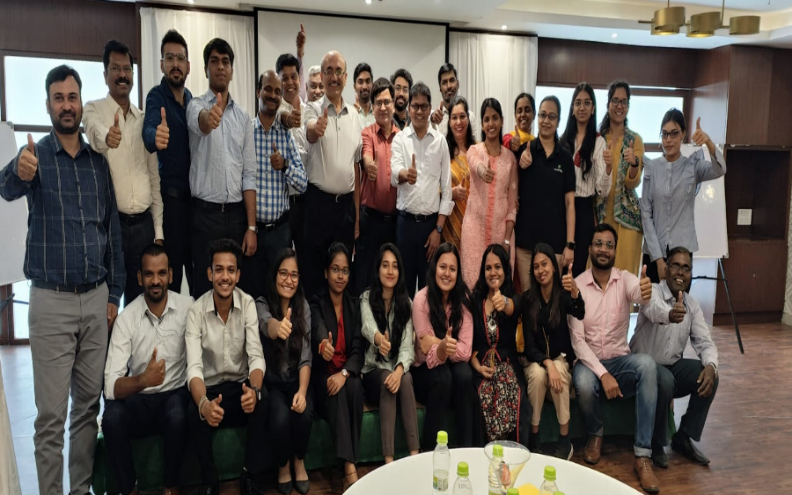 DAY 1-SESSION ON STRATEGIC & OPERATIONAL PLAN OF PRODUCTS:
After the first activity, the workshop agenda was to discuss the strategic and operation plans of the products. As a result of the product focused business strategy, the products that the organization will market were identified and also the product heads were identified. Each product head came up with their presentations on the Strategic & Operational Plan relating to their products and detailed deliberations on various aspects were undertaken. The emphasis on technology was very much reiterated and it was decided that we will use technology and broad skill sets needed to go after these products and market them. The month wise specific action items were listed and the same will have to be ensured by the product heads.
Day 2 -SESSION ON COMMUNICATION BUILDING:
The emphasis of effective communication cannot be undermined. In lieu of the same, a   fun and engaging activity was undertaken by the HR Team where the team was grouped in a batch of five. The task went like, a paragraph was given to each team to read and understand the meaning. A volunteer was chosen from each team who wasn't a part of the group, all the 5 volunteers stayed outside the room. At first one volunteer came and he had to read the paragraph, then he explained that to the next volunteer and the process went on, till the last volunteer explained that to all the audience. Meanwhile the audience had to rate those volunteers on the basis of their understanding and communication. This activity was a great way to increase ones' communication skill.
Day 2 -SESSION ON CLIENT SERVICING & CUSTOMER DELIGHT:
CS Vaishali Vohra, Director Strategy & Client Success took up a session detailing the different strategies to acquire new clients and the importance of working towards improving our services to the existing clients. She talked about consistent efforts to be done towards building a great client experience. She discussed the key points as mentioned below:
Commitment and Turn Around Time
Clearly understanding the client needs and executing as per client expectations
Importance of Diligence Ready approach and action on the same.
Adapting the technology needed for enabling compliance monitoring thorough client dashboard.
DAY 2 -GUEST SPEAKER – MR. SANJAY JESRANI:
It was our honor to welcome our guest Mr. Sanjay Jesrani. He is a commerce graduate and a member of ICAI. He brings over 20 years of solid execution experience from his role at Sierra Atlantic as the CFO – Asia & China. Prior to joining Sierra Atlantic, he ran a family-owned industrial venture and led a successful Chartered Accountancy practice.
Now as a Founder & CEO of M/s. Go North Ventures, an angel investment and advisory firm, focusing on investing in & mentoring Start-ups. This also provides Strategy inputs to high growth Early-stage companies and SMB's moving to their next orbit. He shared his various experiences of working in global organization and the challenges he faced during his corporate journey. He gave deep insights on the important aspects that SimplyBiz as a professional service organization must focus on and the role of each team member in building the organization. All of this was based on his rich experience.  He also responded to a few queries raised by the team. The clarity of his thoughts and expression and his story telling skills kept the team deeply engaged in the session and the team drew immense learnings from it. his corporate journey. He gave deep insights on the important aspects that SimplyBiz as a professional service organization must focus on and the role of each team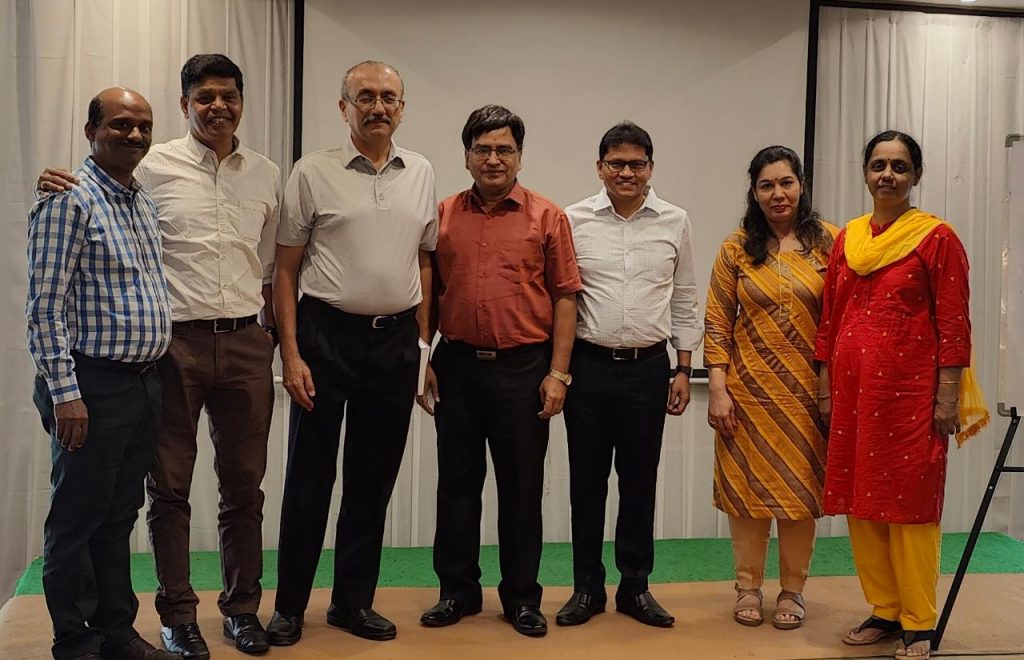 The two-day session was a great opportunity for the team to come together. The second day of the workshop came to an end with Mr. Gunturu Raghu Babu motivating his team to do better for themselves and also their contribution to take SimplyBiz reach new height his corporate journey. He gave deep insights on the important aspects that SimplyBiz as a professional service organization must focus on and the role of each team