ANDHRA PRADESH –THE RICE BOWL OF INDIA.
Author – Mr. S. Prabhakar

Email id – sprabhakar@simplybiz.in
Introduction
Andhra Pradesh (AP) is one of the states in the south-eastern coastal region of India. It is the seventh largest state by area covering an area of 1,62,975 kms and tenth-most populous state with 49,386,799 inhabitants. Andhra Pradesh (AP)was the first state to be formed on a linguistic basis in India on 1st October 1953.  Andhra Pradesh was bifurcated into two separate states –Telangana and Andhra Pradesh – on 1st June, 2014 according to the AP Reorganisation Act, 2014.
This article presents the full details about the growth and the opportunities of the State which makes it an attractive destination for and investments:
Growth Indicators
The growth rate of the state for the financial year 2021-22 is higher compared to other states and has been put on the top of the list of states in terms of Gross State Domestic Product (GSDP)with highest growth at 11.43percent. Even during the Covid-19 lockdown, the State government has taken strict economic measures to ensure that the agricultural and industrial sectors are not hindered at any point despite the uncertainties. Andhra Pradesh also achieved double-digit growth of 12.78 percent in the industrial sector in 2021-22, mainly due to measures taken to ensure the continuation of MSME activities.
As per Socio economic survey report for 2021-22 gross value added has registered a record growth of 18.47%,Agriculture and allied sectors reported 14.50% growth rate the agriculture sector alone witnessed 6.30% growth rate which is more than the national average.The Horticulture sector witnessed 13.24% growth while the livestock sector 11.46% growth, Fisheries, the life line of the State, has registered a growth rate of 25.92% growth.The industry sector has shown a growth rate of 25.58%.The mining sector contributed 38.41%, manufacturing sector 24.84% growth rate and construction sector 26.75% growth rate.  Services sector has shown18.91% growth rate and Hospitality industry 22.70%.
The Per Capita Income of Andhra Pradesh at current prices increased to Rs. 2,07,717 in 2021-22 from Rs.1,76,707 in 2020-21 a growth of 17.58%.
Andhra Pradesh (AP) has been ranked Number one in the implementation of Energy efficiency and conservation program by World Bank.
Coast Line Andhra Pradesh (AP) has a coastline of 974 kms which is the second largest in India after Gujarat.There are 18 districts that have coastline. Farmers in coastal areas prefer fishery, Aquaculture such as cultivating fish, molluscs, Shrimp production etc., as the major occupation. The coast lines are very rich with beach sand, heavy mineral deposits such as Limonite, Leucoxene, Monazite etc.An estimate of 241 million tonnes of deposits of mineral reserves are present in the beach sand of the state coast.The coastline has major, intermediate and minor Ports and fishing harbours for sea trade with other countries. Visakhapatnam Port, being the major port on the east coast.
Investment scenario in AP Andhra Pradesh is looking at inflows of over ₹14,000 crore of Industrial investments during the year 2021-22.
Andhra Pradesh Industrial Infrastructure Corporation (APIIC) has allotted 1,734 acres of land to 423 units up to December 31, 2021 with an employment potential of 37,349 and with an investment proposal of Rs. 7,445 crore.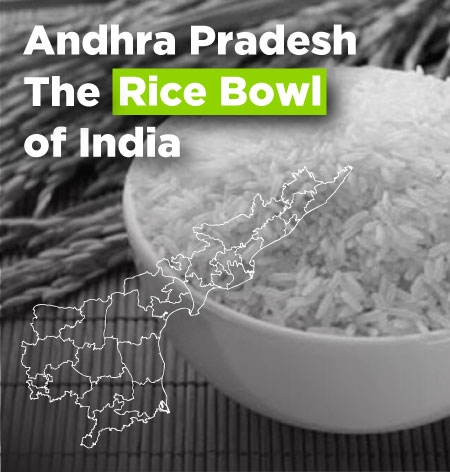 AP has managed some committed investments into the State as mentioned below:
956 crore by Century Plyboards India for plywood unit at Badvel
861 crores by Grasim Industries
207 crores by AIL Dixon Technologies Pvt Ltd in a camera manufacturing unit and to make computers and tablets.
110 crores investment by Aditya Birla Fashion and Retail Ltd in a garments factory for blouses and trousers at Pulivendula in Kadapa district,
Andhra Pradesh Economic Development Board inked MoUs with investors including Causise-Mobility, Regency Group, Tabreed, MULK Holdings, Sharat Group, Fluent Grid and Trogo General Trading LLC involving investments of Rs. 5,150 crore across sectors such as Electric Vehicles, FMCG, infrastructure, manufacturing and logistics.
Government incentive to industries Government of Andhra Pradesh (AP) offers various incentives and subsidies for industrial growth in the State. The major industries and incentives offered to them by the Government are:
Agriculture: Andhra Pradesh (AP) is a leading producer of cotton, rice, mango, papaya, lemon, tomato, chilli, turmeric, eggs, fish, and prawns. It is also among the top states in seafood exports accounting for about 30 percent of India's total seafood exports.
The Andhra Pradesh Food Processing Policy 2015-20 provides for reimbursement of the Non-Agriculture Land Assessment (NALA) tax for the produce purchased directly from the farmers
100 percent reimbursement of stamp duty and transfer duty on purchase or lease of land
reimbursement of power consumption charges for fish and shrimp processing units
government offers capital subsidy and interest subsidy to new units and export incentives
reimbursement of state goods and services tax (SGST) to MSMEs, as well as large industries for five to seven years.
Textiles: Andhra Pradesh (AP) is a leading textile processing centre. The state has a strong skill base in weaving and textile related skills. It is also a major producer of hides and skins in the country, accounting for 10 percent of the country's raw material. The State Textile, Apparel and Garments Policy, 2018-23 offers capital subsidy to the eligible fixed capital investment (FCI) for weaving units, knitting units, processing units, standalone garmenting, and apparel units.An additional subsidy of 50 percent of FCI for environment-friendly units or businesses that set up effluent treatment plants.
Automobiles: Some of the major global automotive and auto-component manufacturers have their production units in Andhra Pradesh viz., Isuzu, Kia Motors, Ashok Leyland, Apollo Tyres, Hero Motors, and Bharat Forge.
The Andhra Pradesh Automobile and Auto Components Policy, 2015-20 provides 50% capital subsidy up to INR 50 lakh to all units of mega-integrated projects for building and common infrastructure. It also offers 75 percent reimbursement of gross SGST for ten years or 100 percent of the capital expenditure made by these units in the first seven years.The state government is developing a number of infrastructure projects that link ports and airports with automobile manufacturing units.
Andhra Pradesh (AP) government is developing a number of infrastructure projects that link ports and airports with automobile manufacturing units.
Information Technology: Andhra Pradesh (AP) government has taken a number of initiatives to promote its IT industry and make the state a leading destination for investments in IT. IT companies in the state are eligible for full reimbursement of stamp duty, transfer duty and registration fee, a five percent interest subsidy for a period of seven years, a 20% investment subsidy to select entities and a 10% capital subsidy up to INR 5 crore.
Pharmaceuticals: Andhra Pradesh (AP) is a pharmaceutical hub with companies involved in the manufacturing of active pharmaceutical ingredients and formulations. Andhra Pradesh (AP) pharma industry is worth US $1 billion and houses over 200 pharmaceutical units. Some of the key pharma players in the state include Matrix Labs, Hetero Drugs, Divi's Labs, Natco Pharma, Neuland Labs, Gland Pharma, Granules India, MSN Labs, and Sri Krishna Pharma.
Pharmaceutical companies in the state are eligible to avail power cost reimbursement for up to five years, three percent interest subsidy for five years, as well as financial assistance in innovation and applied research and development.
Industrial development
Agriculture: Agriculture is the backbone of Andhra Pradesh (AP). Most of the people of the state are cultivators. 70% of the population in Andhra Pradesh (AP) live in rural areas and depend on agriculture-related activities. Agriculture plays an important part in the economy of the State. Agriculture and allied sectors contribute about 30% of the state gross domestic product (GSDP). Andhra Pradesh (AP) has set up a separate Department of Agriculture which imparts modern technical knowledge to the farmers to improve agriculture productivity.
Andhra Pradesh (AP) called as the 'Rice Bowl of India' and the largest producer of the rice in India. Paddy is the major crop cultivated in more than 22 lakh hectares during Kharif and Rabi seasons. 13 districts of Andhra Pradesh are producing rice crop out of which West Godavari, East Godavari, Krishna, Guntur, Srikakulam, Vizianagaram and Chittoor are the major producers. Andhra Pradesh (AP) is an exporter of many agricultural produces viz., Rice, Cotton, Sugarcane, Chilli Pepper, Mango and Tobacco.
Andhra Pradesh Government is implementing AP Zero Budget Natural Farming programme. It is a holistic alternative to the high-cost chemical inputs-based agriculture.
Andhra Pradesh (AP) is also an important producer of Horticulture crops. The state has 17.48 lakh hectare under Horticulture crops with an Annual production of Rs. 301.73 lakhs metric tonnes. Horticulture crops contribute approximately 16.07% to the State Gross Value Added. The national Horticulture Mission has identified Andhra Pradesh (AP) with high potential to enhance exports of Banana, Mango, Grapes, Brinjal, Papaya, Guava and Cabbage.
Live Stock and Poultry: Andhra Pradesh (AP) is very rich in livestock and poultry with 3.9 lakhs cross bread cattle, 12 lakhs non-descript cattle, 39 lakhs buffaloes producing around 77 lakhs tonnes of milk annually. 16.5 billion eggs are produced in the state annually the highest in the country.
Fisheries industry: Andhra Pradesh (AP) is the major producer of Fish in India. Andhra Pradesh is contributing significantly to the production of fish in the country through an effective strategy in both coastal and freshwater aquaculture and marketing. Andhra Pradesh has fertile river basins conducive to agro climatic conditions, and an extensive canal system for fishery promotion. Fisheries sector has been identified by Andhra Pradesh Government as a Growth Engine for the social economic development of the State.
Steel Plants and Heavy Industries in Andhra Pradesh
Rashtriya Ispat Nigam Limited, the corporate entity of Visakhapatnam Steel Plant is a Navaratna PSE and pride of Andhra. It is the first shore based Integrated Steel Plant in the country and is known for its quality products delighting the customers. It is a market leader in long products and it caters to the needs of diverse Industrial sectors. In spite of the impact of COVID-19 during the year 2020-21, the Company achieved a Sales Turnover of 17,980 Crs, with a growth of 14% over the previous year. The company could achieve a positive EBITDA of Rs. 1,400 Crores for 2020-21 as against negative EBITDA of Rs. 1,499 Crores in the previous year.
Jindal Steel and Power will make an investment of Rs 7,500 crore to set up 2.25 million MTPA integrated steel plant in Andhra Pradesh. The plant will provide direct employment to 2,500 persons. The State Investment Promotion Board (SIPB) had discussed five investment proposals including Rs 14,000 crore investments of heavy industries providing employment to about 25,000. Approval was accorded to Pitti Rail Engineering Components for setting up manufacturing components for electrical, locomotive, power and other industrial units at Kopparthi near Kadapa with an investment of Rs 401 crore and create jobs for 2,000 people. GreenTech Industries was given nod for expansion to provide steel and iron products for Ford, Hyundai, Volkswagen and other companies. This would provide 2,200 jobs in addition to 2,700 employees already working.
Some of the other major heavy industries in Andhra Pradesh are
Hindustan Shipyard
Hindustan Petroleum Corporation
Coromandel Fertilizers
Bharat Heavy Plates and Vessels
L.G. Polymers Ltd
Hindustan Zinc Plant
Mitsusishi Heavy Industries
Challapalli Sugar
Amarraja Batteries Limited
Ferro Alloys Corporation Limited
Jindal Stainless Limited
Andhra Ferro Alloys Limited
Matrix Laboratories Limited
HBL Power systems Limited,
Infrastructure Development
Airports: Andhra Pradesh has three functional domestic airports at Rajahmundry, Vijayawada, and Tirupati and one international commercial airport at Visakhapatnam. Visakhapatnam airport is the largest airport in the state. It handles over 60% of the domestic traffic of the state. The total passenger traffic in the state stood at 1.48 million.There is proposal to develop
Green Field international airport near Visakhapatnam
Moderanisation and Upgradation of five existing airports at Vijayawada, Tirupati, Rajamundry, Kadapa and Puttaparthi.
Five Green field no frills airports at Kuppam, Dagadarthi, Oravakallu, Ongole and Tadepallegudem
Three Brown field no frills airports at Donakonda and Nagarjuna Sagar.
Seaports: Andhra Pradesh has 974 km of coastline dotted by ports as well as fishing harbours, 14 Ports with existing 250 MMT capacities including three Deep water ports at Visakhapatnam, Gangavaram and Krishnapatnam.
Efforts are underway to develop
Last mile connectivity through road and rail and other supporting infrastructure for the movement of cargo to and from ports
Expansion of existing deep draft ports into mega container terminals with the ability to handle ships of over 12,000 TEU
Capacity creation and prioritising energy cargo movement
Railways: Andhra Pradesh has a total rail network of 2,660 km with a rail density of 16.59 km of rail route per 1000 kilometres. In terms of rail route per 1000 population the State's rail density is about 0.0538 which is close to the national average. Plans are in advanced stage for development of metro rail network at Vijayawada, Visakhapatnam and Tirupati Efforts are on to develop
new railway lines and expand capacity of existing railway lines
doubling and electrification of existing capacity to enhance rail capacity
a multi-modal logistics hub in the region for growth of cargo movement
Roadways: There are 24 National Highways in the state covering a length of 4913.60 Km. The density of National Highways is 9.98 Kms per lakh population in the State as against national average of 7.67 km. The R&B department of the State maintains a total of 41,956 Km of roads (excluding NH roads) comprising 6,485 Kms of State Highways, 19,807 Kms of Major district roads and 15,664 Kms of rural roads.
Government is taking initiatives to
Modernise State Highways
increase the average road density across all road types above the national average
Provide adequate road capacity to support the planned logistics hubs and Industrial corridors
Power: Andhra Pradesh Government is committed to supply 24X7 quality, reliable and affordable power to all domestic commercial and industrial consumers, and will also ensure 7 hours of free power supply to farmers. The government is giving big thrust to renewable energy, particularly Solar and Wind.
Modernise State Highways and conversion of other highways to two lane roads with paved.
The energy conservation and efficiency measures adopted by the government will help in a big way.
Water: Government of Andhra Pradesh is committed to provide assured water supply to its people for drinking, irrigation and industrial use Government is assuring people 24/7 supply of water for drinking, irrigation and industrial usage.  The State is planning to become drought proof through real time monitoring water levels.
Ease of doing business
Andhra Pradesh (AP) has ranked number 1 in Ease of doing business in the years 2016 and 2017, 2019 and 2020.
Government of Andhra Pradesh, as a part of Ease of doing business State Reform Action Plan 2020-21 has introduced 301 industry related reforms to improve accessibility and service delivery efficiency. During the financial year 2021-22 98.43% of all application received have been approved within committed timelines. In 2021-22 out of the 372 compliances identified 288 burdensome compliances have been reduced. In 2022-23 out of the 178 burdensome compliances identified 165 have been reduced.
Tourism initiatives
Visakhapatnam, Araku, Vijayawada, Rajahmundry, Kona Seema, Chittore are some of the most important tourist destinations of the State. Tirumala Tirupati, Srisailam, Sri Kalahasti, Putaparti, Annavaram, Kanaka Durga temple, Vijayawada, Mantralaya, Draksharamam, Someswaralayam and Simhachalam are some of the very famous pilgrim-cum-tourist destinations with high footfalls.
The state-owned Andhra Pradesh Tourism Development Corporation has lined up projects worth Rs. 202 crores for development so as to attract more tourists. Eco-resorts would be developed at Lambasingi in the tribal region of Visakhapatnam district. Eco-resorts would also be developed at Maredumilli and Jagithpalli while a Tribal HAAT and Drive-in restaurant at Araku, the picturesque valley. Plans are on way to develop ropeway and development of Water Tourism at Gandikota in Kadapa district, known as the Grand Canyon of India.
Initiatives for development of film industry in AP
After bifurcation of Andhra Pradesh and Telangana, Government of Andhra Pradesh has initiated various measures for development of film Studios and other infrastructure to facilitate development of film industry in the State. Traditionally landlords and businessmen from Andhra Pradesh are big time financers for Telugu and other film industries and Telugu film industry is the richest film industry in the country. The Chief Minister assured to provide lands in Visakhapatnam for the film industry, for setting up of studios and other production facilities working from the state. The government also agreed to provide land for housing plots for the celebrities who wish to settle in Visakhapatnam. Visakhapatnam, East Godavari, West Godavari, Vijayawada, Kurnool and Kadapa are favourite locations for film shootings and the State has close to 600 theatres.
SimplyBiz Private Limited provides managed services in the field of Advisory, Transactions, Business Setup, Compliance, Accounting, and Taxation. SimplyBiz has its Head office in Hyderabad and branch offices in Bengaluru, Chennai, Mumbai, and National Capital Region.
SimplyBiz can facilitate your setting up your business in Andhra Pradesh by
Scouting and zeroing of business opportunities.
Advising on the right entity structure based on the business objective.
Helping in entity set-up and compliances thereof.
Ensuring all licenses/registrations are obtained before commencing operations.
Providing ongoing support on managed services covering Compliances under the Companies Act, 2013, FEMA, other applicable Acts and Accounting, Payroll &amp Taxation aspects of your business.
*The Author S.Prabhakar, is a Fellow member of the Institute of the Company Secretaries of India, Chartered Secretary from UK, Lawyer and Registered Insolvency Professional.

For enquiries please reach out to Ms. Geetanjli Aggarwal, ACS, Head – Bengaluru Branch at geetanjali@simplybiz.in