Overview
Convertible Notes are one of the many instruments available for fundraising. These are instruments raised in the form of debt which is repayable at the option of the holder or can be converted into a specified number of shares of the issuing company after a pre-specified period, on the accomplishment of predetermined criteria, or based on the terms and conditions agreed upon in the instrument.
Why Convertible Notes
The very essence of Convertibles notes is that it relaxes the requirement of the Valuation of the shares of the Company, which seems to be great since the issuers of Convertible Notes are Start-Ups.
Further issuance of Convertible Notes is comparatively less complex as compared to other instruments available for fundraising.

Who and to whom we can issue Convertible Notes
Any Company incorporated under the Companies Act 2013, and which has registered itself with the Department for Promotion of Industry and Internal Trade (DPIIT) as a START-UP Company can issue Convertible Notes.
Any person, whether Indian or foreign can apply for Convertible Notes of a Start-up Company. NRI and OCI can also subscribe to Convertible Notes of the Company.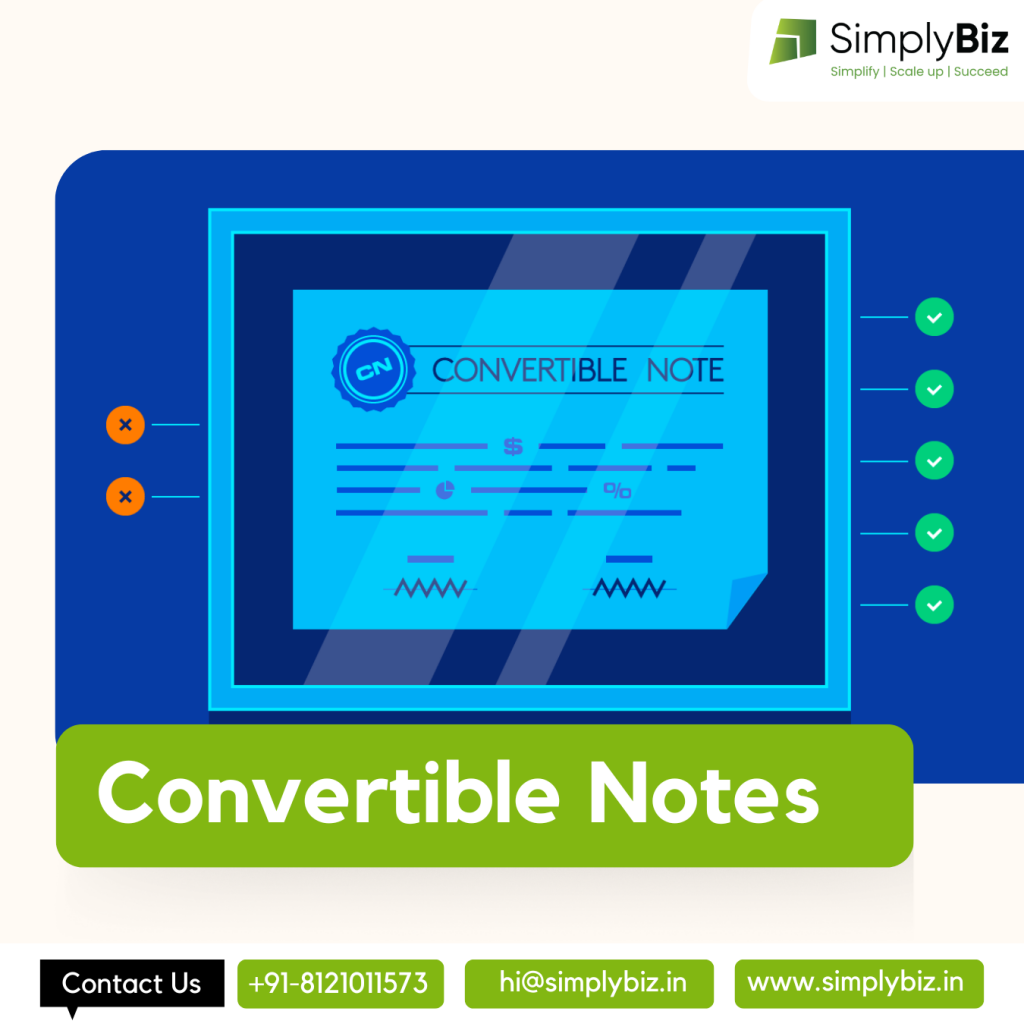 Amount and Time period of Convertible Notes
The minimum amount for which Convertible Notes can be issued is Rs. 25,00,000/- in a single tranche.
The Company can issue Convertible Notes for a maximum period of 5 years.  The conversion into equity or repayment shall happen not later than five years from the date of the issue.
Convertible Notes Terms
1.Interest Rate
As Convertible Notes are a form of loan interest forms a part of the same but interest on CNs is very minimal when compared to the traditional way of loan. On repayment/Conversion of CNs, the investor gets equity shares equivalent to the principal amount plus interest accrued on the same.
2. Valuation Cap
It's an additional advantage given to Convertible Notes Holder. Valuation Cap captures the price or value at which the Convertibles Notes will be converted to equity shares of the Company.
3. Maturity
Maturity means the date when the Convertible Notes are due for repayment.
4. Discount Rate
Discount rate means the percentage of discount the Convertible Note holder will get at the time of conversion of their Convertible Notes in equity shares of the Company.
5.Non repatriation basis
NRIs may acquire the Convertible Notes only on non-repatriation basis.
6. Prior approval
If the start-up is engaged in a sector that requires Government approval for foreign investment, then Convertible notes can only be issue with prior approval of the Government of India.
7.Transferability
Convertible notes are freely transferable provided the sale is in accordance with the pricing guidelines prescribed by RBI.
Procedure for issue of Convertible Notes
The company shall convene a Board meeting for issue of Convertible Notes.
General Meeting shall be convened, and members' approval shall be taken for the issue of convertible notes.
MGT-14 is to be filed with ROC intimating them regarding the issue of Convertible Notes.
Company to enter into a Convertible Notes Agreement with the investors.
The executed Convertible Note agreement and offer letters to be issued to investors.
A separate bank account needs to be opened with a Schedule Bank for receiving the amount.
The company shall convene a Board meeting to allot Convertible notes to prospective investors.
Form CN needs to be filed with RBI in case the amount has been received from a person resident outside India within 30 days of allotment of Convertible Notes.
Filing of Form CN
When the Company has issued Convertibles Notes to any person resident outside India, then it must file form CN with the authorized dealer bank within 30 days of the issue.
Documents required to file from CN
FIRC/KYC of investors
Board resolution for allotment of Convertible Notes
MOA and AOA of Company
Certificate of Incorporation
Startup Certificate
CS Certificate
Conclusion:
Issue of Convertible notes is a good source of funding available with Companies registered as Startup. The main reason of it gaining popularity among all other existing instruments for raising funds is its minimum complication in issue, No requirement of the valuation report, avoidance of investor control etc.
In case you're looking for assistance with respect to issuance of Convertible notes, then please get in touch with us.  
Our product SimplyTransact is just meant for you. Please reach out to our Product Head– Ms. Shilpa Agarwal at the mail ID shilpa@simplybiz.in or SimplyTransact@simplyBiz.in  to know more.