Digital Currency – A Safer Alternative To Cryptocurrency
Author – Mr. S. Prabhakar
What is the Digital currently and how is it held?
Digital Currency is a digital form of currency notes issued by RBI and the transaction in Digital currency shall be contactless. Digital currency is a legal tender issued by a Central Bank in a digital form. It is the same as a fiat currency and is exchangeable one-to-one with the fiat currency. Instead of holding a note one will be holding a digital currency in phone or some other electronic device and it would be with the Central Bank and from there it would be transferred to any merchant.
Types of Digital Currency There are two types of Digital currency
•Retail, CBDC-R, which would be available for use by all and
•Wholesale, CBDC-W, would be available for restricted access to select financial institutions.
Who are the participating banks?
To begin with RBI has identified nine banks to participate in the wholesale pilot project settling secondary market transactions in government securities. They are:
State Bank of India,
Bank of Baroda,
Union Bank of India,
HDFC Bank,
ICICI Bank,
Kotak Mahindra Bank,
Yes Bank,
IDFC First Bank and
HSBC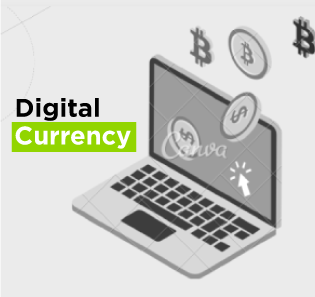 Difference between digital rupee and cryptocurrency
A cryptocurrency is a decentralised digital asset based on block chain technology. It operates without any backing of any banks, financial institutions, or central authorities. Cryptocurrencies are not issued by the State and hence do not represent any person's debt or liabilities as no issuer exists and hence will never be accepted as legal tender. The RBI has been strongly opposing private crypto currencies as they could have implications on national security and financial stability.
Digital currency on the other hand is a digital or virtual currency backed by the government and having an intrinsic value.
Why Cryptocurrency not recognised as a legal tender by Government?
Though Hon'ble Supreme Court has overturned the ban on the Cryptocurrency, Government of India is discouraging and warning people on the risks involved in using cryptocurrency and clarified that it would not be recognised as a legal tender. The reason for the same can be attributed to

•Difficult to Trace and safe haven for illegal transactions: It is very difficult to trace the sender of Cryptocurrencies as they can be transferred without any intermediate or authority. It could be used for conducting illegal transactions, money laundering, hiding assets and tax evasion.

•Frauds: Being new in the market and people not being aware of security features, the transactions in cryptocurrency are prone to fraud and scam. Many people dealing in cryptocurrency have been duped by unscrupulous tricksters.

•No Government control: Government agencies do not have any control over cryptocurrency transactions due to its decentralized and unregulated nature and a result of which there is no recourse if there are any issues with the transactions.

Though cryptocurrency is not recognised as a legal tender Finance Minister has imposed 30% flat tax on all cryptocurrency gains in India in the Union Budget 2022. Investors in India are free to buy and sell cryptocurrencies. However, using cryptocurrency to settle payments for goods and services, or to pay government dues could have legal implications. Use of cryptocurrency to conduct illegal activities, evading tax or money laundering is punishable. Make or receive payments from other countries through cryptocurrency could be Illegal as Foreign Exchange Management Act doesn't recognize Cryptocurrency.
Benefits of Digital Currency
•Reduction of transaction cost: :Credit card charges can be very steep, particularly with international use. By using the digital currencies, you pay a much lower fee, sometimes none.

•Saves times: Digital currency doesn't take much time in sending or receiving a transaction. Therefore, one will not need to wait for a couple of days, especially during weekends, for receiving the money.

•Global reach: Compared to traditional banking systems, digital currencies can be used anywhere in the world. There are no geographical borders or other constraints.

•Monitor: RBI can monitor the transitions happening on its network and have a regulatory control.

•No risk of destruction: : There is no risk of mutilation, soil torn, losing and destruction of the currency.

•Exchangeability: : : Digital currency can be exchangeable with Indian currency.

•Access: : Initially it will be made available for the wholesale segment and then extend to the retail category in a month.

SimplyBiz Private Limited provides managed services in the field of Advisory, Transactions, Business Setup, Compliance, Accounting, and Taxation. SimplyBiz has its Head office in Hyderabad and branch offices in Bengaluru, Chennai, Mumbai, and National Capital Region.

*The Author S. Prabhakar, is a Fellow member of the Institute of the Company Secretaries of India, Chartered Secretary from the UK, Lawyer, and Registered Insolvency Professional.