Author: – Mr. S. Prabhakar
India – one of the largest democracies in the world with diverse culture, largest literate and skilled youth population, huge market, abundant natural resources, rule of law, great adaptability, and very high English-speaking population make a compelling option for any country which is looking to make huge investments outside.

What makes India an attractive destination for foreign investments?
India a democratic and secular country, has a robust Judicial system upholding the Rule of Law, a strong Federal system and Freedom of Speech. Prime Minister Mr Narender Modi's Government which is in its second 5-year term offer a very stable Government at the Center.
India tipped to be the world's fastest-growing economy and bounced back from the devastation of the pandemic fast. The Economic Survey for 2021-22 projected a GDP growth rate of around 8.5% for the Financial year 2022-23. IMF has projected a GDP growth rate of 9% for this fiscal year. Government, through various measures aiming to improve investment and consumption, demands to boost GDP.
India is the second-most populous country with over 1.3 billion population and is the fifth-largest economy in the world offering a huge and ever-expanding market. With growing consumerism and spending, the Indian consumer market is expected to double by 2025.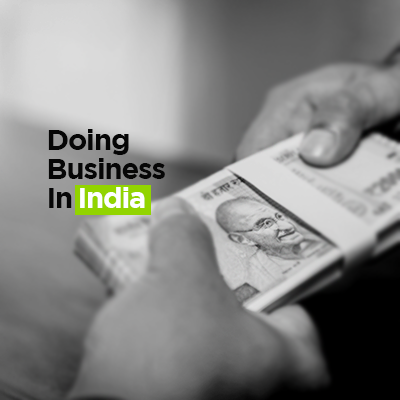 Both Union Government and every State Government in India are putting in place various measures towards ease of doing business to attract investments into India and various states. Making available large chunks of land, single window clearance, and tax holidays are some of the measures taken in this direction.
The government of India under PM Mr, Modi's leadership is lying red carpet for all global companies to come and establish their presence in India. Very few countries in the world offer the kind of opportunities India does. The Government of India is in the process of developing a National Single window system for a seamless process of granting most of the approvals for setting up business in India by foreign investors.
The government of India has heralded the biggest tax reforms through Goods and Services Tax (GST) subsuming many indirect taxes. It has eliminated the cascading effect of `tax on tax' and made life easy through smooth and unified on-line accounting and compliance processes.
The government of India has raised the limits of Foreign Direct Indian to 100% in various sectors and also put them on an `automatic route'. Only FDI in a few strategic and sensitive sectors is through the `approval route'. Tax concessions and concessional customs duty and tax holidays are offered to attract FDI.
with the largest young population in the world, premier educational institutes producing a large number of highly competent professionals in Engineering, Medicine, financial & Accounting, and General management streams, and constant and sustained efforts on skill development of the inexpensive labour force, India offers a huge Human Capital.
India comprises 28 states and 9 union territories, most of the states have their own culture, traditions and language. The Indian constitution recognises 22major Indian languages and there are many more dialects. All these ethnic groups live in perfect harmony and peacefully. This gives Indian and Indians a great advantage of acceptance, co-existence and working in harmony with people of any foreign origin.
Indian IT industry has emerged as the fastest growing industry in the last three decades and has become an engine of accelerated economic growth. India produces the largest number of IT professionals every year. The IT success story started in Bangalore and Hyderabad is getting replicated in many more states of India. IT services industry accounts for more than 50% of the export and the industry is on the course to achieving 300 to 350 billion USD annual revenue by 2025.
India is emerging as a major technical hub and an alternative to China. Apart from a large number of assembling units, manufacturing units are also coming for the manufacture of smartphones, computers and other digital equipment. India is the second-largest manufacturer of smartphones in the world.
Indian Government is according highest priority to start-ups and technology innovations as a vehicle of transformation. Many young professionals with strong technical backgrounds had trail-blazing success in the start-up space and attracted a lot of foreign investments. With the average age of the founders of start-ups being less than 30, India boasts of the youngest start-up culture and throw up very attractive investment opportunity to foreign investors.
India, the pioneer of offshore IT and Business Process outsourcing, has emerged as the powerhouse of outsourcing from the US, Europe and many other countries of the world. A large pool of technically qualified professionals, a cheaper skilled labour force with proficiency in English, and extremely favourable Government policies have given an unassailable advantage to India over other countries.
MSMEs contribute 30% of the Gross Domestic Product and the government took a slew of measures for the development and protection of the MSMEs. MSMEs are tailor-made for those foreign investors who want to test the water with small investments in India.
India has a very robust financial system comprising Banks, Financial institutes, Non-Banking Finance Companies, Mutual Funds, Insurance and Capital markets. The government of India and the Reserve Bank of India announced many reforms to liberalise and push growth. India has one of the largest capital markets – both primary and secondary. India's National Stock Exchange is the fourth-largest exchange in terms of the number of trades in cash equity and the largest in the derivative segment.