Gujarat – the Growth Engine of India
Gujarat is one of the most industrially developed states of India, a manufacturing hub with fourth largest economy. Gujarat is tipped as the Growth Engine of India.  A state with the largest investors' base and people with natural and inherent entrepreneurial skills is an attractive option to
set up a business
here in India.   This article takes look at all aspects of the State of Gujarat that makes it a preferred choice to
set up a business.
Stable Government
: Gujarat state offers the most stable government with the party in power returning to the office for the seventh consecutive term of 5 years. At current prices, Gujarat's Gross State Domestic Product (GSDP) is estimated at Rs. 22,03,062 crore in the Financial Year 2023, an increase of 13.3% YoY.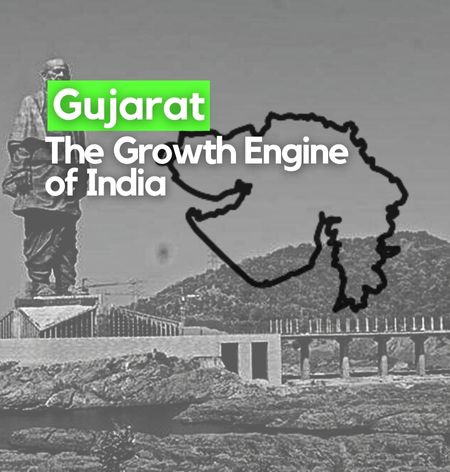 Economic indicators:
The Gross State Domestic Product (GSDP) of Gujarat for 2022-23 (at current prices) is projected to be Rs 22,03,062 crore.  This is a growth of 13.3% over the revised estimate of GSDP for 2021-22 (Rs 19,44,107 crore).  In 2021-22, GSDP is estimated to grow at 17.4% over the previous year (at current prices).
Fiscal deficit for 2022-23 is targeted at Rs 36,113 crore.  
Revenue surplus for 2022-23 is estimated to be Rs 1,006 crore, which is 0.05% of the GSDP.  
Industrial growth:
Gujarat is one of the highly industrialised states in India.  Gujarat is a leader in industrial sectors such as Chemicals, Petrochemicals, Dairy, Drugs and pharmaceuticals, Cement and Ceramics, Gems and Jewellery, Textiles and Engineering. The industrial sector of Gujarat comprises of over 800 large industries and 4,53,339 micro, small and medium enterprises.
There are several major industry groups that together account for around 93% of value addition in Gujarat's industrial economy.
Petrochemicals :  In 2019-20, the state produced 4.6 million tonnes of petroleum (crude) and 1,287 million cubic metres of natural gas. Export of Petroleum product from Gujarat stood at US$ 36.92 billion till January, 2022.  Reliance Industries Limited is the largest producer of petrochemicals in the country and amongst the top ten in the world has its operations in Jamnagar, Gujarat.  RIL is the world's largest integrated producer of polyester fibre and yarn, second-largest of paraxylene and among the top ten for purified terephthalic acid, mono-ethylene glycol and polypropylene. 
Chemical industries: Chemicals companies in Gujarat majorly into producing Polymer items and related products like Propylene, Butene, Polymer, Fibers and other.  Some of the leading polymer manufacturing companies in Gujarat are SKAPS Industries, Terram Geosynthetics Pvt. Ltd and Chiripal Poly.
Agro Chemical industries of Gujarat manufacture many agricultural related chemicals.  Gujarat Narmada Valley Fertilizers Co. Ltd., Astral Poly Technik Ltd, Meghmani Dyes and Intermediates Ltd and Gujarat Metals and Chemicals Company are some of the leading agro chemical industries in the state.
Automobiles:  Gujarat has emerged as a car manufacturing hub. Major automobile companies like Tata Motors, Suzuki Motor, Ford India, Honda, and Hero MotoCorp have plants in operation in Gujarat.
Pharmaceutical: Gujarat has over 3,300 pharmaceutical manufacturing units, which contribute 30-35% to India's pharma sector's turnover and around 28% to India's pharma export during 2018-19. Export of drug formulations from Gujarat reached US$ 3,719.97 million in FY21 and US$ 2,824.55 million in FY22 (until January 2022).   Alembic Pharma, Cadila Healthcare, Torrent Pharmaceuticals, Eris Life-sciences, Apicore Pharmaceuticals, Fisher Clinical Services, Aan Pharma are some of the pharmaceutical companies having their operations in Gujarat.
Energy: Gujarat is one of the very few states with surplus Electricity. Gujarat has a total installed power generation capacity of 42,207.99 MW, comprising 27,881.48 MW under private utilities, 8,452.61 MW under state utilities and 5,873.9 MW under central utilities as at March, 2022.
Gems and Jewellery:  Gujarat is the leading state in India with well-established gems and jewellery sector, contributing about 72% of the total exports of India.   Gujarat accounts for about 80% of diamonds processed and 95% of diamonds export from India.  Surat, Ahmedabad, Palanpur, Bhavnagar, Valsad and Navsari are leading cities for diamond processing and trading units with Surat accounting for 65% share in India's diamond trade. The industry is expected to expand at a rate of 15%.
Agriculture: Gujarat is having total crop area that amounts to more than one-half of the total land area of the State. Gujarat is the main producer of tobacco, cotton, and groundnuts in India.
Animal Husbandry Dairy Industry:  Animal husbandry and dairy industry are contributing largely to the rural economy of Gujarat. It is also involved in dairy farming, milk production, and various other functions. It is one of the leading processors of Milk in India.
Gujarat is the fifth largest dairy market in India. The dairy market in Gujarat size reached Rs. 983.7 Billion in 2021 and is expected to reach Rs. 2,384.3 Billion by 2027.  The major dairy products that are produced in the state are Milk, Ghee, Curd, Paneer, Butter, Cheese, Skimmed Milk Power, Ice cream, cream, Lassi and Butter Milk. The major dairy product producing companies in the state are Amul (Gujarat State Cooperative Milk Producers' Federation), Maahi Milk Producer Co Ltd and Vimal Dairy Ltd.
Some of the major industrial houses in Gujarat are:
Reliance Industries
Tata Motors
Adani Enterprises
Adani Power
Gujarat Industries Power Company
Gujarat State Fertilizers
Garden Silk Mills
Infrastructure Development:
Sea Ports:
As per Indian Ports Association data published in June 2020, the number of ports in the state stands at 46. In 2020-21, Deendayal (Kandla) port handled 117.56 million tonnes of cargo traffic.
Government of Gujarat has initiated several steps for the development of a world-class port city at Mundra. The port has a cargo handling capacity of over 200 million tonnes per annum.
The Prime Minister also dedicated the 62 Km long New Palanpur-New Mahesana section of the Western Freight Dedicated Corridor and the 13 Km long New Palanpur-New Chatodar Section (Palanpur bypass line).
SEZs: As of June 2021, Gujarat had 21 operational SEZs. In addition, as of July 2021, Gujarat had four SEZs with valid in-principle approvals, 26 SEZs with formal approvals and 22 SEZs with notified approvals.
Adani Ports and Special Economic Zone Limited (APSEZ):  APSEZ is the largest commercial port operators in India accounting for 25% of the cargo movement in India. Apart from Gujarat, it has presence in 12 other domestic ports of the country.     Its ports are equipped to handle diverse cargos, from dry cargo, liquid cargo, and crude to containers. APSEZ has evolved into a provider of integrated port infrastructure services and Mundra SEZ in Gujarat is a landmark.
Coast line
Gujarat has the longest coastline 1,600 km in India, and its ports (both private and public sector) handle around 40% of India's ocean cargo.
Fishing harbours were built and fish processing was promoted for the benefit of the fishermen's community. Gujarat's coast has become an integral part of promoting the country's import and export and providing employment to millions of people.
The development of aqua culture has also been encouraged. Gujarat is one of the leading states in the country, where many efforts have been made to cultivate seaweed.  
Roadways:  The roadways of Gujarat extend to a total length of 68,900 kms and include National Highways, State Highways plus other types of roadways. These roads connect Gujarat to various other parts of India.  Prime Minister also dedicated various road projects including the widening of Mitha – Tharad – Deesa Road among others.
Airports: Gujarat has three international airports viz., Ahmedabad, Surat and Vadodara, nine domestic airports, two private airports and three military bases in Gujarat connecting all the major cities of Gujarat with all major destination nationally and internationally. Two more airports are under construction.
Gujarat – the Investment destination:
Some of the major initiatives taken by the Government to promote Gujarat as an investment destination:
In August 2021, the state department of civil aviation announced partnership with a Gujarat-based aircraft manufacturer Aero Freyr Inc to establish an aircraft manufacturing unit maintenance, repair and operations and flight-testing operations. The state department of civil aviation also invested Rs. 150 crore (US$ 20.22 million) to commence manufacturing of 2-seater and 4-serater aircraft and air ambulances.
In June 2021, the Gujarat government introduced the electric vehicles (EV) policy with the aim to roll out 200,000 EVs over the next four years.
In August 2021, MG Motor announced to invest Rs. 2,500 crore to increase the automotive production capacity in Gujarat.
In June 2021, Procter & Gamble (P&G) announced to invest over Rs. 500 crore to build a manufacturing plant for health & wellness products in Gujarat.
In July 2021, ESR India announced to invest Rs. 300 crore to develop an industrial and logistics park in the state.
In June 2021, Indian Oil Corporation (IOC) announced to invest Rs. 24,000 crore in petrochemical projects in Gujarat.
In May 2021, the government announced to establish pilot projects for containers. It aims to receive an estimated potential investment of Rs. 1,000 crore from private players.
In May 2021, Borosil Renewables announced a plan to expand its manufacturing unit in Gujarat at an investment of Rs. 500 crore with an aim to double its capacity to 900 tonnes per day or 5GW of installed capacity at its solar power plants.
In May 2021, Re-New Power announced to establish a solar component manufacturing unit in Gujarat at an initial investment of Rs. 1,200 crore (US$ 165.49 million), which is likely to increase to Rs. 2,000 crore (US$ 275.82 million).
In April 2021, Coal India Limited (CIL) signed a PPA (Power Purchase Agreement) with Gujarat Urja Vikas Nigam Ltd (GUVNL) for the sale of 100 MW solar power to the company for 25 years.
In May 2021, Zerodha, announced the launch of True Beacon Global, the first alternative investment fund (AIF) in Gujarat's GIFT City.
An ambitious Diamond Research and Mercantile (DREAM) City project launched for Surat's diamond merchants is progressing in full swing.
₹ 400 crore infrastructure projects related to phase-1 and phase-2 are currently being implemented. The main components of basic infrastructure include roads, utility ducts, street lights, water supply, sewerage network, stormwater drains etc.
Biodiversity-park at a cost of ₹ 139 crore: A biodiversity park will be developed in 87.50 hectares from Dr. Hedgewar Bridge to Bhimrad-Bamrolli Bridge.  The park has a 13 km walking track. There are 85 species of flora and over 6 lakh trees and saplings will be planted in the park.
Some 1sts of Gujarat
Logistics Performance Index 2018, 2019 and 2021
Export preparedness index 2020 and 2021
Good Governance Index 2021
National Start up Ranking 2018 and 2019
Composite Water Management Index 2018
Gujarat was the first state in the country to get an LNG terminal and Gujarat now has three LNG terminals besides a petrochemical hub.
Investment culture of Gujarat:  Gujarat is number one state as far as Investment culture is concerned. People of Gujarat are big time into investment in stock and securities and any issue of securities by Indian company get subscribed majorly in the State of Gujarat. In pre-online trading era Gujarat used to have large number of stock exchanges viz. Ahmedabad, Saurashtra Kutch, Vadodara and Rajkot Commodity Exchange. Traditionally large number of Gujaratis/Marwadis are into stock broking business.    
The India International Exchange Limited (India INX) India 's first international stock exchange is located at the International Financial Services Centre (IFSC), GIFT City in Gujarat. It has long trading hours operating 22 hours a day, six days a week.  This facilitates international investors to trade from anywhere across the globe at their preferred time. The exchange boasts off a huge daily turnover volume crossing ₹74,509 crores.
Foreign Direct Investment:  Gujarat receives highest FDI for fourth consecutive year in 2020-21. With a 37 per cent share, Gujarat saw $30.23 billion worth FDI in 2020-21.  Almost 94 per cent of the investment that came in Gujarat during 2020-21 was in the computer hardware and software sector.
Total exports from the state stood at US$ 63,440 million in the Financial Year 2020, US$ 60,587 million in Financial Year 2021 and US$ 101,200 million in Financial Year 2022 (until January 2022).
Gujarat Startups: Gujarat, owing to its inherent entrepreneurial spirit has significant position in the national start-up ecosystem.   Gujarat has ranked as the Best Performer in all India Start up ranking by Government of India in 2018 and 2021. The various attractive incentives by Gujarat Industrial Policy have created a strong network of nodal institutions which have assisted start-ups in expanding their operations both nationally and internationally.
Some of the key assistance offered by Gujarat Government to start-ups are:
Assistance upto Rs. 30 lakhs as a seed support
Sustenance allowance of Rs. 20,000 per month and Rs. 25,000 per month for women lead startup for one year
Assistance upto Rs. 1,00,000 for obtaining soft skills
Assistane of Rs. 10 lakhs for startups generating significant impact on the society
Assistance of Rs. 3 lakhs to enrol and participate for national/international recognised acceleration program
Additional 1% interest subsidy and maximum upto 9% on term loans to applicants under the provisions of scheme for assistance to MSMEs
start-ups will be entitled to 100% reimbursement of Stamp Duty and Registration Fee paid on sale/lease/transfer of land and Office Space for the first transaction
start-ups will be provided interest subsidy at the rate of 9% per annum subject to a ceiling of Rs. 2 lakhs per year for a maximum duration of two years.
start-ups will be provided assistance at the rate of 75% of cost of obtaining patent subject to ceiling of Rs. 2 lakhs per patent for domestic patent and Rs. 5 lakhs per patent for international patent.
A onetime assistance of Rs. 1 lakh will be provided to eligible start-ups for prototype/product development and additional assistance of Rs. 1 lakh will be provided for marketing
start-up which has raised equity capital from registered venture capital funds will be entitled to avail additional 25% of such capital from Gujarat Venture Finance Limited (GVFL), without additional scrutiny, on same terms at which the capital was raised within 6 months of such raising subject to a ceiling of Rs. 5 crores
Assistance to Incubators:
Capital Assistance: Incubators will be provided one-time capital assistance at the rate of 50% of Gross Fixed Capital Investment (GFCI), excluding cost of land, for setting up an incubator, subject to a ceiling of Rs. 50 lakhs.
Operating Assistance: a matching grant of 25% of funds mobilized by them from non-governmental sources, subject to a ceiling of Rs. 1 crore per annum for meeting their operational expenses.
Assistance for Procurement of Software: Government will support the procurement of key software required for development and testing purpose at incubator attached or associated with educational institution or universities as a shared facility at the rate of 50% of software cost subject to a ceiling of Rs. 1 crore.
Stamp duty: Incubators will be entitled to 100% reimbursement of Stamp Duty and Registration Fee paid on sale/lease/transfer of land and Office Space for the first transaction.
Power Subsidy: Incubators will be given power tariff subsidy at the rate of Re. 1 per unit in the billed amount for a period of five years.  Incubators will be given 100 % reimbursement for electricity duty paid for a period of five years.
Ease of Doing Business
: Gujarat is one of the very few states which has passed an Act for ease of doing of business, the
Gujarat Single window Clearance Act, 2017
with an aim to expedite the process of issuance of various licenses required for
setting up a business
.
It has resulted in transparency and enhanced monitoring of applications.
Investor Facilitation Agency (IFA):
IFA is the single point of contact extending assistance to entrepreneurs for
setting up their business in the state
and ensure coordination among various stake holders
Investor Facilitation Portal
: Investor Facilitation Portal is set up for investor to obtain all approvals, NOCs and clearances and incentives through online application.
 Labour Law compliances:
To facilitate labour law compliance 14 applications of Labour law compliances are integrated with Investor Facilitation Portal (IFP) with a common payment gateway
Factory licenses are issued and renewed for 10 years
Exemptions from inspections
On line return under Labour Laws
Environment related Comprehensives
Gujarat Pollution Control Board (GPCB) offers consolidated consent and authorization (CC&A) under various acts as a single license.  Auto renewal of NOCs, self-certification have been introduced and 168 Industries exempted from obtaining NOC.
 Electricity Connections
 Application for fresh electricity connections and related approvals can be made online on the Investor Facilitation Portal (IFP).
Applications for New HT & LT connections including payment of fees can be made online
The electrical plans are passed within 15 days from the date of application.
Digitally signed certificates are issued to the applicants.
Inspection scheduling: IFP provides for scheduling online inspection and details of the inspection are populated on the dashboard of the investor.
Gujarat Tourism
: Gujarat is emerging as one of the most promising state in tourism Development.  The tourism department of the Gujarat has signed MoUs worth around Rs 451 crore with the owners of heritage properties.
Some of the most important tourist destinations of Gujarat are:
Statue of Unity
Gir National park in Junagadh
Dwarkadhish Temple
White Desert Kutch
Somnath Temple
Akshardham Temple
Champaner Archaeologial Park
Sabarmati Asharam
Art and Culture of Gujarat: The diverse and vibrant Gujarat has a significant contribution to the cultural aspect of India. The state of Gujarat enjoys a vibrant art, architecture, culture, and heritage. The diversity exhibited by Gujarat is a result of the various ethnic groups constituting Gujarat's population. 
The vast array of handcrafted products displaying intricate Gujarati art forms are very popular in India and abroad equally.  These products include furniture, jewellery, embroidered garments, leatherwork, metalwork, baked clay articles and mirror work.
Sugam Sangeet, the folk music of Gujarat, is acclaimed world-wide. The range of musical instruments utilized in Gujarati folk music include turi, manjira, ektaro, jantar, zanz pot drum, prabhati, dhol and ravan hattho.   Gujarat has many traditional forms of dance and the most popular Gujarati dance forms are Dandiya Raas, Garba, Padhar, and Garbi.   Large number of people flock to Gujarat to witness the extravaganza during festivals like Navratri Mahotsav, Deepawali, Rathyatra and Kite festival and The Rann Utsav is a major festival and witnesses an exquisite carnival of music, dance and natural beauty.
Conclusion
Gujarat in India has emerged out to be a very favourable destination for setting up different businesses. Therefore, many big and small businesses are finding it very comfortable in working in an extra ordinary business-friendly environment here. Not only Ahmedabad and Surat, several other cities in Gujarat are also attracting a lot of businesses towards it.
Furthermore, the setting up of the business is a lot easier for big and small businesses in Gujarat. It has a fantastic infrastructure for running a smooth business here. The compliances that one need to do for setting up business in Gujarat are also comparatively easier and faster. Hence, it is making it simpler for most of the companies to set up the business here.
SimplyBiz Private Limited provides managed services in the field of Advisory, Transactions, Business Setup, Compliance, Accounting, and Taxation. SimplyBiz has its Head office in Hyderabad and branch offices in Bengaluru, Chennai, Mumbai, and National Capital Region.
SimplyBiz can facilitate your setting up your business in Gujarat by
Scouting and zeroing of business opportunities.
Advising on the right entity structure based on the business objective.
Helping in entity set-up and post incorporation compliances thereof.
Ensuring all licenses/registrations are obtained before commencing operations.
*The Author S. Prabhakar, is a Fellow member of the Institute of the Company Secretaries of India, Chartered Secretary from the UK, Lawyer, and Registered Insolvency Professional.  
For enquiries please reach out to Ms Geetanjali Aggarwal, ACS, Head – Bengaluru Branch at geetanjali@simplybiz.in.