HAL-Asia's Largest Helicopter Manufacture Factory
A Step Towards `Atmanirbharata' in Defence Sector
On 6th February 2023 the Prime Minister of India has dedicated to the nation the greenfield new generation Hindustan Aeronautics Helicopter Factory in Tumakuru, Karnataka, India, which will enhance the capacity and ecosystem to build helicopters. This is Asia's largest helicopter manufacturing facility and is a giant step taken by the nation towards "Aatmanirbharata" (self-reliance) in defence sector in which the country hitherto was heavily depending on imports from advanced countries. HAL expects the army and IAF to place combined orders for at least 187 light helicopters in the coming years.
The HAL complex in Bengaluru was overloaded and had run out of manufacturing space and since the requirements of the three services and the paramilitary are huge, there was a need to set up a larger facility.
This factory will initially produce Light Utility Helicopters (LUH) and subsequently will be expanded to manufacture Light Combat Helicopter (LCH) and Indian Multirole Helicopter (IMRH) as well as for repair and overhaul LCH, LUH, IMRH and Civil Advanced Light Helicopter (ALH). The LUH is an indigenously designed and developed 3-ton class, single-engine multipurpose utility helicopter with unique features of high manoeuvrability. 
The factory is equipped with state-of-the-art industry 4.0 standard tools and techniques for its operations. With the establishment of facilities like heli-runway, flight hangar, final assembly hangar, structure assembly hangar, air traffic control and various supporting service facilities, the factory is fully operational.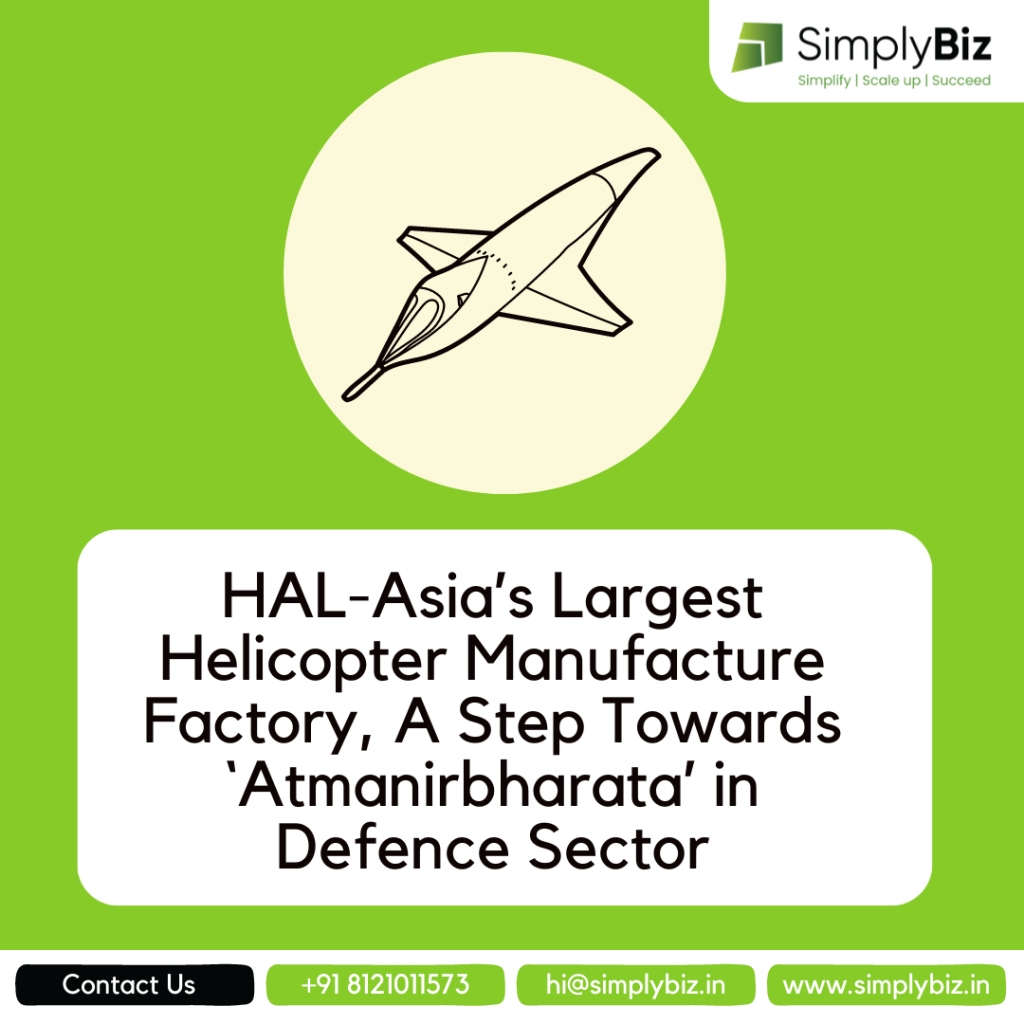 This facility will not only enable India to meet its entire requirement of helicopters indigenously, attain the distinction of enabling self-reliance in helicopter design, development and manufacture in India but also has the potential for exporting the Civil LUHs in future. The factory spread across 615 acres of land, has been planned with a vision of becoming a one-stop solution for all helicopter requirements of the country.
Aircraft and helicopters are an imperative air transport medium that act as a catalyst to economic growth and directly contributes to the government in indirect taxes. India has proposed curbing the import of private jets and helicopters to plug a widening trade deficit. India has imposed a phased import ban on over 400 different weapons and systems, including different types of helicopters to boost self-reliance in the defence sector. These are expected to be indigenised in phases over the next five to six years.
IMRH, which will also be manufactured at the Tumakuru factory, is expected to compete with Russian Mi-17 choppers in both Indian and foreign markets.  This could have a huge market as nearly 40 air forces across the world operate Mi-17-type helicopters. The Mi-17 is the mainstay of the Indian Air Force's transport fleet.
HAL is planning to produce Initially around 30 helicopters per year and then onwards, its capacity will be enhanced to produce 60 and then 90 helicopters per year in a phased manner. It will ultimately be scaled up to more than 1000 helicopters in the class of 3-15 tonnes from this factory over the next 20 years with a total business of over Rs 4 lakh crores. This will result in providing employment for around 6000 people. Besides generating direct and indirect employment, this factory will boost the development of the area through the CSR activities that HAL will take up with large scale community central programs. This factory coming up in close proximity to the existing HAL facility in Bengaluru will boost the aerospace manufacturing ecosystem leading to skill and infrastructure development.
HAL is an Indian state-owned aerospace and defence company, with its headquarters in Bangalore, India. HAL, established in 1940, is one of the oldest and largest aerospace and defence manufacturers in the world today. HAL which has begun aircraft manufacturing in 1942 currently has 11  R&D centres and 21 manufacturing divisions under 4 production units spread across India. HAL is currently involved in designing and manufacturing of fighter jets, helicopters, jet engine and marine gas turbine engine, avionics, software development, spares supply, overhauling and upgrading of Indian military aircraf.
*The Author S. Prabhakar, is a Fellow member of the Institute of the Company Secretaries of India, Chartered Secretary from the UK, Lawyer, and Registered Insolvency Professional.  
SimplyBiz Private Limited provides managed services in the field of Advisory, Transactions, Business Setup, Compliance, Accounting, and Taxation. SimplyBiz has its Head office in Hyderabad and branch offices in Bengaluru, Chennai, Mumbai, and National Capital Region.