How to ensure Labour Laws Compliances to operate your small business or start-up?
It is true that for any organisation be it is Micro, Small, Medium or large scale "employees" are the most important asset. As organisation grows its business, there will be recruitment of employees' time comes to recognise the importance of labour law compliance and put process in place to ensure compliances. Not complying with the labour laws can lead to severe action towards the organisation and the management. This Article will help employers to gain some basic understanding of Labour Law compliances.
What is Labour Law Compliance?
In India, Labour Laws are the comprehensive regulations and rules, enacted to ensure the protection of employees' rights and to safeguard them from any exploitation. Labour Laws are enforced by both Central as well as State governments. Employer or owner of the business must be well versed with the importance of Labour Laws and compliances thereof.
It would be a grave mistake to overlook the Labour Law compliances assuming that you are a small business, and you don't require to ensure labour law compliances. Every business be it small, medium and big must remain vigilant about labour law compliance. Following the below-mentioned simple steps, any business can stay labour law compliant: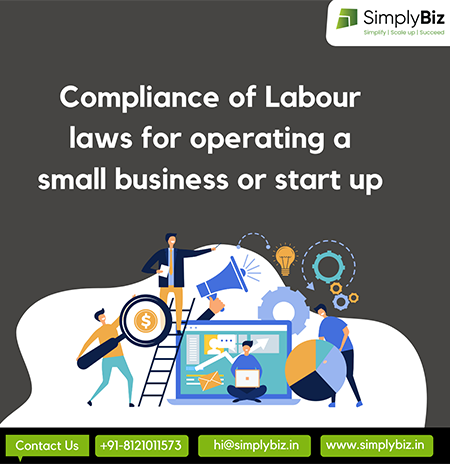 How to ensure Labour Law Compliance
Know the applicability of Labour Laws on your Company


Labour Laws are imposed by the Central as well as the State Government. It is clear that apart from Central laws you have to comply with the laws of the state where your business is situated. The applicability depends on varied factors like nature of industry, number of employees, salaries of employees etc. For instance, Employees' State Insurance Scheme under ESI Act 1948, is applicable when an organisation has 10 or more than 10 employees.
You may visit web site of the Labour Department of your state to know about the applicable laws and its compliances.

 Prepare & Maintain a Checklist


Once you have figure out what all central and state labour laws are applicable on your company, next step is to prepare a labour law compliance checklist. This will help you to stay organized. For example, renewal of registrations and filing of forms/ returns under various applicable labour laws have different timelines. All these labour law compliances with their due dates can be compiled neatly into a checklist. This checklist will definitely help you to stay compliant ahead of time.

 Outsourcing


The main motive of any business is to earn and maximise its profit. Generally while concentrating on the main business activity, it becomes really difficult to take care of other supporting requirements. Many Companies have their own legal department to take care of the supporting requirements but startups and small companies often being new and experiencing short staff needs assistance of an expert in this field.
Outsourcing helps the startups and small companies to look after the supporting requirements like labour law compliances and can easily devote their time on the main business activity without any botheration of late fees/penalty/fines/inspection and show cause notices. This also proves to be cost effective as the startups and small companies don't need to block their capital in hiring and maintaining a separate compliance machinery of their own. 
Looking for guidance on labour Law Compliance
At SimplyBiz, we provide top-of-the-line compliance services, so you can focus on the other essential aspects of running your business. Ou compliance services include listing out the labour laws applicable on your company, preparing labour law compliance checklist and also procuring various registrations and licenses to be procured to run the business smoothly and ensure compliances on a continuous basis.
For enquiries you may contact Ms. Geetanjli Aggarwal at the mail ID geetanjali@simplybiz.in or Simplysetup@simplybiz.in or  +91 8121011571.