India - A Hot spot for Foreign Direct Investment (FDI)
 What is FDI?
A Foreign Direct Investment (FDI) is an investment made by an investor or a company of one country into business interests located in another country.
Companies based out of a particular country establish their cost centres or manufacturing units or Research & Development centres in another country by making Foreign Direct Investment. Some of the main reasons why companies do so is to seek larger markets for their products or to reduce costs or to increase efficiency. Companies invest in different locations so that each product can be manufactured or services sourced wherever it is most cost-effective to do so. 
By undertaking Foreign Direct Investment, companies aren't just bringing money with them, but also knowledge, skills and technology and are directly involved in the day-to-day operations.
Why India?
India remains an attractive investment destination considering its growth prospects, political and economic stability and skilled workforce.  There are several good reasons for the foreign investors to invest in India. If you are looking for the best place to invest, consider adding India to the list and here is why.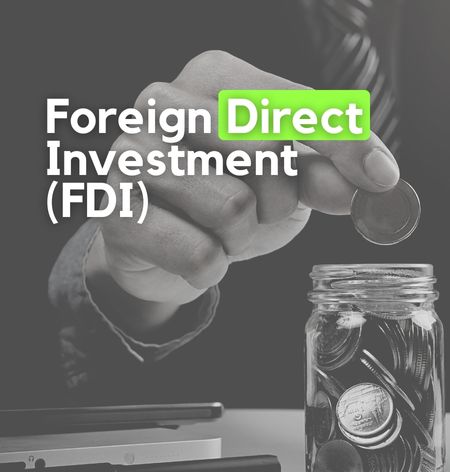 Economic Growth: India is the world's largest democracy and fastest growing major economy. As per Morgan Stanley report published recently, India is set to surpass Japan and Germany to become third largest economy in the world by 2027.
Pro-business and Stable Government: It is a paramount factor that any foreign investor looks for before investing his money in any foreign country. India enjoys political stability. Various central and state government agencies, which have a pro-business attitude, work closely with the business sector to promote economic growth. Various concessions and schemes are being offered by the government to promote growth and attract business. As an example, the Performance Linked Incentive scheme recently launched by the Government has been a huge success and has given a great boost to the manufacturing units across various sectors.
Huge Market Size: The large population coupled with the increased demand from the untapped rural areas and ever-increasing middle class is resulting in India emerging as the most promising market for all types of consumer goods. Foreign investors look eagerly towards the large and expanding consumer market in India. 
Ease of Doing Business: In recent years, India has climbed the ranks on many world indices of economic efficiency and performance. India ranked 63rd out of 190 countries. In the latest Doing Business report, published in 2020 by the World Bank, there was a significant improvement in India's ranking from the previous year's spot, where it ranked 77th.The present Central Government has made `ease of doing business' a clear area of focus. Likewise, state governments are also taking business facilitation measures as a top priority agenda to attract foreign investment and enterprise in their respective states. The introduction of Goods and Service Tax (GST) and the Insolvency and Bankruptcy Code (IBC) top the list of reforms that have propelled India's rise in rankings. As a result, India is being viewed by global investors as the economic power house of the future.
Digital Revolution: The Government of India has taken a policy decision to encourage electronic transactions and digitization of various government portals, in this regard, announced a number of incentives/schemes. Digital technology is expanding across all sectors of the Indian economy, including money, banking, finance, taxation, e-commerce, agriculture, rural development, and governance.
Foreign Exchange Regulations: The Government continues to liberalize investment restrictions, eliminate regulatory barriers, nurture international relations and improve business environment. Recently, the Indian government has allowed 100% FDI in LLP under the automatic route. This will further encourage the overseas companies and individuals to get a foothold in the Indian Market.
Extensive trade links: Interested Investors can leverage on India's trade network with its regional and bilateral free trade agreements with many trading partners.
Competitive tax system: India offers a very competitive tax regime and comprehensive network of Tax Treaties. To promote growth and investment, a new provision was introduced in the Income-tax Act that now allows any domestic company to pay taxes at an effective tax rate of around 25.17% inclusive of surcharge & cess.With this, following complying conditions, companies are also now exempt from paying Minimum Alternate Tax.In order to attract fresh foreign direct investment in manufacturing and thereby encouraging 'Make-in-India' initiative of the Government, another new provision has been inserted in the Income-tax Act with effect from FY 2019-20 which allows any new domestic company incorporated on or after 1st October 2019 making fresh investment in manufacturing, an option to pay income-tax at the rate of 15%. This benefit is available to companies which do not avail any exemption/incentive and commences their production on or before 31st March, 2023. The effective tax rate for these companies shall be 17.01% inclusive of surcharge & cess. Also, such companies shall not be required to pay Minimum Alternate Tax. Even with the older regime, the rate of Minimum Alternate Tax has been reduced from existing 18.5% to 15%, thus creating a business-friendly tax regime within India.
Well-developed financial system: India's financial system is well regulated and offers a broad range of services. Businesses can also tap into its developed capital markets as an alternative source of financing.
Robust legal system: The legal and judicial system here is robust and efficient, thus, businesses can count on India's rigorous enforcement of laws.
Skilled workforce: India offers a highly-rated human capital base recognized for its skills, knowledge and talent.
Conclusion – India is really a Hot spot for FDI
All these abovementioned factors are making India a Hotspot for Foreign Direct Investment. FDI in India has seen a consistent rise in the last decade, with FY 2021-22 receiving FDI inflow to the tune of $84.8 billion despite the impact of the COVID-19 pandemic and geopolitical developments on investment sentiment. As a road ahead, all these factors together may help India attract FDI worth US$ 120-160 billion per year by 2025.
If you too are exploring the option to set up business in India, then please feel free to reach out to SimplyBiz for assisting you to set-up your business in India..
Our product SimplySetup is just meant for you. Please reach out to our Product Head – Ms. Geetanjli Aggarwal at the mail ID geetanjali@simplybiz.in to know more.