Indian Capital Markets to move to T+0 Settlement soon.
Close on the heels of moving from T+2 to T+1 settlement cycle in January 2023, Indian capital markets are tipped to move to T+0 settlement, which is an instantaneously same day settlement. The settlement cycle in stocks markets refers to the time between the trade date when an order is executed in the market, and the settlement date, when the participants exchange money for shares.   Market regulator SEBI, in a statement indicated that it is working on a mechanism for instant settlement of trades i.e., credit of shares on purchase and credit of money on sale of shares.    
Reducing the settlement cycle will create greater efficiencies in the market, reduce operational risk, liquidity needs, margin requirements and collateral requirements.   The T+0 settlements are extremely tough considering the time required for brokers to crystallize the obligations and then clearing corporations to settle.  When Indian capital markets have moved to T+1 settlement it has freed Rs. 10,000 crores into the market due to margin and now this moves to go for T+0 settlement cycle will let more funds to flow into the market.  Moving to shorter settlement cycles will cause huge logistical problems, especially for investors operating across different times zones.  This could create inefficiencies around trade matching and end of the day reconciliation.  New technologies could help the market players to overcome these underlying challenges and market players should embrace new technologies and members engage with each other to overcome operational challenges.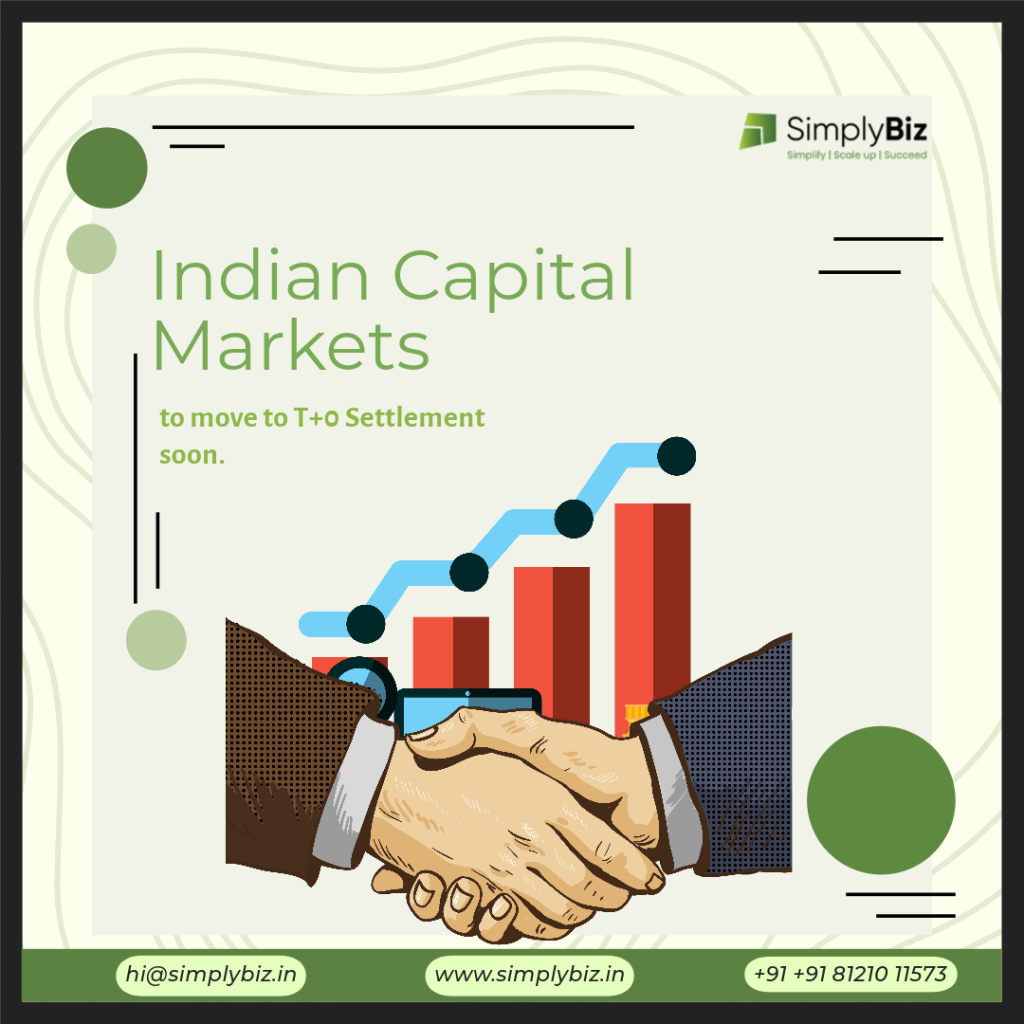 It is not easy to achieve T+0 by all industry participants who are used to current business, infrastructure and operational process.   It may impact competitive landscape in way that it disadvantages market participants who are unable to make investments or lack the scale to compete in such an environment. Smaller player with limited resources would be at a competitive disadvantage to make the necessary investments.  T+0 may result in more failed trades as it takes time to rectify fails and, in a T,+0 settlements there would be little or no time to make corrections.    
*S. Prabhakar, is a Fellow member of the Institute of the Company Secretaries of India, Chartered Secretary from the UK, Lawyer, and Registered Insolvency Professional and Social Auditor.   
SimplyBiz Private Limited provides managed services in the field of Advisory, Transactions, Business Setup, Compliance, Accounting, and Taxation. SimplyBiz has its Head office in Hyderabad and branch offices in Bengaluru, Chennai, Mumbai, and National Capital Region.