The concerted and sustained efforts by the successive Karnataka State Governments and pioneering efforts of major IT companies like Infosys and WIPRO have brought in an IT culture in the entire state especially in the city of Bengaluru for the first time in India.
• Karnataka is the home to the fourth largest technology cluster in the world after Silicon Valley, Boston and London.
• Karnataka has 47 IT/ ITeS SEZs and dedicated IT investment regions.
• Karnataka has over 5500+ IT/ITES companies and 750 MNCs which contribute more than Rs. 58 lakh crores (US$ 58 billion) worth of exports generating direct employment for over 1.2 million professionals and 3.1 million indirect jobs.
• Export of electronics and computer software from the state reached US$ 81.4 billion in the financial year 2019-20 and US$ 38.8 billion till November 2020 in the financial year 2020-21. The export of electronics and computer software accounted for 85% share of Karnataka's overall exports.
• Export of electronic instruments from the state recorded US$ 920.47 million in the financial year 2021-22.
• 80% of all the large global IT firms have their offices in Bengaluru.
• Bengaluru IT hub contributes around 40% of the total IT export of India.
• Around 400 of Fortune Global 500 companies outsource their IT services to firms in Bengaluru.
• Major MNC giants like Google, Microsoft, IBM, TCS, Amazon, Wipro, Accenture, Infosys, KPMG, HP, Dell, Siemens, Cisco, Capgemini, Cognizant, Goldman Sachs, Deloitte, EY, Intel, Oracle and SAP, all have their offices in Bengaluru. There are also many other companies such as Samsung, Huawei, Nokia, Phillips, Tech Mahindra, Hitachi, HCL, Flipkart, and CGI that also have their presence in Bengaluru.
• There are 3,500 IT companies in the state. The state engages 550,000 IT professionals which are1/3rd of the total IT professionals in the country.
• About 50% of the world's Software Engineering Institute (SEI) Capability Maturity Model (CMM) Level 5 certified companies are located in Bengaluru.
• In 2021, Web Werks collaborated with the Karnataka government to establish a data centre in Bengaluru with an investment of Rs. 750 crores in the project.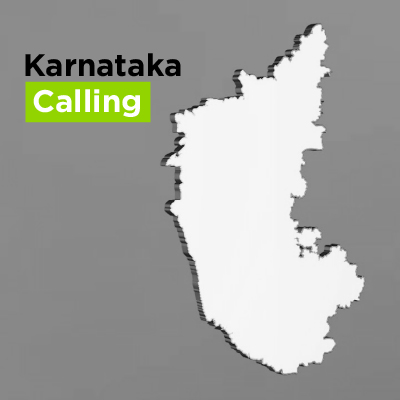 Non-IT Industrial Growth
• The Karnataka growth story is not restricted to the IT/ITES sector only. Many non-IT industries are equally flourishing in Karnataka.
• Karnataka has a vibrant automobile, agro, aerospace, textile and garment, biotech, and heavy engineering industries.
• The state has sector-specific special economic zone (SEZs) for key industries such as biotechnology, engineering, food processing, and aerospace besides IT/ITES.
• Out of the total exports of US$ 22.83 billion from the state in the financial year 2021-22.
•petroleum exports topped accounting for 13.3% followed by iron & steel at 12.1% and organic chemicals at 5.6%.
Metals & Mining
• Karnataka is rich in mineral resources, which are spread over 1.92 lakh sq. kms and has more than 40,000 sq. Kms of the green stone belt.
• In the financial year 2021-22, Karnataka produced 33.91 million tonnes of iron ore.
• Total value of all minerals produced in the financial year 2021-22 other than fuel & atomic minerals was Rs. 7,695.08 crores.
• Total export value of iron & steel from the State in the financial year 2021-22 was US$ 2.22 billion.
Automotive
• Karnataka state is the fourth-largest automobile producer in India, contributing 8.5% to the total national automobile output.
• With over 14 million registered vehicles, Karnataka has a huge local automotive market.
• Tesla announced setting up a manufacturing plant in Karnataka for the production of electric cars.
• Reva Mahindra, the first indigenously built electric car in the country, has its unit in Karnataka.
• Key OEMs such as Toyota, Volvo, Honda, Scania and TVs are also set up their units in Karnataka.
• Over 400 R&D centre sand 200 engineering colleges are driving innovation in auto sector in the state.
Aerospace
• Karnataka is known as the pioneer in the Indian aerospace industry with the establishment of Hindustan Aeronautics Limited (HAL) in Bengaluru way back in 1940.
• Karnataka produces more than a twenty five percent of India's aircraft and space crafts.
• Karnataka contributes 65% to aerospace-related exports from India to the US, the UK, Germany, Russia, Mauritius, Malaysia, Nepal and Oman.
• India's first aerospace SEZ of 300 acres is operational at Belgaum.
• Aerospace Technology Centre is in the process of being set up in Bengaluru under the PPP model.
• Karnataka contributes 67% of the country's helicopter and aircraft for Defence Services.
• It is the first state in the country to introduce a dedicated Aerospace policy.
• Karnataka Aerospace Policy has identified an investment potential of US$ 12.5 billion in this sector during 2013-23 and plans to develop aerospace clusters in different regions of the state.
Start-Ups
• The start-up culture in India finds its roots in Karnataka/Bengaluru which later on spread to other major cities of India.
• The number of innovative start-ups in Bengaluru is huge and it's growing day-by-day.
• There are over 13,000 operational start-ups in Bengaluru and more start-ups are emerging.
• Most of the start-ups in this country emerge from this city and companies such as Flipkart, HackerEarth, Big Basket, Zoomcar, Grow, Swiggy, RazorPay, Dunzo, and Myntra. Moonfrog, Housejoy, Practo, Common floor and Oyo are all from Bengaluru.
• The Karnataka State Industrial & Infrastructure Development Corporation has promoted more than 135 start-up ventures in the state through equity participation.
• 15 Karnataka start-ups won National Start-up Awards in wide-ranging sectors from urban mobility satellite technology, and organic farming to augmented reality.
Knowledge Hub & Rich Talent Pool
• Karnataka is termed as the Knowledge Capital of India.
• Karnataka has 52 universities, 4,519 pre-university colleges, 535 Technical Institutions, 206 engineering colleges,314 polytechnics, 47 medical colleges and 38 dental colleges.
• Karnataka produces a large number of doctors, engineers and medical technicians in the country.
• The state has 401 R&D centres.
• The state has a literacy rate of 75.6%, the male literacy rate is 82.8%and the female literacy rate is 68.1%.
• Rs. 32,018 crore (US$ 4.12 billion) has been allocated to education, sports, arts and culture in the State Budget for 2022-23.
• The biggest advantage of setting up huge units in Karnataka/Bengaluru is the availability of a massive amount of skilled manpower. As of now, there are over 15,00,000 skilled IT professionals in Bengaluru and the number is expected to be around 80,00,000 soon.
Strong Base of Economic Growth & FDI
• Karnataka's revised gross state domestic product (GSDP) stood at Rs. 18.03 trillion (US$ 247.38 billion) in 2020-21. The state's GSDP increased at a CAGR of 8.79% in 2021-22.
• Cumulative FDI inflows in the state reached US$ 29.21 billion between October 2019-December 2021, the second highest in India. It accounts for 23.06% of India's cumulative FDI inflows.
• Karnataka continues to be the most preferred destination for investors and has attracted the highest FDI inflow in the country. In the first 2 quarters of 2021-22 Karnataka attracted the highest amount of FDI into India at 45% of the total FDI of 1 lakh crores.
New Investment announcements in Karnataka
• In July 2021, C4V, a US-based lithium-ion cell manufacturer, announced an investment of Rs. 4,000 crores (US$ 548.23 million) in the electric battery manufacturing sector in Karnataka.
• In June 2021, IKEA announced an investment of Rs. 3,000 crores (US$ 411.17 million) in Karnataka for further expansion in the state.
• In May 2021, nine projects worth Rs. 13,487 crores (US$ 1.85 billion) were approved in Karnataka by the State High-Level Clearance Committee.
Infrastructure to propel growth engine
Roads
• Karnataka public transport is the best in the country catering to people of different income groups across the state as well as in neighbouring states.
• Karnataka has 14 national highways and 115 state highways with a total length of 28,311 km.
• In the Budget for 2021-22, Rs. 3,288 crores have been allocated towards state highways and Rs. 2,381 crores towards district and other roads. Foundation has already been laid for 33 national highway projects.
Railways
• Karnataka is well connected to other parts of the country through railways with a total railway network of 3,540 kms.
• The total length of Phase-II of the Bengaluru Metro Rail Project is 72.095 kms and Phase-III is 44 kms in length.
Airports
• The state has five domestic airports and the sixth one is coming up at Shimoga. International flights operate from Bengaluru and Mangaluru International Airports.
• Bengaluru International Airport handles 1,42,43,000 passenger traffic per annum with over 131614 aircraft movements.
Ports
• There are 13 ports in Karnataka, of which New Mangalore is a major port.
• New Mangaluru Port handled 39.30 million tonnes of cargo during 2021-22 registering a 7.66% growth over the previous year as against all India's growth rate of 6.94%.
Power
• Karnataka is one of the first Indian States to implement power sector reforms with the establishment of The Karnataka Electricity Regulatory Commission (KERC) as a regulatory authority of the state's power sector.
• As of March 2022, the state had an installed power generation capacity of 30,577.59 MW.
• In the State Budget 2022-23, Rs. 12,226 crore (US$ 1.57 billion) has been allocated to the energy sector.
• In May 2022, the Karnataka Government announced the new Karnataka Renewable Energy Policy for the 2022-27 period and intends to position Karnataka as a preferred renewable investment location.
Telecom
• Karnataka is the seventh-largest wireless telecom market in India with 66.83 million wireless and 2.43 million wire line subscribers in the state as of September 2021. The entire state is networked through optical fibre cables (OFCs)
Urban Infrastructure
• Karnataka is among the top ten most urbanised states in India.
• Seven cities of Karnataka have been selected under the Smart Cities Mission to be developed as smart cities.
SEZs and Industrial infrastructure
• Karnataka has 34 operational SEZs and 63 SEZs with formal approvals as of July 2021.
• The Karnataka Industrial Areas Development Board has developed 141 industrial areas. The state earmarked US 348.4 million to develop and upgrade eight clusters around Bengaluru.
Cosmopolitan city with great weather
• The most attractive feature of Karnataka/Bengaluru for people from all other states of India and foreign investors is its cosmopolitan culture with a large number of educated and English-speaking population.
• Karnataka State capital Bengaluru, is the only metro city in India with great pleasant weather throughout the year which suits all especially foreign nationals.
Stable Government
• Karnataka is ruled by a democratically elected Government.
SimplyBiz Private Limited provides managed services in the field of Advisory, Transactions, Business Setup, Compliance, Accounting and Taxation. SimplyBiz has its Head office in Hyderabad and branch offices in Bengaluru, Chennai, Mumbai and National Capital Region.
SimplyBiz can facilitate setting up of your business in Bengaluru, Karnataka by
• Scouting and zeroing of business opportunities.
• Advising on the right entity structure based on the business objective.
• Helping in entity set-up and compliances thereof.
• Ensuring all licenses/registrations re obtained before commencing operations.
• Providing ongoing support on managed services covering Compliances – under the Companies Act, 2013, FEMA, other applicable Acts and Accounting, Payroll & Taxation aspect of your business.
*The Author S. Prabhakar, is a Fellow member of the Institute of the Company Secretaries of India, Chartered Secretary from UK, Lawyer and Registered Insolvency Professional  For enquiries, please reach out to Ms. Geetanjli Aggarwal, ACS, Head – Bengaluru Branch at geetanjali@simplybiz.in