Marvellous Magnetic Maharashtra – Economical Capital of India
 Home – Resources – Articles –
Marvellous Magnetic Maharashtra
Marvellous Magnetic Maharashtra – Economical Capital of India
Author – Mr. S. Prabhakar
As per the state economic report for 2021-22
|
•Maharashtra is expected to grow by 12.1 percent, with agriculture and allied activities by 4.4 per cent, industries by 11.9 per cent and the services sector by 13.5 per cent.
• The Gross State Domestic Product (GSDP) is expected to be Rs 31,97,782 crores, and the per capita income to be Rs 1,93,121.
• Per capita state income is expected to be Rs 2,25,073/-.
• The average share of the state in the national GDP is the highest amongst Indian states at 14.2 percent

Mumbai – The Financial Capital of India
• Bombay Stock Exchange Ltd. (BSE) and National Stock Exchange of India
Ltd. (NSE) are the two major stock exchanges on which the entire secondary market transactions of India happen, are in Mumbai the state capital of Maharashtra.
• The BSE is one of the oldest stock exchanges across the world, while the NSE is among the best in terms of sophistication and advancement of technology.
• The market capitalisation of equity shares of NSE and BSE available for trading on Indian bourses during 2021-22, up to December, 2021 was Rs. 255.37 lakh crores and Rs. 266.00 lakh crores respectively
• Maharashtra has 11284 offices of Scheduled Commercial Banks (SCB), accounting for 9 percent of the total SCBs in India. The share of the state in aggregate deposits and gross credit in India is about 24 per cent and 28.7 per cent respectively. TheCredit-Deposit ratio of the state is 92.6 percent, compared to the All-India figure of 77.4 per cent.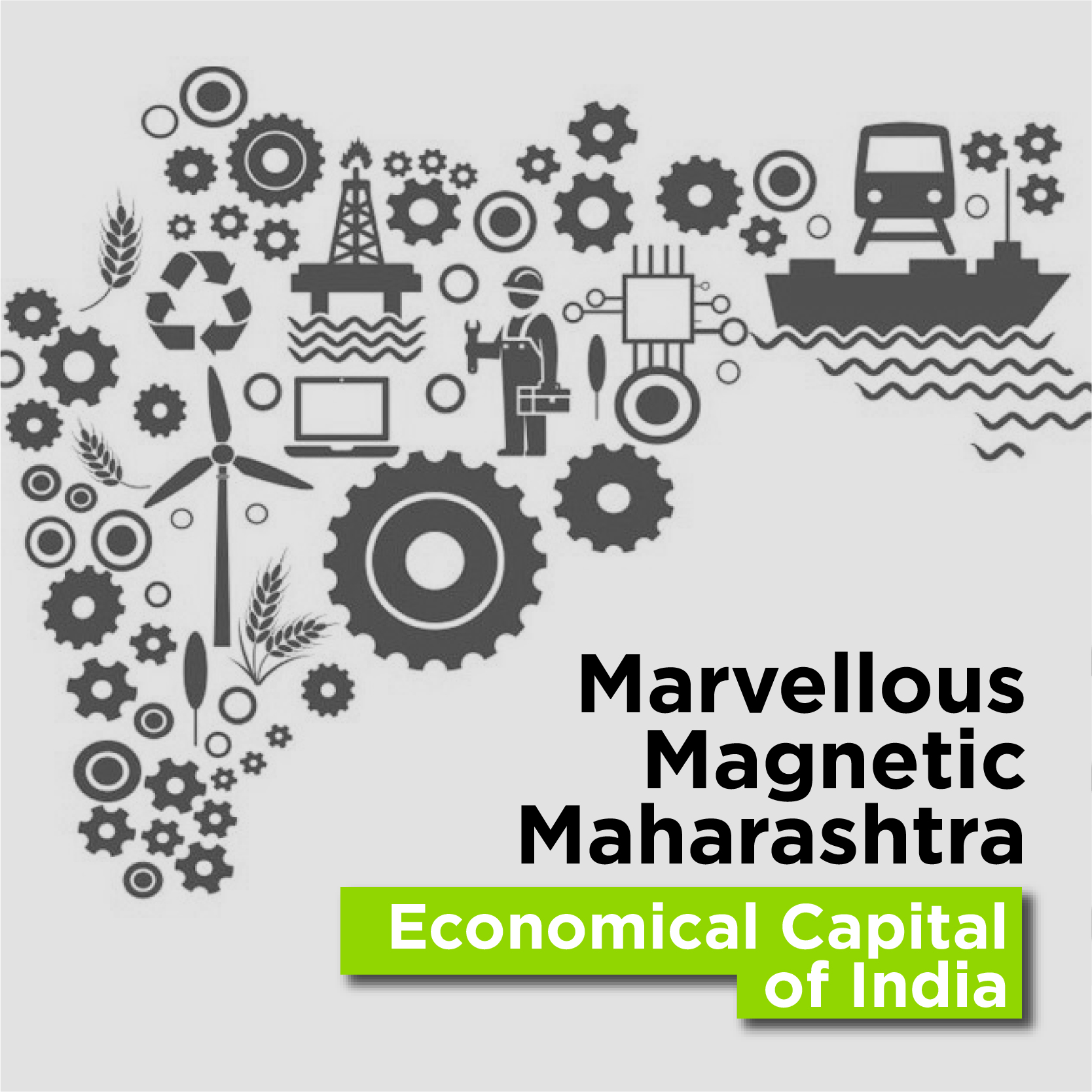 Industrial Development & FDI
• The Maharashtra Industrial Development Corporation (MIDC), which is hailed as one of the most competent industrial promotion authorities in Southeast Asia, is transforming Maharashtra into a global manufacturing hub.
• In the total 10 editions of Magnetic Maharashtra 2.0, there have been 122 MoUs signed, for an investment totalling Rs. 2.2 lac crores, potentially generating 4 lac job opportunities.
• Maharashtra signed over Rs. 80,000 crores in investment intentions with 24 companies and 3 MoUs of strategic co-operation.
• The State has signed 12 MoUs of 5,051 crores in December 2021 with proposed employment of more than 9,000 in sectors like Space & Defence, IT, Biofuels & Energy, and Automobile components.
• From June 2020 to December 2021, the State has attracted investment proposals of Rs. 1.88 lakh crore with expected employment of more than 3.34 lakh. IT (22 per cent), Data Centres, Solar & Renewable Energy, Steel manufacturing, Logistics and Automobile and their components are the key sectors that attracted investments.
• Up to December 2021 approval has been given to 702 mega projects in the State with a proposed investment of Rs. 6,03,215 crore and proposed employment of 6.71 lakh. Up to November 2021, the total number of MSMEs in the State registered on the Udyam registration portal was 10.31 lakh and employment therein was 61.85 lakh.
• Renew Power will invest a whopping Rs. 50,000 crores in Renewable Power generation of 10-12 GW in Maharashtra.
• Asia Pulp and Paper, an Indonesian firm, will be investing Rs. 10,500 Crores in Raigad district.
• Microsoft, one of the world's largest software and hardware IT giants are investing to establish Data Centres in Pune with an investment amount to the tune of Rs 3,200 crore.
• Gramsci Business Hub Pvt Ltd will be investing Rs 5,000 crore in the IT sector.
• The stateis the recipient of about half the total Foreign Direct Investment (FDI) into the country.
• The FDI inflows in the state in 2021-22 were Rs 48,633 crores and Rs 1,19,734 crores in 2020-21.
• The state has 69 Special Economic Zones (SEZs) notified as duty-free enclaves. These SEZs have a relaxed and business-friendly policy regime, aimed at promoting rapidindustrial development and employment generation. The state also has 37 public IT parks, together with approval for 472 private IT parks. Further, there exist two public Bio-Technology (BT) parks.

Industrial Hub

• Maharashtra is a leading industrial hub contributing significantly to the Indian economy.
|• Maharashtra provides a well-developed industrial infrastructure, coupled with industry-friendly policies, which has made it a favourable destination for setting up industries and businesses.
• Maharashtra has industries across various sectors such as Automobile & its components, Electronic Systems Design & Manufacturing, Pharmaceuticals & Chemicals, Engineering, Textiles, Gems & Jewellery, Food Processing, Logistics, Cement & Steel industry and IT & ITES, etc.
• Maharashtra has identified thrust sectors to steer industrial development towards high-tech emerging sectors and generate employment.
• Maharashtra has received five electric vehicle manufacturing units and one battery manufacturing unit with a proposed investment of Rs. 8,420 crore and the potential to generate 9,500 employment opportunities.
• Maharashtra Electric Vehicle Policy, 2021 in July 2021. The policy aims to attract investments in the State to develop robust electric vehicle manufacturing and Research & Development (R&D) ecosystem by providing incentives for setting up of manufacturing units and R&D facilities related to the electric vehicle.
• The State's share in the total approved industrial projects and total industrial investment in India is 18.0 percent and 10.9 percent respectively.
• The number of MSMEs registered in the State up to November 2021 were 10.31 lakh out of which 9.86 lakhs micro, 0.39 lakhs small and 0.06 lakhs medium with Rs 61.85 lakh of total employment.

Agriculture

• Organic farming: The State ranks second in India in terms of organic farm production with a 22 per cent share. During 2020-21, the export of organic farm products from the State was 1.26 lakh MT.
• As of 31st March 2021, there were about 2.17 lakh co-operative societies, with about 5.75 crore members therein. Of these, 9.6 per cent were primary agricultural credit societies, 9.7 per cent were non-agricultural credit societies, 12.2 per cent were agro-processing societies.

Abundant natural resources

The state has abundant deposits of minerals like coal, limestone, manganese ore, bauxite, iron ore, dolomite, laterite, kyanite, fluorite (graded), chromite, silica sand, and quartz, etc. The total potential mineral area in the State is about 58,000 square km, accounting for about 19 percent of the State's total geographical area.

The Entertainment Epicentre

• The Media and Entertainment (M&E) industry in India is primarily based in Maharashtra. Mumbai is the nerve centre of the widely popular Hindi film industry. Mumbai houses famous film studios like Film City, Natraj, Mehboob Studios, RK Studio, Yashraj Studios, and Famous Studios. The renowned Film and Television Institute (FTII) is located in Pune is in the field of training in acting, film making and television programme production.
|• M&E sector grew a whopping 16.4% to Rs 1.61 trillion ($21.5bn) in 2021. The industry is expected to grow 17% in 2022 to reach $25.2 billion.
|• Hindi film industry produces over 130 movies per annum and the majority of the Hindi films are produced in Mumbai and Maharashtra. The Hindi film industry represented 44% of box office revenue.
• The Mumbai Hindi film industry employs lakhs of cine workers apart from top actors, directors, singers, technicians etc.
• India's top music companies like Tips Industries, Times Music, Sony Entertainment, Zee music, and Saregama music, have their studios and production units in Mumbai.
• The Hindi music industry is one of the largest music industries in the world, and with rapid growth and development, it offers several wonderful opportunities. With annual revenues of around 15 billion Indian rupees, this industry offers great potential to businesses, record labels, music streaming companies, and many more participants.
Ease Of Doing Business
• The Maharashtra Government has initiated various measures towards ease of doing business in the state by reducing the bureaucratic red tape for enterprises.
• Maharashtra Government has launched the `Maha Parwana Plan' to provide a single-window clearance system for investments over Rs. 50 crores.
• Under its 'Plug-&-Play Infrastructure' scheme, the state has also fast-tracked the approval of investment proposals, enabling automatic clearances in 48 hours.
• Earmarked over 40,000 acres of landbank.
Manpower
Maharashtra with a 68% population employable is the highest employable talent in India according to the India Skills Report, 2022. About 66% of Maharashtra's population is in the working-age group of 15-59 years.

Maharashtra houses 1 Central University, 23 state universities, 21 deemed universities, 14 private universities, 885 Engineering colleges, 227 Business and Management Institutes, 438 pharma colleges, and 958 industrial training institutes.
Infrastructure Development

Roads
• Maharashtra Government has placed greater emphasis on augmenting the infrastructure, and connectivity across the State. Road and bridge construction accounted for 5.2% of its annual budget.
• Rs. 7,000 crores have been earmarked for the Nanded-Jalna Expressway Connector in the Marathwada region.• Rs. 6,695 crores were earmarked for the Mumbai-Pune Expressway, for the construction of bridges and underpasses to minimize traffic congestion and improve transportation efficiencies.
• The State has approved Rs. 26,000 crore funding for the 170 Kms. long Pune Ring Road.
• Of the 3.01 lakh km of road length maintained by the Public Works Department (PWD) and the Zilla Parishad (ZP) 99 percent of villages are connected by road.
Railways
• Maharashtra is connected to other parts of India with a 5,983-kilometre rail network.
• Indian Railways Central and Western Railway zones are headquartered in Mumbai.
The state accounts for 9.2 per cent of the total railway route length of the country, measuring 6,103 km (including 378 km of the Konkan railway). Mumbai, Navi Mumbai, Nagpur and Pune also boast of metro rail projects under various stages of implementation.
Airports
Maharashtra is very well connected domestically and internationally through airways. The State has airports in the following cities
• Mumbai – International, Pune, Aurangabad, Nagpur, Kolhapur and Sholapur
Reliance Infra will build five airports at:
• Nanded, Latur Airport, Baramati Airport, Osmanabad Airport and Yavatmal airport
During 2020-21, domestic and international cargo handled by airports in the State was 1.87 lakh MT and 4.41 lakh MT respectively.
Seaports:

Maharashtra has a coastline of 720 km on the Arabian seafront. Mumbai Port Trust and Jawaharlal Nehru Port Trust collectively account for 22 percent of the total traffic handled across India.
Power:
• With a total generation of 14,400 MW, Maharashtra is the second-largest power-producing company in India.
• Installed capacity of generating electricity as of 31st March, 2021 and electricity generated during 2020-21 in the State was highest in the country.
• Per capita ultimate consumption of electricity for the State is 1,005.9 units as against all of India's consumption of 768.5 units.
• Mahagenco has the highest overall generation capacity and the highest thermal installed capacity amongst all the state power generation utilities in India.
Tourism
• Maharashtra has various world heritage sites such as Ajanta, Ellora & Elephanta caves. These world heritage, architectural structures like Gateway of India, Viharas & Chaityas, wildlife sanctuaries, bird sanctuaries, beaches, forts and Ramsar sites attract tourists from all over the world.
• Maharashtra has many famous pilgrims viz., Shiridi Sai Baba temple, Shiridi, Sidhivinayak of Mumbai, Mahalakshmi, Kolhapur, Shani Shingnapur, Haji Ali Dargah, Nanded Gurdwara, Statue of Ahimsa, Osho International meditation centre, Pune.
• As per the 'India Tourism Statistics at a Glance – 2021' report, the State had 3.92 crore domestic tourists visits and 0.13 crore foreign tourist visits, during 2020.
Urbanisation
• The percentage of the urban population in the State was 28.2 as per Census 1961 and reached 45.2 per cent as per Census 2011. A large number of new towns emerged during the period 1961-2011, contributing significantly to the speeding up of urbanisation.
• Smart Cities: Maharashtra accountsfor ten of the 100 cities under the government's Smart Cities Mission. These include Greater Mumbai, Thane, Kalyan-Dombivli, Pimpri-Chinchwad, Nashik, Amravati, Solapur, Nagpur, Pune and Aurangabad.
Start-up Ecosystem
• Maharashtra has a vibrant start up eco-system. Mumbai has the third highest start–up base in India with prominent presence of Venture Capitalists.
• The largest incubator Society for Innovation and Entrepreneurship (SINE) is based out of Mumbai with an incubation infrastructure of 15,000 square feet, which can accommodate 20 start-ups at a time. IIT, Mumbai ensures a steady flow of technically trained talent.
• Nykaa, BookMyShow, Dream11, DoorMint, Holachef are some of the prominent start-up in Maharashtra.
• Bain Capital, Matrix Partners, Tiger Global Management, Kae Capital are few of the key venture capitalists in Maharashtra.
• Amplifi Asia, SP Jain Institute of Management Research Centre, Society for Innovation and Entrepreneurship (SINE), IIT, Bombay, Venture Nurser are incubators in demand.
• Besides Mumbai, Nashik, Auragabad, Nagpur and Pune are emerging as favourite destination of the start-up.
• Mumbai boasts off over 9000 active start-ups, E-commerce, Fintech and Information technology are the sectors having the highest number of start-ups in Mumbai accounting for close to 50 per cent share.
Corporate Power House
Mumbai houses the head quarters of some of the biggest corporate houses and financial institutions in India viz., Reliance Industries Group of Companies, TATA Group, Hindustan Unilever, Larsen Toubro, Sun Pharmaceuticals, Mahindra & Mahindra, Godrej Group of Companies, Pidilite Industries, HDFC Group, ICICI Bank, State Bank of India, Kotak Mahindra Bank, Axis Bank, Life Insurance Corporation of India, NSE, BSE and SEBI.
Exports:

The main products exported from the state are gems and jewellery, software, textiles, readymade garments, cottonyarn, metal & metal products, agro-based products, engineering items, drugs & pharmaceuticals and plastic & plastic items.
SimplyBiz Private Limited provides managed services in the field of Advisory, Transactions, Business Setup, Compliance, Accounting and Taxation. SimplyBizhas its Head office in Hyderabad and branch offices in Bengaluru, Chennai, Mumbai and National Capital Region.
SimplyBiz can facilitate your setting up your business in Mumbai, Maharashtra by
• Scouting and zeroing of business opportunities.
• Advising on the right entity structure based on the business objective.
• Helping in entity set-up and compliances thereof./
• Ensuring all licenses/registrations re obtained before commencing operations.
• Providing ongoing support on managed services covering Compliances – under the Companies Act, 2013, FEMA, other applicable Acts and Accounting, Payroll & Taxation aspect of your business.
*The Author S. Prabhakar, is a Fellow member of the Institute of the Company Secretaries of India, Chartered Secretary from UK, Lawyer and Registered Insolvency Professional.
For enquiries please reach out to Ms. Geetanjali Aggarwal, ACS, Head – Bengaluru Branch at geetanjali@simplybiz.in