Modes of Setting-up a Micro Finance Company
Micro Finance Companies are also termed as Micro Credit Company, owing to the fact that the finance involved is lesser as compared to other sectors of the society. As the name suggest Micro finance Company are financial institutions providing loan to lower income group/individuals or the small businesses, who otherwise would have no other access to financial services.
Benefits and scope of Microfinance
As per the World Bank estimation approximately more than 500 million people have directly or indirectly benefited from microfinance-related operations. Further, as on 2021, more than 120 million people have directly benefited from microfinance-related operations.
The benefits of microfinance are far more than just providing people a source for capital. Entrepreneurs who create successful businesses, create jobs, trade, and overall economic improvement within a community. Microfinancing organizations support a large number of activities that range from providing the basics—like bank checking and savings accounts to startup capital for small business entrepreneurs and educational programs that teach the principles of investing.
The majority of microfinancing operations take place in developing nations, such as Uganda, Indonesia, Serbia, and Honduras. Many microfinance institutions focus especially on helping women.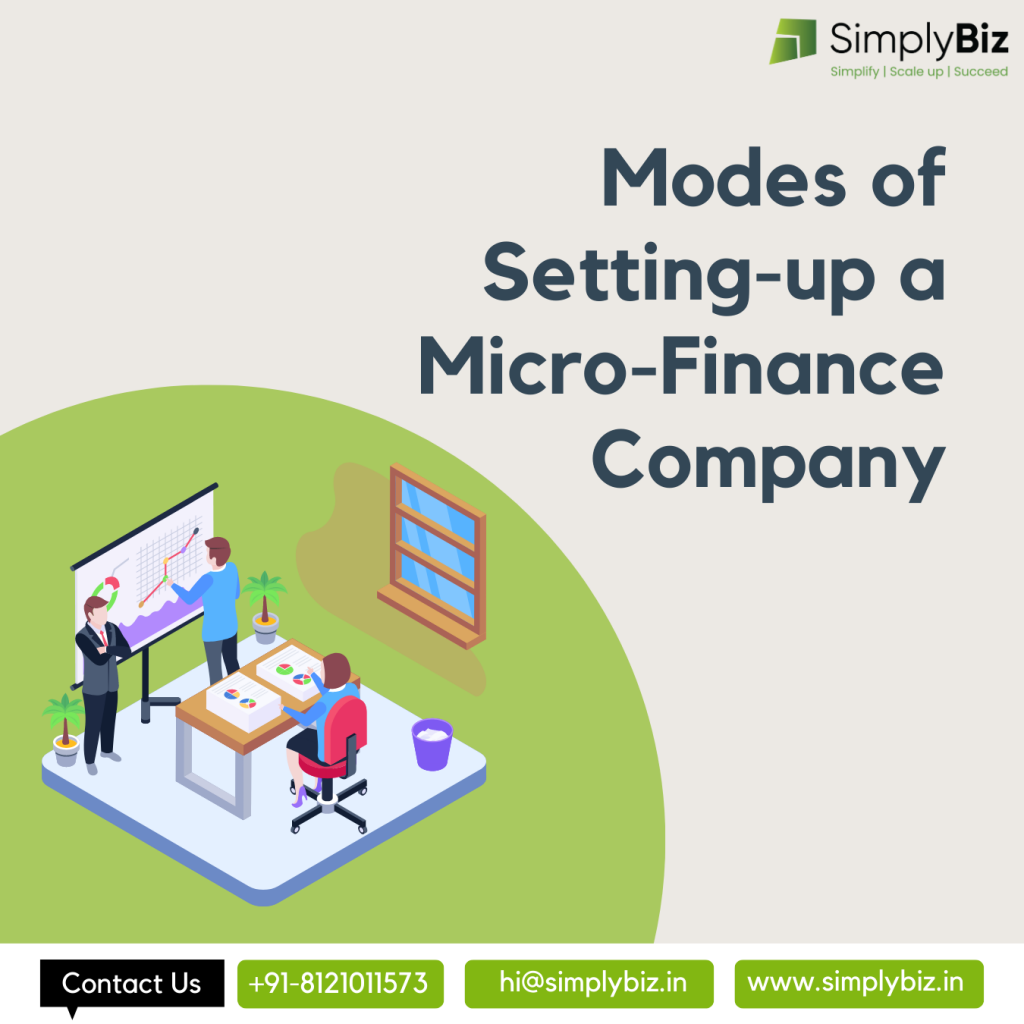 Objective of Micro Finance Companies are:
To give an opportunity to people in the low-income group to become self-sufficient,
To offer banking services involving small monetary amounts,
To provide financial assistance to individuals who work in varied trades like transportation, fishing, carpentry etc,
To offer financial assistance to small enterprises that cannot afford any collaterals,
To increase the participation of women in generating sustainable livelihood,
To increase and enrich the mode of livelihood for low-income individuals and creating opportunities for self-employment.
Working Model of Microfinance Companies in India
Self Help Group (SHG)
Self Help Group is an informal association of small entrepreneurs with similar socio-economic backgrounds. Small entrepreneurs including women coming together to create a common fund to meet the emergency needs of their business. The SHG is a savings-oriented group.
These groups are generally non-profit self-sustaining organizations. The group itself takes care of the responsibility of debt recovery.
Joint Liability Group (JLG)
Joint Liability Group concept for microfinance was an initiative by NABARD. JLG is an informal group of 4-10 individuals like small farmers, rural entrepreneurs, people of the same village/locality belonging from same economic activity who are willing to repay the loans jointly.  
Microfinance companies can finance a (JLG) in two ways
Financing to the group directly
Financing to the individual in the groups
Existing players in the field having NBFC registration.
Best Microfinance Companies in India Working as Banks
Bandhan Bank Limited
Ujjivan Small Finance Bank
Equitas Small Finance Bank
Suryoday Small Finance Bank
Best Microfinance Companies for MSME and Micro Loans
Satin Creditcare Network Limited
Annapurna Finance Pvt. Ltd
Arohan Financial Services Pvt. Ltd
Best Microfinance Companies Focused on Women Upliftment
Muthoot Microfin Limited
CreditAccess Grameen Limited
CreditAccess Grameen Limited
Fusion Microfinance Private Limited
Existing players in the field having registration as Section 8 Company.
Cashpor Micro Credit 
Gramutsav Microservices Foundation
Hand In Hand Welfare Foundation
Aadarsha Welfare Society
Initiatives for Development Bangalore, Foundation
Janodaya Trust
Indian Association for Savings and Credit and many more.
Modes of Setting-up a Microfinance Company in India
Micro Finance companies are of two forms, they are:
Micro Finance Institutions registered with RBI
Section 8 Company under the provisions of Companies Act, 2013
Difference between Micro Finance Institutions registered with RBI and Micro Finance Companies registered as Section 8 Company.
Pre-requisite

Micro Finance Institutions registered with RBI

Micro Finance Institutions registered as Section 8 Company

Net owned
funds

Need to Deposit 5 cr. as Fixed deposit in Bank.

No need to create FD.

Approval of RBI

Need to Complete RBI formalities and get certified copies

No RBI formalities

Adhering to Compliances

NBFC Compliance

No NBFC Compliance

Director
experience

At least one Director must have 10 years' experience in Finance Field

No Specific requirement

Project Report

Need to Prepare Detailed Project Report

Need to Prepare Detailed Project Report

Limit on loans

Maximum of 10% of total assets

Unsecured loan to small business of Rs.50,000.

Loan up to Rs 1.25 lakh for dwelling residence.

Complexity of Microfinance Company
Registration

All processes involved in forming a company must be performed. 

Relatively simple as it is
registered as a non-profit
organization 

No. of members 

For a private limited company minimum of 2 

For a public limited company minimum of 7

Minimum of 2 members

Status of organization

Profit organization

Non-profitable organization
 Final Words
Microfinance Companies play a crucial role in uplifting the rural youth, women and people by providing them with the formal channels of credit. Now the people living in rural and backward areas can get easy loans from microfinance Companies instead of depending on the local lenders who exploit them.
Microfinance has a significant role to play in reducing poverty in societal structure. In India, several banks have started lending money to microfinance institutions. It promotes women's empowerment, which is a significant step in the growth of the nation.
For further enquiries reach out to our Product Head – Ms. Geetanjli Aggarwal at the mail ID geetanjali@simplybiz.in or Simplysetup@simplybiz.in or  +91 8121011571.