Practices of Startup Funding Platforms: A Comparative Study
Introduction
Startups are often looking to raise funds to run/expand their business. This money is used for different purposes such as marketing, operations or growth. Fund raising is a challenging task and companies turn towards platforms which help them in the same. Over the years, startup funding has become a pool of multiple sources and the age-old practice of seeking funds from friends and family has become obsolete. One of the sources for raising funds is crowdfunding. Crowdfunding is mostly done through platforms which are websites that enable communication between the fundraisers and the crowd. Financial pledges are made and collected through such platform. Fundraisers are usually charged a fee by the platforms if the fundraising campaign goes successful.

How crowdfunding platforms work

A Crowdfunding platform gives you a single medium to showcase your idea or story to a large set of investors including your friends/family/followers in shorter period of time. It goes beyond borders, you could be sitting in one corner of the world and making a pitch globally. There are stages to how to get it started on a crowdfunding platform: –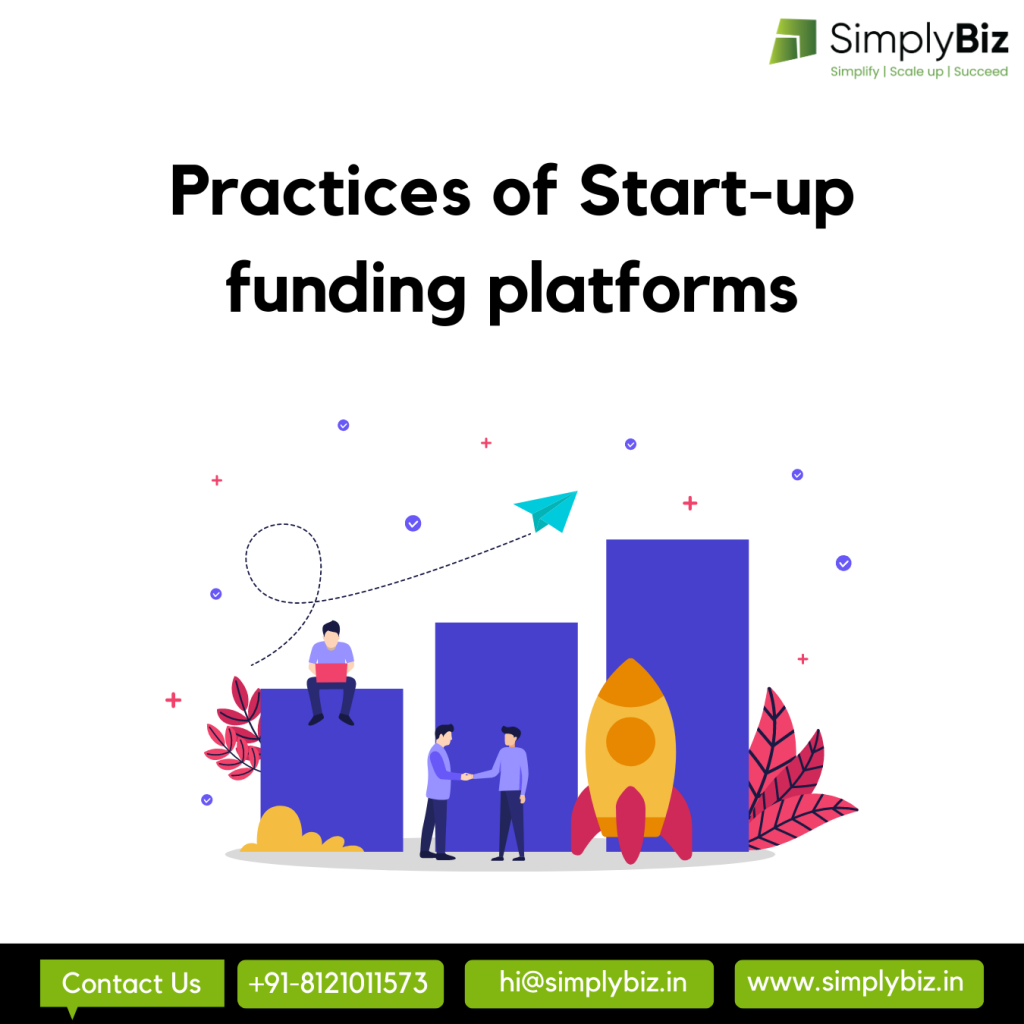 Selecting the platform- Start by choosing the right platform which suits your purpose. Find out how long the campaigns run and if there are any limitations on fund raising.
Getting accepted- Most platforms have online forms which can be filled and signed digitally, and all the documents they need can also be attached/shared with them digitally without any hassle. Documentation is required by the platform to check the legitimacy of the startup. After all the signings and documentation check, the platform accepts campaign of a startup.
Making the pitch- After getting accepted, the startup has to make a pitch on why they want the funds and what their purpose is. This includes lot of marketing and promotion to attract the investors.
Campaign end- Once the campaign ends, the platform takes their money in the form of fees, which can be a percentage of amount raised by the startup.
Types of crowdfunding
Peer to peer- Crowd invests money in the startup with the clarity that money will be repaid with interest.
Equity crowdfunding- Seeking investment in return for stake in the company.
Rewards based crowdfunding- Investors give money hoping to get a non-financial reward.
Profit sharing- Businesses share future profits in return for funding.
Some leading platforms

Patreon- This platform is mostly used by creators on Youtube to get funds or donations from their viewers and is a popular and reliable platform among Youtube and other social media content creators. This platform helps creators to launch a personalized subscription-based page where the creators offer exclusive content to those subscribers and get a consistent income every month. The subscribers must pay a subscription fee for accessing the exclusive content. Also, the subscribers get to know how their subscription is supporting the creator and they have the option to cancel the subscription at any point.
GoFundMe- This is a versatile platform for raising funds for charity or trying to start a business. It stands among the largest online platforms for fundraising. GoFundMe does not take any fee from their users, the startup will give only a processing fee for transactions. It stands apart in one aspect as the fundraiser goes on for unlimited amount of time.
Kickstarter- Kickstarter has become one of the familiar platforms. It has helped over 200,000 projects in little over a decade and is a reward-based medium. The investors are given incentives to support a project or idea, such as a T-shirt, credits or exclusive pre-order option or early bird offers. Kickstarter stands apart from others also because it is a high-risk platform. Startups must set a fundraising goal, and they get access to the pledged funds only if they reach their goal.
IndieGogo- Mostly considered the best platform for startup fund raising. It's especially liked by entrepreneurs because it has the ability to create a crowdfunding campaign for any idea or product that one wants to launch. Just like other platforms, they charge a fee for collecting finances. On this platform the startup can set up a campaign for up to two months.
GoFundHer- This platform is trying to bridge the equality divide as it is a crowdfunding platform for women entrepreneurs. It has easy-to-use approach, where the investors can make a donation or set up a monthly sponsorship for a business. GoFundHer is a platform which provides unlimited fundraising pages for women to elevate their dream job through sponsorships. This platform is used in over 200 countries and is inclusive in nature as it supports women entrepreneurs, domestic violence victims, LGBTQ+ community members and women from all walks of life of all racial backgrounds. Like other crowdfunding platforms they charge a fee of 5%.
SeedInvest- It is an equity crowdfunding platform where backers become investors rather than supporters. It operates differently from a donation or financial investment platform. The investors become part owners after buying in. It is majorly focused on tech and e-commerce businesses which have potential of high growth and provides them with much-needed access to capital and a network of potential VC investors. It has seen major success with projects, especially in the tech field. Their services come at a high fee, comprising of a 7.5% fee for the platform usage and 5% equity fee basing on how much the startup raises.
Startup Xplore- This platform offers investment opportunities to businesses of high potential. It is highly active in Europe and is also the biggest startup crowdfunding platform in Spain. This platform provides a space for investing in startups and sharing knowledge and experience with businesses looking for funding opportunities. This platform has been praised by entrepreneurs for helping businesses in setting up the raise and dealing with cap table. The most unique aspect of Startup Xplore is that they themselves invest in each of the startups offered to other investors through the platform. This means that budding companies get capital funds directly from Startup Xplore and are then promoted on the platform to raise funds from other potential investors as well.
TinySeed- This platform is different from a typical crowdfunding platform, TinySeed is dedicated to early-stage SaaS (software as a service) entrepreneurs. They help founders grow their businesses by providing mentorship, education and funding. They run their program for a whole year, it gives the startup both time and funds needed to start their company, due to this reason this platform is very selective in nature. They invite applications from potential startups only a few times a year and it's competitive for the startups to get accepted. Their criterion for selecting a startup is traction and potential and they tend to lean towards those startups which show the caliber of eventually becoming multimillion-dollar companies.
Fundable- Fundable offers a bit of everything, one can raise funds in two ways on this platform, through equity crowdfunding and rewards-based crowdfunding. Fundable targets high-potential tech start-ups. Currently they are functioning only for US based startups. Their payment and fee structures are also different from others. On Fundable the users have to subscribe and pay a monthly fee in order to create and manage campaigns instead of charging a platform percentage fee.
LetsVenture- One of the leading platforms in India, LetsVenture provides angel funding, mentorship and support to early stage startups. This platform has a global network of diverse investors and is not industry specific. It also helps Stealth mode startups.
Velocity- It is a revenue based crowdfunding platform which deals mostly with e-commerce businesses. They also track sales and collect digital marketing data of startups.
Catapoolt- This platform offers crowdfunding services for creative fields and travelling as well and is quickly gaining popularity in India due to its different approach. They focus strongly on marketing the startup and creating a buzz to attract heavy load of investors.
Conclusion

Startup founders have a good number of options to pick from when it comes to crowdfunding platforms. Each platform has its own individuality and uniqueness and many offer services beyond crowdfunding and the founders can make a decision based on their objectives. However, the startup founders and promoters need to be smart in picking a platform to make the right choice and make the most out of it.

Our product SimplyTransact  is just meant for you. Please reach out to our Product Head– Ms. Shilpa Agarwal at the mail ID  shilpa@simplybiz.in or  SimplyTransact@simplyBiz.in in to know more.