Private Limited Company or Limited Liability Partnership: Which one is better for your business
What is a Private Limited Company and LLP? 
A Private Limited Company is a Company that is privately held and the liability of the members of a Private Limited Company is limited to the number of shares respectively held/subscribed by them to the extent of unpaid amount, if any. Shares of Private Limited Company cannot be publicly traded. 
Limited Liability Partnership (LLP) is a format that combines the flexibility of partnership and the advantages of limited liability of a Limited Liability Company at a lesser compliance requirements and resultant cost. The liability of the members of an LLP is limited to the amount of contribution agreed to be made by them. 
Similarities Between Private Limited Company and Limited Liability Partnership 
Separate legal entity: Both have separate legal entities. That means Private Limited Company or LLP is treated as a separate legal entity in the eyes of law separate from the member of the entity.  
Limited Liability: In the case of Private Limited Company and LLP, the liabilities of the directors and partners would be limited. 
Registration Process:

 Pvt Ltd registration and LLP registration, both are required to be registered with the Ministry of Corporate Affairs.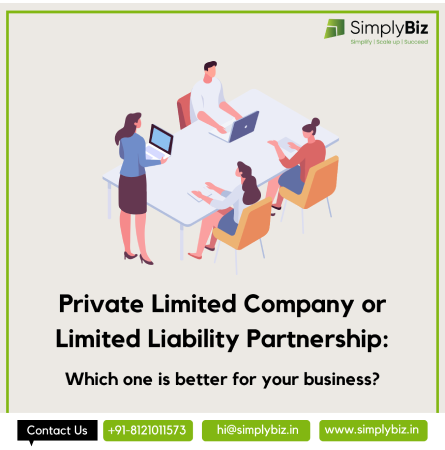 Difference between Private Limited Company and Limited Liability Partnership 

| Particulars | Private Limited Company | Limited Liability Partnership |
| --- | --- | --- |
| Applicable Law | The Companies Act, 2013. | The Limited Liability Partnership Act, 2008. |
| Members | Minimum – 2 Maximum – 200 | Minimum – 2 Maximum – No Limit |
| Directors | Minimum – 2 Maximum-15 | Two designated partners Maximum – Not applicable |
| Statutory Audit | Compulsory | Not compulsory unless the partner's involvement exceeds INR 25 lakhs or annual turnover exceeds INR 40 lakhs |
| Board meeting | Within 120 days of the preceding board meeting. Minimum 4 board meeting to be held each year. | Not necessary |
| Transferability of shares | Shares can be transferred subject to the restrictions laid down in the Article of Association. | Can be transferred as per terms of inter-se agreement. |
| Foreign Direct Investment | Eligible via automatic and government route | Eligible via automatic route subject to conditions |
| Suitability | Businesses are having turnover, entrepreneurs who need external funding. | Start-ups, small and medium Commercial, job, builders, etc. |
| Ownership & Management | A clear distinction between ownership and management of the affairs of the Company. | Partners who are the owners also manages the affairs of the LLP. |
Conclusion 
LLP and Private Limited Company have a lot of similarities, yet they both are different in many of its features and structures. If you are a businessman who needs external funding and is and aiming at higher revenues, a Private Limited Company is perfect for you. Whereas in case you are more than one person who needs to start the Business together with limited liability then LLP is for you.  
For further enquiries reach out to our Product Head – Ms. Geetanjli Aggarwal at the mail ID geetanjali@simplybiz.in or Simplysetup@simplybiz.in or  +91 8121011571. 
Disclaimer 
The content of this document has been developed based on relevant information and are purely for private circulation. Though the authors have made utmost efforts to provide authentic information, however, the authors expressly disclaim all and any liability to any person who has read this document, or otherwise, in respect of anything, and consequences of anything done or omitted to be done by any such person in reliance upon the contents of this document.