Reserves Bank of India withdraws circulation of Rs. 2000 denomination notes
The Central Bank of the country, Reserve Bank of India (RBI), has announced on 19th May, 2023 the withdraw Rs 2,000 currency notes from circulation under its `Clean Neat Policy'. Rs. 2000 notes were introduced in November, 2016 primarily to meet the immediate currency requirement after withdrawal of the legal tender status of all Rs. 500 and Rs. 1000 notes which were in circulation at that time. The RBI had stopped printing Rs. 2,000 notes in 2018-19 and the notes were sparingly in circulation. In statement issued RBI has clarified that about 89% of the Rs 2,000 notes were issued prior to March 2017 and are at the end of their estimated life-span of 4-5 years. The total value of these notes in circulation has come down from 37.3% percent of notes in circulation as on 31st March, 2018 to 10.8% of notes in circulation as on March 31, 2023. As per RBI the stock of notes in other denominations are adequate to meet the currency requirement of the public.

Do Rs. 2000 notes remain legal tender?

RBI has clarified that Rs. 2000 note continue to be the legal tender and public can continue to use Rs 2,000 notes for their transactions and also receive them in payment, but they are advised and encouraged to deposit and/or exchange these notes with any scheduled bank in India on or before September 30, 2023.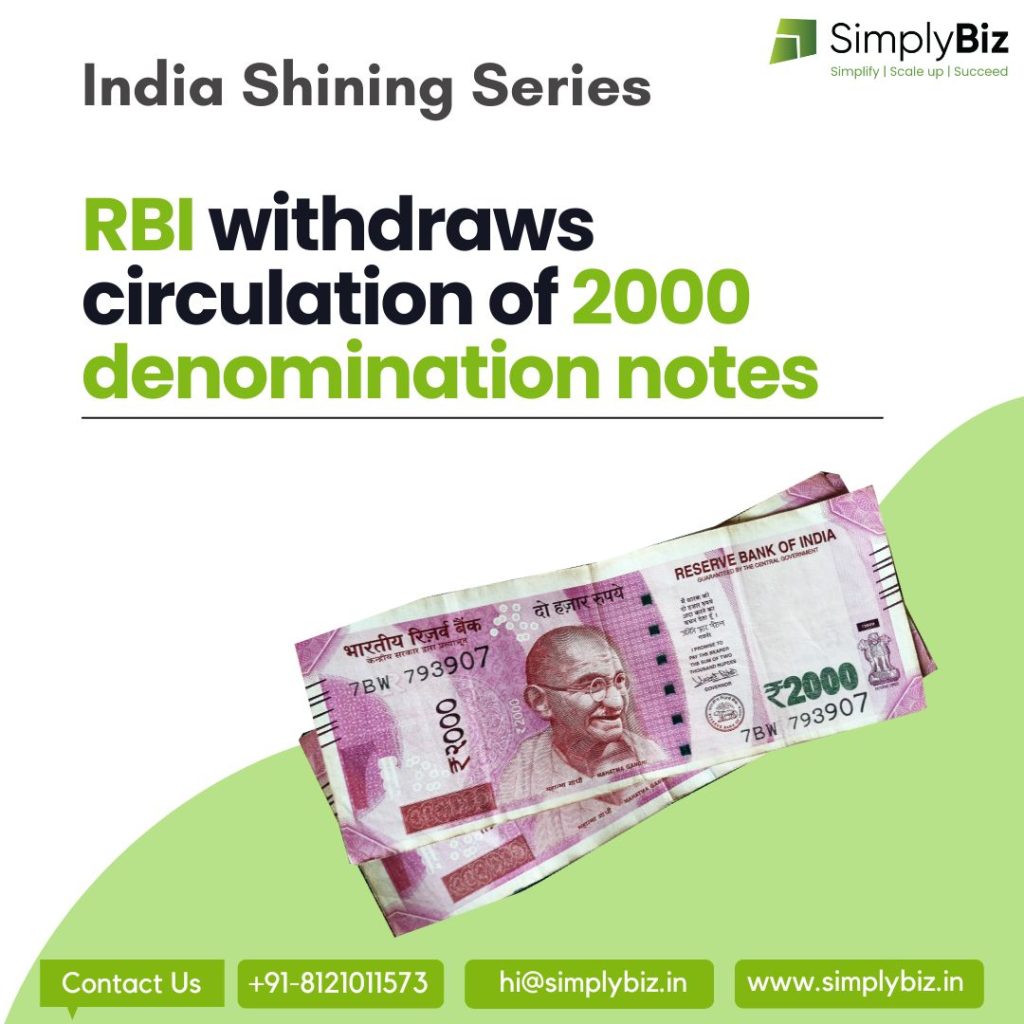 Deposit and Exchange of Rs. 2000 notes

• Public can deposit of Rs. 2000 notes into their accounts maintained with all banks in the usual manner without restrictions.
• All the banks shall extend facility for exchange of Rs. 2000 notes through all their branches.
• To ensure operational convenience and avoid disruption of the regular activities of bank branches, all banks may exchange Rs. 2000 notes upto a limit of Rs. 20,000 at a time.
• A non-account holder also can exchange Rs. 2000 banknotes up to a limit of Rs. 20,000/- at a time at any bank branch, subject to KYC norms.
• The facility of exchange shall be offered by all banks free of cost.
• Business Correspondents may also be allowed to exchange Rs. 2000 notes upto a limit of Rs. 4000/- per day for an account holder, with a liberty to the banks to enhance the cash holding limits of BCs.
• To extend the facility of deposit / exchange to public residing in remote / unbanked areas, banks may consider using mobile vans.
• The banks are advised to make special arrangements to reduce inconvenience to the senior citizens, persons with disabilities and women seeking to exchange/deposit Rs. 2000 notes.
• This deposit/exchange facility can be availed by public from 23rd May, 2023 affording time to the banks to put necessary arrangement in place. The facility will be available till 30th September, 2023
Stock handling of Rs 2000 notes by the banks
• All banks shall discontinue issue of Rs. 2000 notes, through branches and ATMs with immediate effect.
• All balances of Rs 2000 notes held by the banks shall be classified as unfit and kept ready for dispatch to respective RBI offices.
Recourse in case of refusal by a bank to deposit/exchange Rs. 2000 notes

• In case of refusal by any bank to accept deposit/exchange the aggrieved customer may first approach the concerned bank. If the bank does not respond within a period of 30 days after lodging of the complaint or if the complainant is not satisfied with the resolution given by the bank, a complainant can be lodged under the Reserve Bank – Integrated Ombudsman Scheme at the Complaint Management System portal of RBI cms.rbi.org.in.

Conclusion: This move of Government, apart from cleaning the notes, will clean the economy of unaccounted and undisclosed money. The general public may note that it is not demonetisation and Rs. 2000 continue to be a legal tender, they need not panic and deposit and/or exchange Rs. 2000 notes for smaller denomination notes in any bank branch during the large widow period open from 23rd May, 2023 to 30th September, 2023. No questions will be asked at the time of deposit/exchange and there may not be any inquiries as long as notes exchanged or deposited are within the known sources of income on which income tax has been paid.
The Contributor S. Prabhakar, is a Fellow member of the Institute of the Company Secretaries of India, Chartered Secretary from the UK, Lawyer, and Registered Insolvency Professional.  
SimplyBiz Private Limited provides managed services in the field of Advisory, Transactions, Business Setup, Compliance, Accounting, and Taxation. SimplyBiz has its Head office in Hyderabad and branch offices in Bengaluru, Chennai, Mumbai, and National Capital Region.