Home – Resources – News & Events
SimplyBiz is a multidisciplinary professional services firm with competency in Finance, Legal, Accounting, Tax & Compliance. SimplyBiz's endeavour to offer quality and consistent services to its clients is treading the path of democratization of expertise and productization of services which it believes will bring significant value to its clients.

SimplyBiz was formed with the mission of simplifying your business functions. Understanding your business objective, advising and assisting you on your various requirements is what we ensure when we take you on board. At SimplyBiz, we take complete ownership and responsibility for our work so that you can focus on your core. SimplyBiz has been created keeping you in mind.

A few of our service offerings being productized to deliver better quality and experience are Transaction Advisory for fundraising, Business Setup, Entity Management, Corporate Governance, and Secretarial compliances, and Buy Back of shares. The brief details of the products are as under:

SimplyTransact is our Transaction Advisory product catering to Investors and Investee companies (seed to growth stage companies). The broad coverage includes structuring, negotiating, and drafting of definitive agreements, undertaking due diligence, and closing.

SimplySet-up provides solutions for Overseas businesses and Foreign Investors for setting up their business in India. The services cover complete Advisory, Assistance, and Execution relating to set up to ensure the business owners can start hiring people and commence business activities.

SimplyFACT is a one-stop shop solution for early-stage and growth-stage companies (Primarily in Technology, Tech-enabled and Service sectors) to manage their Finance, Accounting, Compliance, Tax and Payroll functions, including reporting to Management and Investors on a subscription model.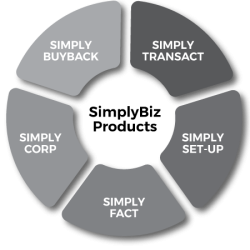 SimplyCorp offers a comprehensive solution with end-end management of Corporate Governance and Secretarial Compliances broadly covering Board Management, Shareholder Management, Regulatory Reporting, Cap table management and dilution on a subscription model. We call it Corporate Secretarial Compliance As A Service (CsAAS). SimplyCorp is aimed at addressing the needs of Foreign subsidiaries, Institutionally funded companies and companies looking to raise capital, M&A, and looking for strategic alliances.

SimplyBuyback provides complete advisory and end-end compliance support for the Buyback of shares. We can assist Companies that intend to undertake buy-back of shares for consolidation of ownership, return excess capital to the shareholders or discover the real value of their shares, or for boosting their key financial ratios.

Team – SimplyBiz is founded by an experienced team of professionals like Chartered Accountants, Company Secretaries, Lawyers, and Management graduates having deep knowledge and competency. The collective team experience is over 300+ years.
Advantages of hiring SimplyBiz
Diligence Ready approach

Quality assurance with committed TAT

Client-centric approach.

Single service provider covering the entire gamut of activities

Committed and agile team

Technology driven for better execution & delivery.
Our USPs
100+ existing Clients having parentage from various global locations like USA, Singapore, Germany, Australia, Norway, Malaysia, Philippines, UK, UAE, Japan and Russia to set up their businesses in India
30+ Industries
300+ years of collective team experience
30+ Team of professionals

Please do write to us:
Gunturu Raghu Babu, Founder @ raghu@simplybiz.in  or call at +91 98480 97782 or Linkedin – https://www.linkedin.com/in/raghusimplybiz/
Vaishali Vohra, Director Strategy & Client Success @ vaishali@simplybiz.in or call on +91 81210 11573. Linkedin – https://www.linkedin.com/in/vaishali-vohra/

Visit our website www.simplybiz.in to know more details. Linkedin – https://www.linkedin.com/company/simplybizindia