Success Story of Indian Global Capability Centres (GCC)
Author: – Mr. S. Prabhakar
India has turned out to be the most preferred hub for the Global Capability Centre (GCC) with half of the world's GCCs are based in India, and nearly 70 percent of them belong to US-headquartered Companies and 20 percent from Europe and 10 percent from the APAC (Asia Pacific) region.
NASSCOM (The National Association of Software and Service Companies) estimates that 1400 MNCs have set up GCCs in India by 2021 and employing 1.3 million highly skilled professionals and generating revenue of USD 36 billion. By 2025 this may go up to 2000 GCCs employing 2 million generating a revenue of USD 60 billion. NASSCOM-ANSR predicts that nearly 80 percent of the top 100 global retail/CPG Companies will set up GCCs in India by 2022. Deloitte estimates that 45% of the world's GCCs are in India. Of the 7 lakhs employees of Accenture worldwide, not less than 3 lakhs employees are in India. IBM and CapGemini employ over 1,00,000 in India. Goldman Sachs plans to expand its India GCC to 2500 employees by 2023.
It all began in the early 1990s when MNCs outsourced and offshored low-level work like call Centre work and medical transactions followed by software and business processing on a larger scale by the late 1990s. Then the MNCs started their captive Centres in India which have slowly graduated into GCCs with improved technical excellence. The GCCs set up over the last five years have picked up the pace, with the majority of the investments in the digital and innovation space in India. The Indian GCC success story has gone beyond software and business processing. MNCs are beefing up their R&D Centres in India. Astra Zeneca had collaborated with the Serum Institute of India to produce anti-covid vaccines serving millions all over the globe. AstraZeneca is planning to set up GCC in India. GCCs help their parent companies save on an average nearly 45 percent in operational costs over a period of three to five years.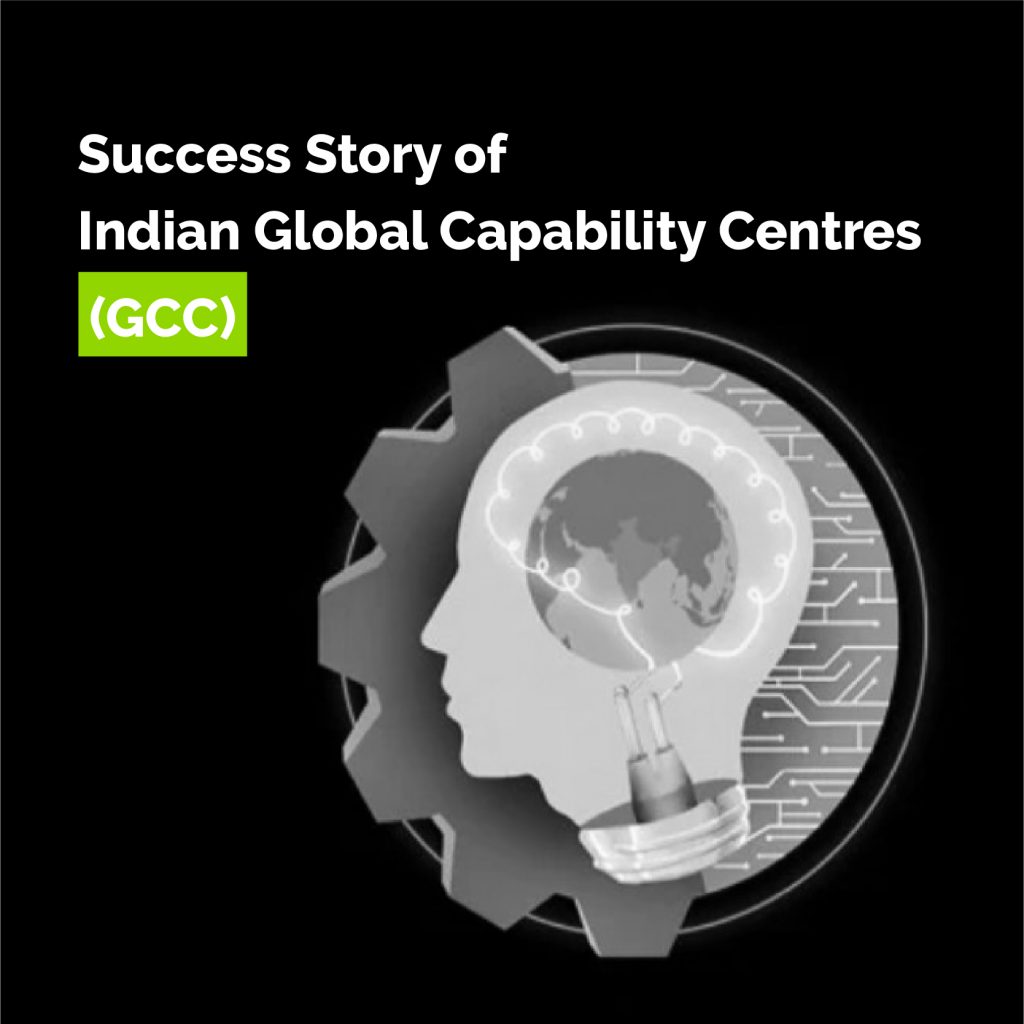 The government has created an exhaustive ecosystem. It has started various incubation Centres to incubate, help network and even fund bright and viable ideas. Organizations like NITI Aayog, Atal Innovation Mission and others are playing significant role in making the country an innovative, start-up destination. All these and many more measures initiated by the Government and a conducive policy environment have contributed substantially towards making India one of the most sought-after start-up destinations and GCC growth story in India. To grow as a global hub, GCCs and the government will need to bridge the skill demand-supply gap and continue to focus on up-skilling/reskilling.
An important factor that makes India the preferred choice for being the GCC hub is its digital capabilities. Today India ranks among the top digital consumption countries, and with four million professionals in the IT sector. Of these, nearly one-fourth are working in GCCs. The Digital India initiatives of the Government have helped GCC to thrive. Over 50 percent of India-based GCCs are investing in emerging technologies like analytics, cloud, RPA, AI, and ML.
Hyderabad has the potential to emerge as an automobile technology hub. GCC of US-based automotive aftermarket parts provider Advance Auto Parts is coming up in Hyderabad. The GCC is the firm's largest software development Centre outside its headquarters in Raleigh, North Carolina.
Telangana is on a mission to create a world-class Telangana Mobility Valley (TMV) at Yenkathala in Mominpet of Vikarabad district in partnership with multiple Automotive original equipment manufacturers (OEMs), suppliers, technology companies and start-ups. Advance Auto Parts will partner with TMV to build the automotive ecosystem in Hyderabad. Hyderabad with growing R&D prowess and an extraordinary talent pool is serving more than 1,000 global innovators in research and development across sectors. GCCs in the country have moved up the value chain from providers of low-cost routine services to Centres of excellence.
With Hyderabad's growing R&D prowess and extraordinary talent pool, it is serving more than 1,000 global innovators in research and development across sectors.


SimplyBiz Private Limited provides managed services in the field of Advisory, Transactions, Business Setup, Compliance, Accounting and Taxation. SimplyBiz has its Head office in Hyderabad and branch offices in Bengaluru, Chennai, Mumbai and National Capital Region.
SimplyBiz can facilitate you in setting up your Global Capability Centre (GCC) in India by providing:
• Advisory & support in setting up the entity.
• Assistance in procuring all licenses & registrations under Establishment and Employment registrations for commencing business operations.
• Undertaking the necessary reporting's under the Company Law and Foreign Exchange Regulations (in case of overseas funding) post incorporation of the entity.
• Managed services on an ongoing basis to meet the Accounting, Tax & compliance requirements relevant to your business.
*The Author S. Prabhakar, is a Fellow member of the Institute of the Company Secretaries of India, Chartered Secretary from UK, Lawyer and Registered Insolvency Professional  For enquiries, please reach out to Ms. Geetanjli Aggarwal, ACS, Head – Bengaluru Branch at geetanjali@simplybiz.in