The Telangana Rashtra Samithi headed by Chief Minister Mr. K Chandrashekara Rao has won elections for the second term of five years and offers a strong and stable Government critical for its rapid industrial growth.
Economic Growth
• Telangana registered a growth of 19.1 percent Gross State Domestic Product in 2021 over the previous year which was valued at Rs. 11.55 lakh crores. This was higher than the national average and significant recovery from the Pandemic.
• Telangana's nominal Per Capital Income (PCI) for the year 2020-21 was Rs. 2,31,632/- as against the National PCI of Rs. 1,28,829/-.
Accelerated Industrial Growth
The pro-growth measures taken by the Government have resulted in creating accelerated industrial growth. Some of the flourishing industrial parks in the State are :-
Software Park at Hyderabad, HITEC City for software units
Apparel Park at Gundlapochampalli
Bio-technology park at Turkapally
Export Promotion Park at Pashamylaram
State Government is also developing industry-specific industrial parks in different places across the state.
Ease Of Doing Business
The Government of Telangana has put in place an ecosystem for ease of doing business in the State matching the best global standards. Telangana constantly ranks higher in the Ease of Doing Business Ranking. 
Telangana introduced the Telangana State Industrial Project Approval and Self-Certification System (TS-iPASS) Act. Under the law, any new enterprise in manufacturing or services with an investment of more than Rs. 200 crores will be approved within 15 days. If all the approvals are not granted in that period, the company can consider the project deemed to be approved and go ahead with its plans.
Incentives offered by Telangana Government
100% Stamp duty reimbursement.
25% Land cost rebate up to Rs.10 Lakhs.
25% Land conversion cost up to Rs.10 Lakhs.
Power cost reimbursement @ Rs. 1 per unit for 5 years.
15% subsidy up to 20 Lakhs Investment subsidy.
100% of VAT reimbursement for 5 years.
Interest subsidy.
Seed capital for 1st generation entrepreneur.
Telangana – A Huge Industrial Hub
Some of the major manufacturing and service industries which are in operation around Hyderabad are Automobiles and Auto components, Spices, Mines and Minerals, Textiles and Apparel, Pharmaceuticals, Horticulture, and Poultry.
152 industrial parks were developed on 28,000 acres across the State during the last seven years. Over Rs.33,447 crore investments were made in the 3197 units at different industrial parks across the State which has generated over three lakh jobs.
Telangana – Major IT Hub
• Hyderabad has developed into a major IT hub and is now popularly known as Cyberabad.
• There are over 1500 IT/ITeS companies providing direct employment to over 5.8 lakhs professionals and over 7 lakhs indirect employment.
• IT exports from Telangana for the FY 2021-22 is likely to be around Rs. 1,67,350 crores which are 15% more than previous year.
• Telangana Government is setting up Export Oriented Units, Software Technology Parks, and Special Economic Zones to attract more IT ITeS investments to India.
• The Central Government has announced setting up Technology Investment Region in Telangana. This will generate 1.5 million direct and 5.3 million indirect jobs in the IT sector in the next 5 years.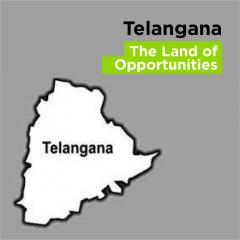 Life Sciences & Health Capital:
• Telangana has turned out to be the Vaccine, Bulk drugs, and pharmaceuticals capital of the world. 33% of the human vaccines are produced from Telangana. Sanofi India, Bharat Biotech, Biological E, and Indian Immunological have produced 9 billion doses.
• Telangana is in the process of developing the world's largest pharmaceutical cluster in over 19000 acres.
• MoU has been entered into with King's college to set up a world-class Life Sciences University in Telangana.
• Swiss pharma giant Novartis has its second-largest set-up outside its headquarters in Hyderabad where 9000 employees are working. Artificial Intelligence and Machine Learning are being used for clinical trials, bio statisticians, bio medical engineers, and bio informatics are being employed. A digital innovation hub is being created using cutting-edge technology.
• Growth of Novartis in Hyderabad serves as the testimony to the city's growing R&D prowess and extraordinary talent.
• Telangana has 300 acres of medical devices park whereform 50 medical device companies work including Asia's biggest stunt manufacturers.
• Metronics, a medical device company, has invested 1200 crores to build their second largest base in the world outside the USA in Telangana. The company will expand its current R&D Center for Medical Device Software and Engineering Solutions facility into a 'state-of-the-art engineering and innovation center in Hyderabad.
• There are over 800 life science units in Telangana. The state has attracted US $ 1.49 billion investment in life sciences over the last four years.
• T-hub in Telangana is the world's largest incubator hub spread over 3,75,000 sq feet. This will house 2,000 start-ups working under one roof and it will have everything which a start-up requires.
• Hyderabad has turned into a hub for the health care industry. Nizam's Institute of Medical Sciences, Apollo Hospitals, Yashoda Hospitals, and LV Prasad Eye care, are a few prominent names.
Number 1 Aerospace City

• Hyderabad has been ranked as number one in the Aerospace city of Future 2020-21 Ranking.
• Hyderabad has emerged as an aerospace hub with several global aerospace companies and original equipment manufacturers including Lockheed Martin Corporation, GE Aviation, and Safran establishing their plants in the city in the last five years.
• At Adibatla, there is a dedicated aerospace SEZ where TATA, Lockheed Martin Corporation, GE Aviation, and Boeing established their base.
• There are 25 large companies and over 1000 MSMEs in the aerospace and defence sector in the State.
• 30% of the parts for the Mars Orbital Satellite system are sourced from Telangana.
• Telangana is expanding its existing aerospace special economic zone near Hyderabad international airport with an addition of 1,000 acres.
Start-Up Friendly State

• Telangana is one of the first States of India to put a start-up policy in place and create an ecosystem to support start-ups.
• There are over 4,500 starts-ups, 25 research labs and 239 Atal Tinkering Labs.
Higher Education Centre

• With a large number of universities and research organizations Telangana/Hyderabad has become a preferred destination for higher education..
• University of Hyderabad, Osmania University, Indian School of Business (ISB), NALSAR University of Law, BITS Pilani, Hyderabad, IIT, Hyderabad, Icfai Business School, Icfai University are some of the most popular educational institutes producing highly competent professionals.
Entertainment Hub
• Telangana/Hyderabad has developed into a huge entertainment hub
• There are large numbers of studios, processing labs, actors, and technicians in Hyderabad including the world's biggest studio facility in Ramoji Film City.
• Telugu Industry in Hyderabad produces the largest number of movies in India, even higher than Hindi/Bollywood.
• Telugu movies acquired a PAN India status and generated large revenues all over India and worldwide.
• Many Hollywood studios are tying up with the Telugu industry for joint ventures. All Hollywood movies are dubbed in Telugu before releasing in India to encash the huge audience base.
Top MNCs in Hyderabad
Hyderabad is the second-largest city in India having large number of IT companies. This city is the home to many world-reputed MNCs like:
1. Microsoft
2. Dell
3. Amazon Development Centre India Pvt. Ltd.
4. Google India Pvt. Ltd.,
5. Oracle
6. Deloitte
7. General Electric
8. Cognizant
9. Accenture
10. Qualcomm
11. ADP India Pvt. Ltd.
12. Bayer Bio Science Pvt. Ltd.
13. Blue Yonder Pvt. Ltd.
14. Gland Pharma Ltd.
15. Prolifics Corporation Ltd.

Make Telangana your partner in your progress.

SimplyBiz Private Limited provides managed services in the field of Advisory, Transactions, Business Setup, Compliance, Accounting, and Taxation. SimplyBiz has its Head office in Hyderabad and branch offices in Bengaluru, Chennai, Mumbai, and National Capital Region.

SimplyBiz can facilitate your setting up your business in Telangana by
• Scouting and zeroing of business opportunities.
• Advising on the right entity structure based on the business objective.
• Helping in entity set-up and compliances thereof.
• Ensuring all licenses/registrations re obtained before commencing operations.
• Providing ongoing support on managed services covering Compliances – under the Companies Act, 2013, FEMA, other applicable Acts and Accounting, Payroll & Taxation aspect of your business.
*The Author S. Prabhakar, is a Fellow member of the Institute of the Company Secretaries of India, Chartered Secretary from the UK, Lawyer, and Registered Insolvency Professional.  
For enquiries please reach out to Ms. Geetanjali Aggarwal, ACS, Head – Bengaluru Branch at geetanjali@simplybiz.in