The Group of Twenty – G20
The Group of Twenty (G20) is the premier forum for International Economic Cooperation. It plays an important role in shaping and strengthening global architecture and governance on all major international economic issues. The G20 was founded in 1999 after the Asian financial crisis as a forum for the Finance Ministers and Central Bank Governors to discuss global economic and financial issues.  
Elevation to Leader's Level
The G20 was upgraded to the level of Heads of State/Government in the wake of the global economic and financial crisis of 2007 and in 2009, was designated the "premier forum for international economic cooperation".
The G20 Summit is held annually, under the leadership of a rotating Presidency. The G20 initially focused largely on broad macroeconomic issues, but it has since expanded its agenda to inter-alia include trade, sustainable development, health, agriculture, energy, environment, climate change, and anti-corruption.  Bilateral meetings on Summit's side-lines have occasionally led to major international agreements. G20 summits offer rare opportunities to develop substantial personal relationships among leader and recast bilateral ties.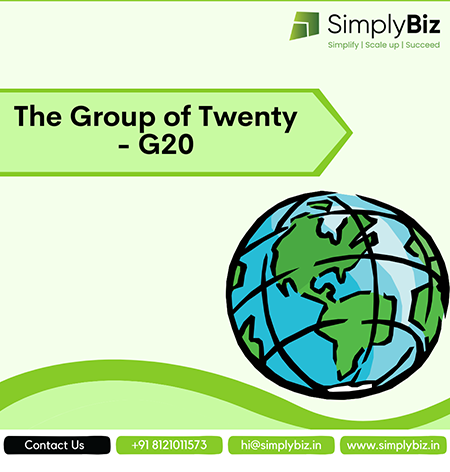 G20 Members
India – Presidency
Argentina,
Australia
Brazil
Canada
China
France
Germany
Indonesia
Italy
Japan
Republic of Korea
Mexico
Russia
Saudi Arabia
South Africa
Turkey
United Kingdom
United States of America
European Union
Guest Countries
Bangaladesh
Egypt
Mauritius
Netherlands
Nigeria
Oman
Singapore
Spain
UAE
At 2022 Summit, US President, Mr. Biden announced that the United States would support membership for the African Union (AU), a bloc of fifty-five states in Africa. Other G20 members, including China and France, have previously expressed their support. If approved, the AU would be the group's first new member since its inception.
Functioning of G20
The G20 does not have a charter, conventions, no permanent secretariat with a headquarters, offices, or staff and no legal status.  Its leadership rotates on an annual basis among its members, its decisions are made by consensus, and implementation of its agenda depends on the political will of the individual states. The Chair is part of a revolving three-member management group of past, present and future chairs referred to as the Troika. Together, the nations of the G20 account for around 80 percent of global economic output, nearly 75 percent of global exports, and about 60 percent of the world's population.
G20 consist of two parallel tracks viz., Finance Track and Sherpa Track.
Finance Track: Finance Ministers and Central Bank Governors of the members countries leads the Finance Track. The Finance Track focuses on economic and financial issues. The Finance tracks rely on the technical and substantive work of a series of expert working groups. Additionally, the thematic agenda is developed through the organization of several Ministerial Meetings, such as the Joint Meeting of Finance and Development Ministers, and the Labour, Agriculture and Tourism Ministerial meetings.
Sherpa Track: Sherpa tracks is lead of Sherpas. The Sherpas' Track focuses on non-economic and financial issues, such as development, anti-corruption and food security, while addressing internal aspects such as procedural rules of the G20 process. The Sherpas carry out important planning, negotiation and implementation tasks continuously.
 Engagement groups: Engagement groups bring together parliamentarians, civil societies, thinks tanks, youth, women, businesses of G20 countries.
Role played by India in G20 
As a major developing economy India has a vital stake in the stability of the international economic and financial system.
India has been actively involved in the G20 preparatory process both at the Sherpas Track and the Financial Track since its inception.
The Prime Ministers of India have participated in all seven G20 summits.
India's agenda at the G20 Summits is driven by the need to bring in greater inclusivity in the financial system and ensuring that growth prospects of developing countries do not suffer.
India has strived to ensure that the focus of the global community remains on the need to ensure adequate flow of finances to emerging economies to meet their developmental needs.
Prime Minster of India called for the recycling of surplus savings into investments in developing countries to not only address immediate demand imbalances but also developmental imbalances.
India has worked to maintain the dynamism and credibility of G20 deliberations for establishing a framework for strong, sustainable and balanced growth, strengthening international financial regulatory systems, facilitating trade finance, pushing forward the Doha agenda.
India remains committed to the G20 process for achieving a stable, inclusive and representative global economic and financial system.
India Presidency and Summit Meeting 2023
India has taken over the Presidency of G20 for a year from 1st December 2022.  While unveiling the logo of G20, Prime Minister of India, Mr. Narender Modi has highlighted what G20 means to India:
Notion of universal brotherhood is being reflected via the G20 logo,
Our G-20 Mantra is – One Earth, One Family and One Future,
It will be our effort that there should be no first world or third world, but only one world,
G20 Presidency is not merely a diplomatic meeting for India, it is a new responsibility and a measure of world's trust in India,
When we strive for our progress, we also envision global progress,
Environment is a global cause for us as well as personal responsibility.
The 18th G20 Heads of State and Government Summit will take place on 9th-10th September 2023 in New Delhi. The Summit meeting will be a culmination of all the G20 processes and meetings held throughout the year among ministers, senior officials, and civil societies. A G20 Leaders' Declaration will be adopted at the conclusion of the New Delhi Summit, stating Leaders' commitment towards the priorities discussed and agreed upon during the respective ministerial and working group meetings.
Contentious issued being faced by G20
Geopolitical tensions resulting from the Russian invasion of Ukraine and strategic competition between China and the United States, have increasingly threatened cooperation. The energy crisis as a result of the war in Ukraine has led to food scarcity and soaring energy prices, as well as inflationary pressures.  There are frictions within G20 members regarding climate change and China, India, Russia and Saudi Arabia are against phasing out coal use.
One of the major challenges being faced by the G20 is that not all resolutions passed at the G20 Summit are fully implemented. This is partly due to under-representation – only ten percent of the countries worldwide are included in G20 decision-making, thereby denting the organisation's authority. G20 authority is also weakened since some major members sometimes fail to fulfil their commitments.
Conclusion:   In spite of all of these challenges, the formation of G20 signifies an end of an era when developed countries dominated global economic governance. By raising their voices and building on their influence, emerging economies will be able to steer world economy towards a more just, balanced and rational future.
*The Author S. Prabhakar, is a Fellow member of the Institute of the Company Secretaries of India, Chartered Secretary from the UK, Lawyer, and Registered Insolvency Professional.  
SimplyBiz Private Limited provides managed services in the field of Advisory, Transactions, Business Setup, Compliance, Accounting, and Taxation. SimplyBiz has its Head office in Hyderabad and branch offices in Bengaluru, Chennai, Mumbai, and National Capital Region.