The Mahila Samman Savings Certificate Scheme
To commemorate the 'Azadi ka Amrit Mahotsav' the Union Finance Minister has announced a new `female only' small savings scheme `The Mahila Samman Savings Certificate Scheme' (The Scheme) in budget for 2023-24.
The salient features of the Scheme are:
Eligibility: Money can be deposited in this Scheme in the name of woman and girl child. Any individual can deposit amount in this Scheme but it should be done in the name of a woman or a girl child.  
Tenure of the Scheme:   This one-time scheme has a limited tenure of two years from 1st April 2023 to 31st March 2025.
Deposit Limits: Government has not yet announced the minimum deposit amount but the maximum amount that can be deposited in this scheme has been fixed at Rs. 2,00,000/-.
Interest: The amount deposited will carry an interest @ 7.5% annum compounded annually. Since the amount remain deposited for 2 years, the interest accrued at the end of the first year will also earn interest @ 7.5%. For example, if an amount of Rs. 1,00,000/- is deposited, at the end of first year interest of Rs. 7,500/- will accrue and at the end of second year interest of Rs. 8,062/- will accrue and an amount of Rs. 1,15,568/- will be payable.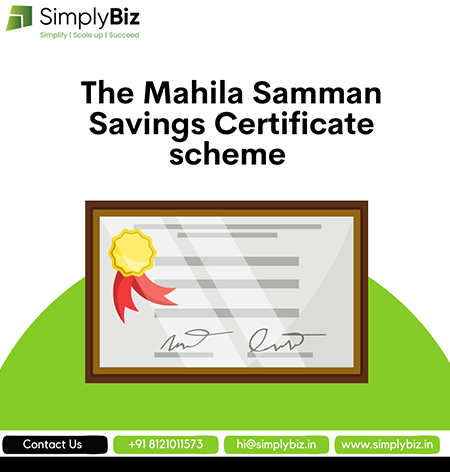 Attractive features compared to other savings schemes: The rate of interest is higher and very attractive compared to fixed deposit with Bank which are around 6.5 to 7% and PPF (7.1%) and NSC (7%). Compared to other savings schemes like PPF, NSC, Senior Citizen Savings Schemes, the tenure of this Scheme is the least at 2 years.
Premature withdrawal: The Scheme allows partial withdrawal but details in respect of cooling period and reduction of interest, if any, has not yet been announced by the Government. So, the amount deposited gets locked in for a period of 2 years.   
Security: The scheme is a Government backed scheme and hence very secure and doesn't run any credit risk. 
Tax benefit: Government has not yet announced any tax benefits that this Scheme carries. So, no deduction is admissible for tax purposes. On maturity the interests accrued is subject to tax.  
How to deposit money in the scheme:  Any person who is interested to deposit amount in the scheme can visit any state owned bank or post office offering the scheme after 1st April, 2023, fill in a form and deposit the form along with required documents for proof of address and identity and deposit money through cheque or cash. After processing of the form, a certificate will be issued acknowledging the amount deposited along with terms and condition of the deposit.
Conclusion: The scheme which is aimed at empowering women and girl child is suitable for those who have a fixed amount that they want to earmark for some expenses after two years like marriage or education of the girl child.    Higher rate of interest with no credit risk are very attractive features of this scheme, but those who look for saving as a form of tax savings may not find it that attractive.
*The Author S. Prabhakar, is a Fellow member of the Institute of the Company Secretaries of India, Chartered Secretary from the UK, Lawyer, and Registered Insolvency Professional.  
SimplyBiz Private Limited provides managed services in the field of Advisory, Transactions, Business Setup, Compliance, Accounting, and Taxation. SimplyBiz has its Head office in Hyderabad and branch offices in Bengaluru, Chennai, Mumbai, and National Capital Region.