The Rapid Rail Transport Services (RRTS)
The first Rapid Rail Transport Service (RRTS) in India with facilities like an aeroplane will commence its commercial operations from Sahibabad in Ghaziabad to Duhai Depot in Uttar Pradesh in March 2023.  
The National Capital Region Planning Board (NCRPB) as part of its Integrated Transportation Plan 2032 identified eight rapid transit corridors, to be implemented in phased manner,  to improve the efficacy of transportation system in the National Capital Region (NCR). They are:
Delhi – Gurgaon – Rewari – Alwar
Delhi – Ghaziabad – Meerut
Delhi – Sonipat – Panipat
Delhi – Faridabad – Ballabhgarh – Palwal
Delhi – Bahadurgarh – Rohtak
Delhi – Shahadra – Baraut
Ghaziabad – Khurja
Ghaziabad – Hapur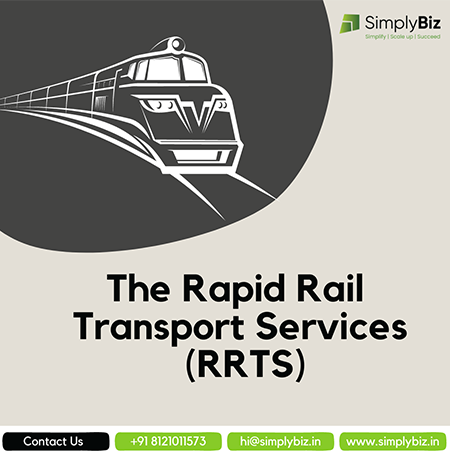 Advantages of RRTS:
RRTS will encourage public to use public transport which is fast and convenient,
Not affected by any traffic congestions and on weather conditions,
Drastically bring down the pollution levels caused by vehicular traffic and improve environment,
Decongest roads and there will be huge saving of cost on petrol,
Cheap and affordable mode of transport,
Capacity to carry over large number of passengers per trip and being a high-speed rail service, it will be able to carry many more passengers per hour than any other modes of transportation,
Huge savings in travel time, the working efficiency will increase and boost economic activity in the region,
Availability of faster, safer, cheaper mode of transport will encourage people to settle in small cities near big metro cities which will reduce pressure on housing and infrastructure demand on big metros.
The Delhi – Meerut RRTS:
The Delhi–Meerut RRTS is a 82.15 km long, semi high speed rail corridor which will connect Delhi,Ghaziabad and Meerut. The line is the first of the three rapid rail corridors planned under Phase I of the Regional Rapid Transit System (RRTS) project managed by the National Capital Region Transport Corporation(NCRTC).
The entire Delhi to Meerut stretch is scheduled to be completed in three phases with the first from Sahibabad to Duhai depot to be operational from March, 2023 second phase from Sahibabad to Meerut by March 2024 and third phase from Meerut to Sarai Kale Khan in Delhi by 2025. 
The train will be run on a 17-km stretch of Sahibabad to Duhai at a maximum designed speed of 180 km per hour and average speed of 100 km per hour. The rapid rail has Wi-Fi, mobile-USB charger, large windows, integrated AC system, automatic door control system, luggage storage, driver interaction system, dynamic route map, CCTV and an infotainment system. It also has special seating arrangements for differently abled and adjustable chairs and arrangements have also been made for standing passengers.
13 rapid trains in the first phase and a total 30 will be operated after the construction of the entire route between Delhi and Meerut. Operation and control of all rapid trains running on the entire route will be commanded from the operations centre. Multimodal transport hubs will be combined with existing transportation such as Delhi Metro, Indian Railways, and Uttar Pradesh State Road Transport Corporation bus terminals at Anand Vihar, Sahibabad and Shaheed Sthal stations.
The objective of the Delhi-Ghaziabad-Meerut Rapid Rail Transit System (RRTS) corridor project is to decongest the National Capital Region and curb vehicular traffic, air pollution and ensure balanced regional development. As per estimates, this corridor will significantly reduce air pollutants, namely PM 2.5 by 60,000 tonnes,Nitrogen Oxide by 475,000 tonnes,Hydrocarbons by 80,000 tonnes and Carbon Monoxide by 80,000 tonnes per year. The Delhi-Meerut RRTS is a Rs 30,274-crore joint venture of the Centre and the Uttar Pradesh government.
The Delhi-Gurgaon-SNB-Alwar RRTS corridor:   
The Delhi-Gurgaon-SNB-Alwar RRTS line is the second of the three rapid-rail corridors planned under Phase-1 of the Rapid Rail Transport System of the National Capital Region Transport Corporation (NCRTC). The high-speed, high-frequency, high-capacity corridor will be constructed in three stages. In the first stage, a 107 km stretch from Sarai Kale Khan to Shahjahanpur-Neemrana-Behror (SNB Urban Complex) will be taken up. The train will have various regional nodes, such as Gurgaon Manesar, Panchgaon and Rewari, 83 kilometres of this stretch will be in Haryana, 22km in Delhi and 2km in Rajasthan. The expected travel time from Delhi to SNB is 70 minutes.
In the second stage, the line will be extended from SNB to Sotanala covering 33 kms and in the third stage the 58 kms SNB-Alwar extension has been proposed. With maximum speed of 160 km per hour and average speed of 105 km per hour, the distance between Delhi and Alwar will be covered in 104 minutes. The project is expected to cost ₹37,000 crore and the Central government is funding 20% of the project cost while the respective state governments are funding 20% the remaining 60% is provided by bilateral and multi-lateral agencies. NCRTC is responsible for designing, building, financing, operating, and maintaining the RRTS project.
Initially it will be a light-weight, air-conditioned, stainless steel six coaches train and later on nine coaches trains from 2031. The trains are expected to have a design speed of 180km per hour and a maximum operational speed of 160 km per hour. Each train is expected to include a ladies coach and a business-class coach. The travel time between Dehi and SNB is expected to be reduced from four hours to less than 70 minutes.
It is expected to increase the productivity of a large number of commuters travelling to and from Delhi and Gurgaon to regions in Manesar, Bawal and Neemrana. It will bring the national capital closer to industrialised areas and educational and hospitality institutions of Haryana and Rajasthan. It will reduce congestion on roads, accidents and pollution.
Delhi-Panipat corridor: This is the third RRTS corridor in the first phase and will connect Delhi with Murthal, Gannaur, Samalkha, Sonipat and Panipat in Haryana. Populated with a large number of educational and hospitality institutions, this RRTS corridor will be the catalyst of growth and regional development.  It has a total length of 103 km, comprising 11.5 kms underground stretch and 91.5 kms elevated and the corridor will have 17 stations. With a maximum speed of 160 kms per hour and average speed of 120 kms per hour it will take 65 minutes to reach Panipat from Delhi.
The total outlay is expected to be Rs. 21,627 crores out of which 60% will be funded by loan from a foreign entity. Feasibility study is being conducted to extend the route upto Karnal by adding 3 more stations.
*The Author S. Prabhakar, is a Fellow member of the Institute of the Company Secretaries of India, Chartered Secretary from the UK, Lawyer, and Registered Insolvency Professional.  
SimplyBiz Private Limited provides managed services in the field of Advisory, Transactions, Business Setup, Compliance, Accounting, and Taxation. SimplyBiz has its Head office in Hyderabad and branch offices in Bengaluru, Chennai, Mumbai, and National Capital Region.