"Unlocking Success: A Gen Z Guide to Professional and Personal Growth"
Introduction

In today's fast-paced world, professional and personal development are crucial for success, especially for the younger generation, including Gen Z. With the ever-evolving job market and changing workplace dynamics, it is essential for individuals to continuously enhance their skills and abilities to thrive in their careers. Recently, the team at SimplyBiz had a workshop on the importance of professional and personal development led by Mr. Raghu Babu Gunturu, the Founder and Director of SimplyBiz. The session aimed to equip the team members with the qualities, attributes, and key skills necessary to be successful employees of the organization. It also focused on adopting fast-paced learning and creating a framework for the same.
This article elaborates on the key takeaways, learnings, and action plans discussed in the workshop to guide the team at SimplyBiz on their journey of growth and success.

Key Takeaways and Learnings:

The workshop highlighted several key takeaways and learnings that are essential for professional and personal growth: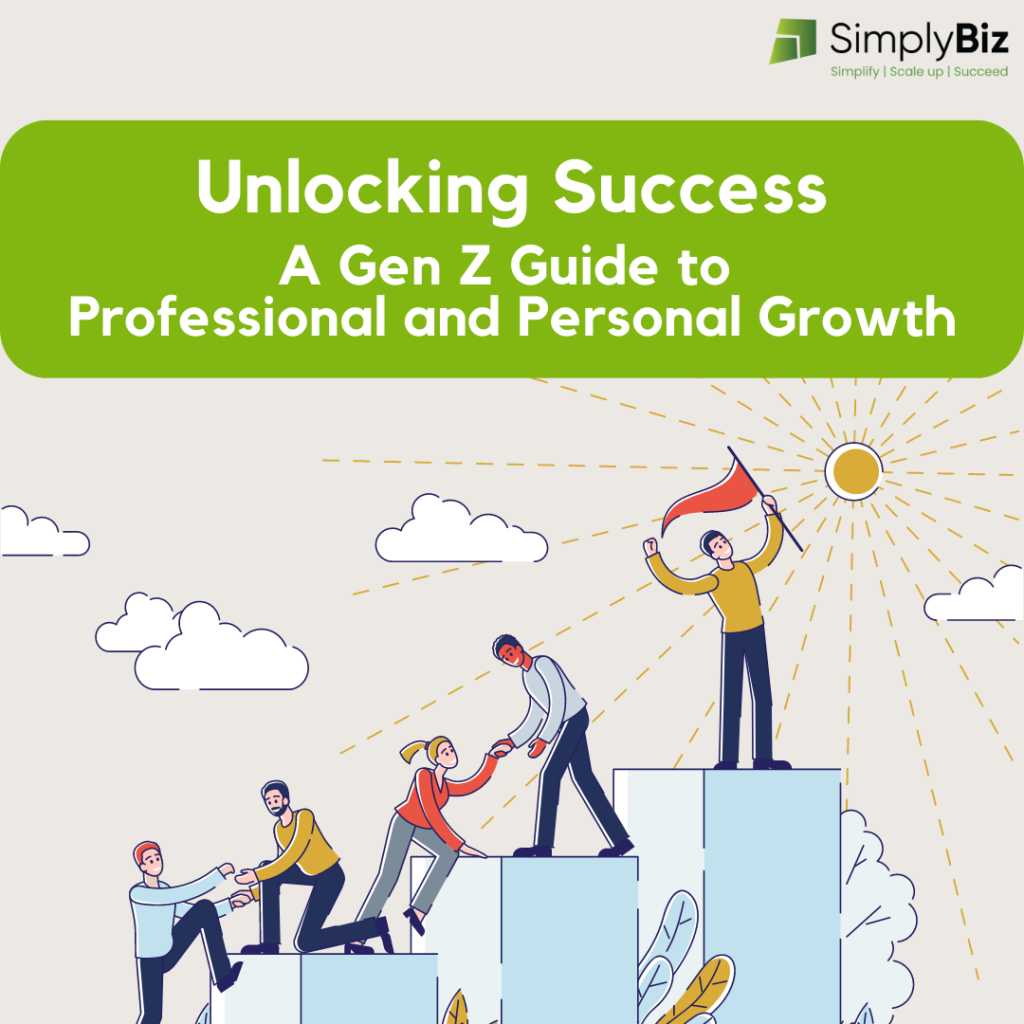 Communication:

Communication is a critical skill in all aspects of life, including the workplace. To improve communication skills, one must understand their audience and tailor their mode and style of communication accordingly. Effective communication involves active listening, articulating thoughts clearly, and expressing ideas with confidence.



Constant Learning:

Curiosity and a thirst for knowledge are crucial for personal and professional growth. Emphasizing the importance of lifelong learning, the workshop encouraged employees to constantly seek opportunities to learn and grow, whether through formal education, professional development programs, or self-directed learning. Acquiring new knowledge and skills can enhance job performance, open up new opportunities, and keep professionals relevant in a rapidly changing world.

Admitting Ignorance:

There should be no hesitation in admitting when one does not know something. It is essential to recognize and acknowledge gaps in knowledge or skills and take steps to address them proactively. This involves being humble, open to feedback, and actively seeking help or guidance when needed. It is important to note that admitting ignorance does not imply incompetence; rather, it reflects a willingness to learn and grow.

Mentorship:

Finding a mentor can be immensely beneficial for career growth, especially for recently joined employees. A mentor can provide guidance, advice, and insights based on their own experiences, which can help mentees navigate their careers more effectively. Mentorship relationships can be formal or informal and can be established within or outside the organization. It is important for mentees to actively seek and establish mentorship relationships to accelerate their professional development.

Experience vs. Novice:

While experience can be valuable in many situations, aptitude and potential are equally important. The workshop highlighted that being a novice does not necessarily imply being at a disadvantage. With the right mindset, novices can learn faster and better, bring fresh perspectives and innovative ideas to the table, and contribute significantly to their organizations. It is important for young professionals to value their unique strengths and talents, regardless of their experience level.

Challenge:

The workshop emphasized the importance of challenging the traditional ways of learning and thinking creatively to fast-track learning. This involves questioning assumptions, exploring new perspectives, seeking diverse sources of information, and experimenting with new approaches. Embracing a growth mindset and being open to change and innovation can help professionals stay ahead of the curve and adapt to the evolving demands of the workplace.

Reflection:

Reflection is a crucial aspect of professional and personal growth. Taking time to reflect on one's actions, decisions, and outcomes can provide valuable insights and help identify areas for improvement. Reflection involves self-assessment, identifying strengths and weaknesses, and setting goals for improvement. It also involves reflecting on organizational goals and aligning one's actions and efforts accordingly to contribute to the overall success of the organization.

Innovation and Design Thinking:

The workshop emphasized the importance of fostering a culture of innovation and design thinking in the workplace. Innovation involves generating new ideas, taking calculated risks, and finding creative solutions to problems. Design thinking, on the other hand, involves a human-centric approach to problem-solving, focusing on understanding the needs of the users and designing solutions accordingly. Encouraging and practicing innovation and design thinking can help professionals stay ahead of the competition, drive positive change in their organizations, and contribute to their own and their organization's success.

Developing a Personal Brand:


To develop a personal brand, strengths, values, and passions should be identified by employees, and aligned with their professional goals. A personal mission statement or elevator pitch that highlights their unique selling proposition can be created as part of this process. Building visibility and credibility can then be worked on by the employees, by sharing their knowledge and expertise through various channels such as social media, public speaking, or writing.

Putting One's Point Across: 

Being able to put one's point across to a client is a valuable skill that can help credibility to be established, trust to be built, and successful outcomes to be achieved. However, it should be remembered that simply presenting one's point of view is not enough; a rationale that supports the argument must also be provided. This means using evidence, data, and logical reasoning to help the client understand why the approach is the best one.

Additionally, it is important to remain open to feedback and alternative viewpoints, as this can help to refine the argument and reach a more optimal solution. It should be remembered that the conversation or relationship is not lost just because the client may not agree with the perspective. By demonstrating empathy, flexibility, and a willingness to collaborate, stronger relationships can be built with clients and greater success can be achieved in professional endeavours.
Developing a Framework

To achieve professional success, employees must have the following four skills: vision and mission, personal brand, communication, and domain knowledge. Technical skills include functional, expertise, complementary, and general knowledge. The workshop also focused on achieving client delight and having soft skills like perseverance, passion, and commitment.
Basic tools and techniques that employees are expected to have include MS Office apps, creating flowcharts, and frameworks. The workshop discussed how to create a framework for professional and personal development by setting clear and measurable goals for vision and mission. Communication skills can be improved by reading news and books, participating in peer learning, exchanging thoughts and knowledge, watching news channels, attending seminars, conferences, and listening to podcasts.
Financial and Wealth Management
The workshop also discussed the importance of personal development, including financial and wealth management. Saving early and taking only term insurance for life insurance were emphasized. The importance of health insurance was also discussed.
Action Plans
To implement the insights gained from the session, the team was encouraged to create a rolling profile, pair up as work buddies, and find a mentor. The workshop also highlighted the importance of personal branding and developing a LinkedIn profile, sharing thoughts and opinions, building connections, and creating avenues for speaking and writing engagements.
Conclusion:
In conclusion, professional and personal development are essential for the success of Gen Z professionals in today's fast-paced world. By focusing on communication skills, continuous learning, admitting ignorance, seeking mentorship, embracing the novice advantage, fostering innovation and design thinking, and practicing reflection and goal setting, Gen Z professionals can unlock their potential and thrive in their careers. It is important for them to cultivate a growth mindset, be proactive in their learning and development, and adapt to the changing dynamics of the workplace to achieve success in their professional and personal lives. So, go ahead, unlock your success by investing in your growth and development!