What if the name of Director is shown twice in the Master Data of the Company?
Author: Vaibhav Suryawanshi
Email id:
vaibhav.s@simplybiz.in
The Ministry of Corporate Affairs in order to provide transparency of company related information, made a facility in the Ministry of Corporate Affairs (MCA) portal which is accessible to various stakeholders and general public to view master details of any company/LLP registered with Registrar of Companies. This facility may be availed by clicking "View Company Master Data". Also, the details of the Directors/Signatories of any company/LLP can be viewed by clicking on 'View Signatory Details'. The data relating to the Director's/Signatory details appear in the MCA Portal is being fetched on the basis of the relevant forms filed by companies relating to appointment/change in the Directors/signatories.  
There have been instances when a particular Director's details appear twice in the View Signatory details. What could be the reason for this? 
In case of an appointment/resignation or in case of change in designation of Director, e-Form DIR-12 is required to be filed by the Company pursuant to Section 7(1)(c), 168 & 170(2) of the Companies Act, 2013 and pursuant to the relevant rules for the Appointment & Qualification of Director at the MCA Portal. 
At the time of regularizing, the Additional director also, Form DIR-12 is required to be filed. During the course of filling the form for regularization, if one selects the option 'Appointment' instead of 'Change in designation' then the same directors details appear twice – One as an Additional director and the other as a Director under View signatory details on MCA portal. Therefore, it is extremely important to fill the form correctly.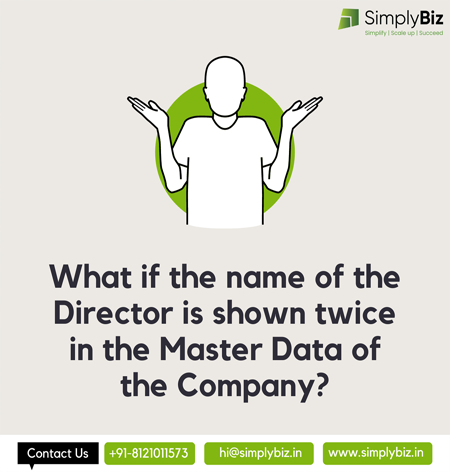 We have had a similar experience which we have been able to address. Please note that the MCA will not automatically rectify this mistake, we will therefore have to undertake the below steps. 
First, we need to file DIR-12 for Cessation of director who

was

mistakenly appointed attaching the clarification letter to ROC and selecting the category Resignation from dropdown list- Resignation 168.

 

Then we need to file DIR-12 to regularization selecting

'

Change in designation

'

.

 
These two forms need to be filed to rectify this mistake. Please reach out to our product head at
vaishali@simplybiz.i
n or
simplycorp@simplybiz.in
if you are facing similar challenge. We will be happy to help you.
Disclaimer:
The content of this document has been developed based on relevant information and are purely for private circulation. Though the authors have made utmost efforts to provide authentic information, however, the authors expressly disclaim all and any liability to any person who has read this document, or otherwise, in respect of anything, and consequences of anything done or omitted to be done by any such person in reliance upon the contents of this document.