Work-life balance has become critical and imperative in the current times. Work and family life are inter-connected, interdependent and interfere with each other. Demands of increased professional work interfere with family life, and on the other hand, family demands interfere with professional life. There are bound to be conflicts that negatively affect one's performance at work as well as at home. Take any profession or occupation, the demand for the time to be spent by a professional has tremendously increased. Whether one is in employment or is a freelancer, the pressure to perform, meet the target, and keep updating knowledge and skills has increased manifold. Multi-tasking and doing more work at a faster clip with limited resources has become the prescription for not only success but the basic survival in any profession. The over-ambitious professionals do not allow sufficient time for careers to take shape and target unrealistic goals to reach the top of the ladder in a short period of time. Running behind the allusive success leaves very little time for other important aspects of life like family, hobbies, and general personal happiness. Professionals are reducing themselves to be nothing but mere `Target achieving Tools'. As a result, they are left with no time for themselves, their family, and friends and become victims of `Life Style Diseases' like Obesity, Diabetes, Heart ailments, Anxiety and Stress at a very young age. It is not uncommon that young professionals delay their marriages and further delaying starting families in their mad indulgence in the `Rat Race' for Success. Having a healthy work-life balance is crucial for the mental and physical health of a person and can help in overcoming stress and burnout. It improves our relations with our family, friends and society at large.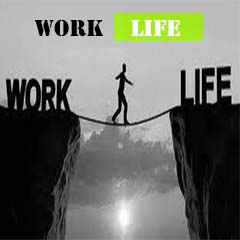 What Results in Poor Work-Life balance?
1. Turning workaholic: We often find that many people become workaholics in office and take pride in the fact and many times boast off too. Whether the work done by them round the clock is productive or not, they just keep working at cost of everything in life.
2. Poor Time Management: Many professionals suffer due to a very poor sense of time management. They sit for long hours in the office, as if the productivity is directly and positively related to the number of hours spent in the office, blissfully ignorant that with some smart time management they can churn out more productive output in lesser time.
3. Non-delegation: Few professionals unnecessarily burden themselves and allow their productivity to go down due to extremely poor delegation. A professional who has trust in the abilities of his junior colleagues and his own ability in getting the work done through appropriate delegation can strike a good work-life balance.
4. Lack of Smart working: Many professionals take great pride in saying that they work very hard. Why should anyone work hard? With the advent of technology and dynamic changes in all walks of life one is expected to work smart and prove to be more productive.
5. Sense of Insecurity: Professionals should aim to move up the ladder to leadership positions. A leader is someone who creates more leaders and not followers. We often find professionals suffering from a great sense of insecurity, which forces them to do all work by themselves rather than being a good team leader and achieving higher goals with the help of a qualified and trained team.
6. Refusing to adopt technology: Office automation has undergone dynamic changes all of which facilitate our working. Professionals who belong to the old school find it difficult to keep pace with ever-changing technology which affects their ability to keep pace with dynamic young professionals.
How to develop a good Work-Life Balance
1. Planning work: Professionals should develop the ability to execute the work in hand in a planned manner and stick to the work schedules meticulously. Start the day by jotting down `things to do today, prioritise them, and keep accessing and re-schedule if required.
2. Develop teams: Professionals should realise that it is not humanly possible to do all work themselves. They should develop good teams, delegate, and repose confidence in the teams.
3. Time for self: Professionals should allot time for themselves and that time should be spent on developing hobbies that are not related to their work or profession. Taking part in sports and games, spending time on other hobbies like music, painting, writing, dramatics, yoga and meditation. Hobbies will help in de-stressing and improving our physical and mental health.
4. Family time: Professionals should allow sufficient time for family and it should be non-negotiable. Family time does not mean taking the family on a 3 days 4 nights vacation to a foreign destination as if you are doing annual compliance. It should be on a daily basis how so ever little time it may be. Spending quality time with spouse, playing with children, taking them out for walks, taking part in sports activities, shopping, helping children in their studies, and compulsorily attending parent-teacher meetings, all improve family bonding.
5. Health: While professional takes care of everything, often, it is their own health that gets neglected. Howsoever busy a professional may be, one should take a minimum of one hour per day to do some sort of physical activity, walking, jogging, or yoga. One should ward off sedentary habits while working in the office and keep moving around as far as possible.
6. Stress Management: Facing stressful situations is unavoidable in a profession but letting stress affect us is optional. A professional should find ways and means to handle stress so that it does not affect physical and mental health. Staying calm, composed, and focused is very important. Taking deep breaths and meditation will surely help in managing stress.
7. Team size: As the number of assignments being handled and volumes keeps increasing over a period of time, professionals should continuously evaluate how much work they and their team can handle without affecting the quality and timely delivery of the work and keep increasing a team size commeasuring to workload. Overburdening self and team constantly will prove to be counter-productive.
8. Support system: One should develop a good support system around self and family, be it friends, associates, or relatives. There may be many circumstances when professionals may get tied up on critical assignments and may have to fall back on the support systems.
We Die to secure good marks in Board exams, We Die to secure seats in professional courses, We Die to complete Professional courses with flying colours, we Die to climb the ladder of success in our Profession, we Die to settle our Children and ultimately Die to secure a retired life for ourselves and ultimately when the time comes to DIE, we realise that `We have not lived our Life at all'
Maintain a perfect Work-Life balance and let's live life to the fullest.
**** **** ****
The Author S. Prabhakar, is a Fellow member of the Institute of the Company Secretaries of India, Chartered Secretary from the UK, Lawyer, and Registered Insolvency Professional.