Digital Signature Certificate – Need and its' Importance
Digital Transformation has completely changed the way the traditional business process and services operate. One such aspect of transformation relates to the mode of signing/execution of documents. Digital Signature Certificates (DSCs) and Electronic Signatures have replaced the conventional modes of signing/executing the documents. This has made it extremely convenient more than ever, as anyone can sign the documents, deeds, legal agreements, forms, returns, financial statements, audits, reports, contracts, and other letters at any time without requiring a physical exchange of documents.
Most people think that Digital Signatures and Electronic Signatures mean the same thing and so use these terms interchangeably. However, both words hold different meanings. A Digital signature is a kind of Electronic signature, but are distinct. A Digital Signature is more secure and tamper-evident, which encrypts the document and permanently embeds the information in it if a user tries to commit any changes in the document, then the digital signature will be invalidated. On the other hand, an Electronic Signature is similar to a digitalized handwritten signature verified with the signer's identity such as email, corporate ID's, phone PIN etc.
Digital Signature – In case of a Digital Signature, a secure digital key is provided by the Certifying Authorities (CA) for the purpose of validating, certifying and confirming the identity of the person holding this certificate. Digital Signatures are based on public key cryptography concept and it has two key, one is a private key used for signing and the other is a public key used for verifying.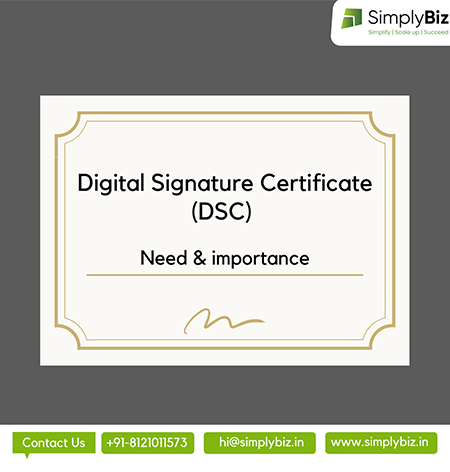 Digital signature certificate (DSC) and contains information about the person's name, country, e-mail Id, pin code, date of issuance and the date till which certificate is validity and name of the certifying authority who issued the Certificate.
Digital signatures are specific types of signatures that are backed by digital certificates, proving your identity. Due to their cryptographically bound nature and their ability to be verified, digital signatures are considered the most secure e-signature type because they're cryptographically linked to a signed document Using a digital certificate obtained from a trusted third party when e-signing makes the resulting digital signature virtually impossible to spoof. It also provides powerful evidence of signer identity, that the signed document was not altered, and that the signatures are valid.
Digital identity (or digital ID) provides strong proof that you are who you claim to be when e-signing documents in electronic form. Upon completing thorough identity verification, a trusted third party, such as a bank or government, issues a digital certificate backing up your digital identity. Using a digital ID to authenticate your identity and apply a digital signature.
As a recent concept, Cloud signature Consortium (CSC) have emerged. CSC's are digital signatures in which the signer's digital certificate is managed by a trust service provider in the cloud. The Cloud Signature Consortium (CSC) has developed an open global standard for cloud signatures. With a cloud signature, it is possible to apply trusted digital signatures directly from a mobile phone or Web browser compared to a traditional digital signature which requires a physical smart card or USB token.
Global e-signature laws are governing E-signatures which are legal in many countries around the world.
Electronic Signatures use a technology that binds the signature to the signer's identity and the time it was signed. It refers to any electronic process that demonstrates the acceptance of a record or an agreement electronically. Electronic signatures are a substitute for handwritten signatures in practically each personal or business process.
In the world of electronic signatures, a digital signature is a more secure digital signature that is generated with a digital certificate and cryptographically bound to a document using a public key infrastructure (PKI).
The Information Technology Act, 2000 has provisions for use of Digital Signatures on the documents submitted in electronic form in order to ensure the security and authenticity of the documents filed electronically. This is secure and authentic way to submit a document electronically. As such, all filings done by the companies/LLPs and Individuals under MCA21 e-Governance programme, The Income Tax Act and The Central GST Act which are the regulatory driven laws are done using Digital Signatures by the person authorised to sign the documents.
Major requirements of Digital Signature Certificate (DSC)
Filing under the Income Tax Act 1961.
Filings and documents under the Companies Act.
Filings under Central GSTAct .
Other Requirements of GST are E-tendering, patent and trademark e-filing, Customs Filing E bidding, E Procurement E-auction etc.
Major requirement of Electronic Signature (e sign) or DSC
Legal agreements.
Financial statements and audits reports.
Contracts and other letters.
Deeds, document.
Intellectual property document
Non-disclosure agreement
Self-certification of the Documents
Master services agreements
Insurance agreements
Property documents
Company policy and mandates etc.
DSC's being the most secure and convenient mode of signing the documents can be practically used at all places except those mentioned below.
When can you not use an electronic signature?
As given in the IT Act 2000, e-signatures in India cannot be used in all classes of documents and there are specific cases that require the use of conventional wet/physical signatures. Listed below are the cases in which laws of e-signatures are considered invalid,
In the case of any contract for the sale of immovable property in India or any contract, interest, or conveyance in such property, e-signing laws cease to exist and wet signs are to be considered valid.
As stated under the laws for e-signing in India, in the case of power of attorney as per Section 1A of the Powers of Attorney Act, 1882, electronic signatures cannot be used.
A will and/or testament disposition as per Section 2(h) of the Indian Succession Act, 1925 cannot be authorized using e-signatures as per the e-signing rules.
E-signatures cannot be used in the case of a negotiable instrument such as a promissory note or bills of exchange other than a cheque, as per Section 13 of the Negotiable Instruments Act, 1881.
A trust deed as per Section 3 of the Indian Trusts Act, 1882 must not be signed using electronic signatures as per the e-signing laws in India.
Who Needs to apply the Digital signature certificate?
In the era of e-commerce boom, the government agencies have adopted and approve digital signature, and now a days statutory requirement for many e-forms has digitally signed by the authorised signatory. So the individuals and entities have compulsory need to obtain the digital signature. A digital signature certificate (DSC) establishes the identity of the holder.
The digital signature certificate (DSC) is a valid legal instrument and can be used for digitally signing various legal and other documents. This is used for filing income tax returns, MCA fifing, e-Tenders, for various other regulatory filings.
Now a days the Class 3 DSC is used Class 3: This is needed for individuals or entities who would like to participate in online signature or tender, It is the highly secure form of a digital signature certificate.
The certifying authorities takes one to three days to issue a digital certificate in India.
Validity of the Digital Signature Certificate?
The Certifying Authorities CA are authorized to issue a certificate for a validity of 1 or 2 years depending upon the class of DSC being procured. The holder must be well aware of the validity of the certificate.
Can someone hold multiple DSC?
A individual can hold a separate digital signature for their personal and professional used. As far as holding separate certificates for authorizing various documents, an individual can apply for a Class 3 certificate and use it for all documents, as it is the highest level and most secure.
The digital signature certificate DSC can be renewed before 7 days of to the expiry of the existing certificate.
Benefit of a Digital Signature Certificate (DSC)
Time stamp: The digital Time stamping is the process of securely keeping track of the creation, modification and time of a document signing. This help in knowing the exact date and time of the affixation of the DSC on the document.
Validity of documents: The Digitally signed documents will give confidence to the receiver to be assured on the signers' authenticity and Validity. They can act based on such documents without getting worried about the documents being forged and missed used.
Authentication: it helps in authenticating the personal identity, information and details of the individual DSC holder when conducting any business online.
Reduced time and cost: Now a day Instead of signing the hard copy documents physically and scanning to send, you can digitally sign the PDF files and send them quickly. A Digital Signature certificate (DSC) holder not required to present physically to conduct or authorize a business.
Data integrity: The documents that are signed digitally cannot be altered, modify, or edited after it's signing, which makes the data safe and secure. The government agencies often ask for these certificates to cross-check and verify the business transaction.
Conclusion: 
DSC's have become most popular choice for businesses due to its highest security, convenience and lower cost, to ensure higher workflow efficiency and customer satisfaction.
If you are looking for compliance support or would like to have more details on Digital Signature Certificates, please reach out to our product head at vaishali@simplybiz.in or
simplycorp@simplybiz.in We will be happy to help you.