Sources of borrowing for Startups in India
Today buzz word in any country's economy is "Startup". They play a big role in the economic development. Over the last few years, the Indian Startup ecosystem has grown rapidly, and more support has become available in all dimensions. They have been generating impactful solutions, thereby acting as vehicles for socioeconomic development and transformation. They are centres of novel innovations, they generate jobs, which implies more career opportunities; more employment leads to a stronger economy, and a healthier economy has a direct bearing on the growth of cities where Startups are located.
However, there is also another important side of the story. Apart from be passionate about the product or service, availability of the required amount of  capital or funds  is one of the most crucial elements in assuring the success of a Startup. Many Startups are compelled to shut down before they even have a shot to launch due to a lack of enough funding.
There are many different sources of funding for new businesses. However, not all sources of funding are equal. Some sources of funding, such as venture capital, can be very difficult to obtain. Other sources of funding, such as loans from family, friends and business associates, can be easier to obtain but may come with certain strings attached. The best source of funding for a new business is often a combination of different sources of funding.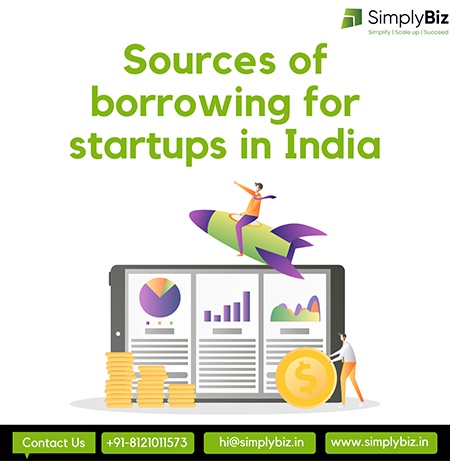 Various Funding Raising Options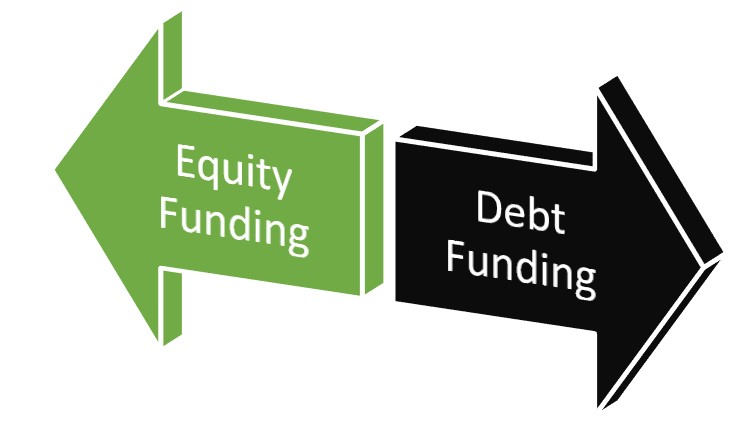 In this article, we will discuss about the various debt funding options available for Startups in India under the Companies Act, 2013.
Debt funding is a type of funding provided to Startup by an investor or lender, such as a bank, for a certain amount of time at a certain rate of interest. However, a Startup cannot accept debt from anyone. There ‍are certain restrictions under the Act for  raising debt by the Startup which have been discussed below.
Benefits of Debt Funding for Indian Startups
More capital with founders: Debt funding provides the founders of Startups to retain more stake in the capital with them without dilution for fund requirements.
Increased credibility: Demonstrating a willingness to repay debt can increase the credibility of Startups, making them more attractive to potential investors.
Improved cash flow management: With a predictable source of cash flow from debt funding, Startups can better manage their finances and ensure their continued success.
Various Debt Funding Options Available to Startups in India
Loan from Banks and Non-Banking Financial Companies (NBFCs)
Banks and NBFCs are a traditional source of debt funding for businesses in India. Now a days banks have been offering a range of loan products specifically designed for Startups.
Loan from other company
A Startup can avail loan in form of inter-corporate loan from other Companies. Section 186 of the Act regulates inter-corporate loans.
Loan from directors
A Startup may obtain long term or short term loan from from a person who, at the time of the receipt of the amount, was a director. However, the director at the time of giving the money, shall submit a declaration in writing to the effect that the amount is not being given out of funds acquired/borrowed by him
Loan from relatives of the directors


A Startup may also avail loan from relatives of the directors. Further, the director at the time of giving the money, shall submit a declaration in writing to the effect that the amount is not being given out of funds acquired/borrowed by him

The definition of relatives is very narrower under the Act which is  any one who is related to another, if –

they are members of a Hindu Undivided Family;
they are husband and wife; or
one person is related to the other in following manner:
Father
Mother
Son and Son's Wife
Daughter and Daughter's Husband
Brother
Sister

Issuance of secured debentures


The debentures act as more safe way for a creditor to give loan to the company. A Startup may raise a debt by issuance of secured debentures by creating charge/security on assets of the Company.

 Issuance of convertible debentures


The Startup may also opt for issue of debentures which are convertible into the equity shares within 10 years from the date of their issuance. The Startup may decide the conversion price of the equity shares either upfront at the time of issuance of debentures on the basis of valuation report of the registered valuer or conversion of the debentures.

 Issuance of non-convertible debentures


The Startup may issue non-convertible debentures (NCDs) for meeting its fuding requirements. However it has to be ensured that these NCDs shall be listed by the Startup on the recognised stock exchange as per applicable regulations made by Securities and Exchange Board of India.

 Loan from its employees


The Startup may also borrow funds from its employees. However, the loan amount shall not exceed his annual salary under a contract of employment with the company in the nature of non-interest bearing security deposit

 Issuance of convertible notes


A convertible note means an instrument evidencing receipt of money initially as a debt, which is repayable at the option of the holder, or which is convertible into such number of equity shares.

A Startup which is recognised by Department for Promotion of Industry and Internal Trade (DPIIT) may raise debt of INR 25,00,000 (Twenty five lakh) or more received by way of a convertible note in a single tranche, from a person which shall be converted or repaid within a period of 15 years.

You can read more about CN and their issuance from our article at https://simplybiz.in/convertible-notes/

 Loan from its members


A Startup is eligible to accept amount from its members which shall not exceed 100% of its paid up capital and free reserves as per the latest audited financials of the Company. However, the above limit shall not be applicable if the startup fulfills following criteria:

a private company which is a Startup recognised by DPIIT, for ten years from the date of its incorporation;
a private company which fulfils all of the following conditions, namely:-

Which is not an associate or a subsidiary company of any other company;
the borrowings of such a company from banks or financial institutions or anybody corporate is less than twice of its paid up share capital or fifty crore rupees, whichever is less ; and
such a company has not defaulted in the repayment of such borrowings subsisting at the time of accepting deposits under section 73
A return in Form DpT-3 shall be filed with the Registrar of Companies.
It has been evident Startups in any economy act as a mojor catalyst for its development. In view of this Governemnt of India has taken various initiatives for fostering entrepreneurship and promoting innovation by creating an ecosystem that is conducive to growth of Startups. The Startups shall ensure to comply with Deposit rules of the Act as applicable before or after accepting the above amounts. Any amounts accepted in contravention of the deposit rules may lead to serious repercussions and stringent fines on the Startup i.e., Fine of INR 1 Crore or twice the amount of deposit accepted by the company and Officer in default shall be Punishable with imprisonment which may extend to 3 years and with fine of INR 25 Lakhs which may extend to INR 2 crore.
We at SimplyBiz has assisted many Startups in raising the debt funds through various options available. Our experience of undertaking these assignments has been smooth & seamless.
If you are looking for compliance support, we can help you with the same. SimplyCorp is a solution that offers comprehensive and end-end management of Corporate Governance & Secretarial Compliances covering all stages of entity life cycle. If you want to know more on the compliance requirements and outsource the same to us, please write to our Product Head – Vaishali Vohra at the mail ID vaishali@simplybiz.in Lead – Corporate Compliances  at vanaja@simplybiz.in or SimplyCorp@simplyBiz.in